LA college district abolishes free speech zones as part of lawsuit settlement
December 15, 2018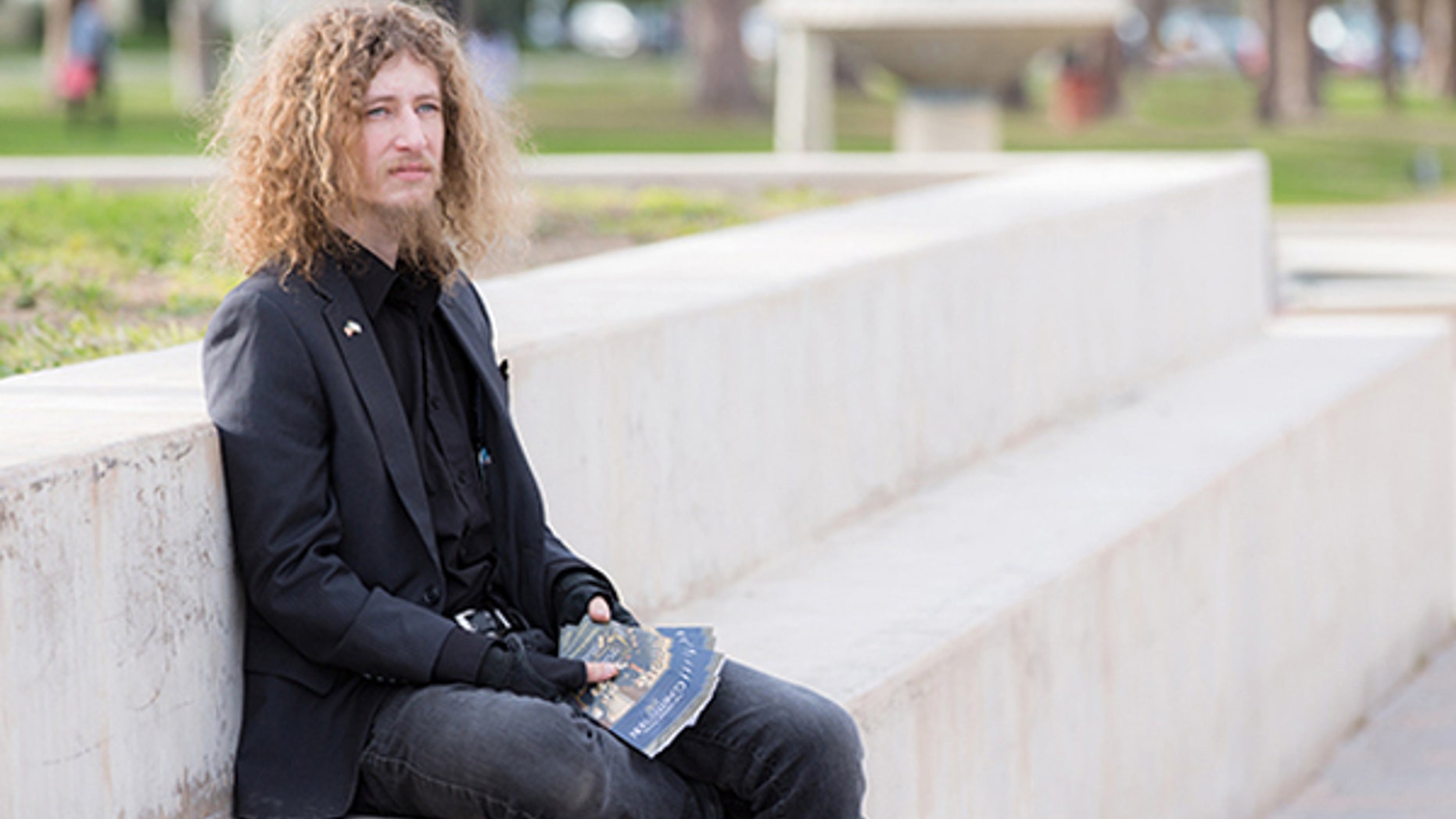 Pierce College student, Kevin Shaw, 27, filed a lawsuit against the Los Angeles Community College District after he was barred from passing out copies of a document because he wasn't in the designated "free speech zone" on campus. School officials settled the lawsuit earlier this week when they abandoned use of the zones. 
(Photo courtesy of Dawn Bowery/FIRE)
A Los Angeles college student who sued his school for allegedly curbing his right to free speech after it prevented him from passing out copies of the U.S. Constitution was vindicated in court this week.
The Los Angeles Community College District, which represents nine schools, including Pierce College, agreed on Wednesday to settle a lawsuit filed against them last year by student Kevin Shaw after he was barred from passing out copies of the document because he wasn't in the school's designated "free speech zone," which measured 616 square feet or about the size of three parking spaces.
As a part of the settlement, the tiny area marked for students to exercise their first amendment rights will be abandoned altogether, revoking a district-wide policy that declared all property on the district's nine campuses to be "non-public forums" with speech restrictions. As part of the settlement, LACCD will pay Shaw's $225,000 in attorney fees.
"Though it was not without its difficulties, this experience has left me optimistic about the guiding principles of my country," said Shaw in a statement provided to Fox News. "Folks of all political dispositions rallied behind this case to declare in no uncertain terms: freedom of speech is essential to the educational process."
It was just before the general election in November 2016 when Shaw had attempted to distribute Spanish-language copies of the Constitution during a recruiting drive for his student group, a campus chapter of Young Americans for Liberty on the main quad at Pierce College. An administrator told him he could not distribute literature outside the designated zone. Shaw said at the time he was also told that he would have to fill out a permit application to use the free speech zone and would be asked to leave campus if he refused to comply.
USC SLAMMED FOR EXPELLING STUDENT OVER ALLEGED RAPE WITHOUT QUESTIONING WITNESSES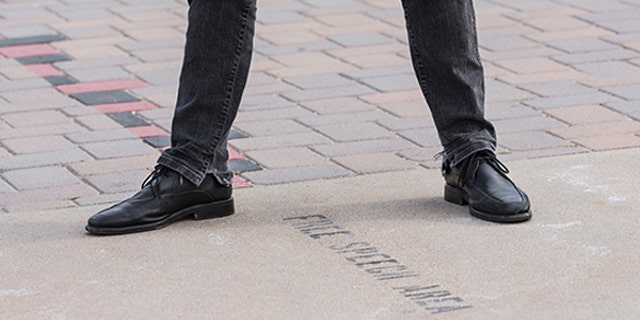 The school's designated "free speech zone," measured 616 square feet or about the size of three parking spaces.
(The Foundation for Individual Rights in Education)
DEAN AT NORTH CAROLINA UNIVERSITY REFERS TO FRESHMEN AS 'FRESHMORES': REPORT
"When I attempted to hand out copies of the Constitution that day, my only intention was to get students thinking about our founding principles and to inspire discussion of liberty and free speech," Shaw said in a statement to Fox News in early 2017. "I had no idea I would be called upon to defend those very ideals against Pierce's unconstitutional campus policies."
Shaw, with the help of advocacy organization, The Foundation for Individual Rights in Education (FIRE), filed suit back in March 2017 and this past January, a federal district court denied the district and Pierce College administrators' motion to dismiss Shaw's lawsuit finding that the open spaces of public colleges are traditional public forums for student speech regardless of regulations.
"Hopefully, this settlement will serve as a reminder to both students and their colleges that the free and open exchange of ideas on campus is a precious commodity to be celebrated rather than feared or restricted," said Arthur Willner, attorney, and co-counsel with FIRE in the case.
When reached for comment, officials with LACCA said the move to wipe out the zones will take place in January after their Board of Trustees formalizes the action.
"The purpose of these regulations is to foster free speech, assembly, and other expressive activities, while addressing the need of each Community College campus to make necessary arrangements to assure that such activities do not interfere with the College's mission and operation or the rights of others," LACCA said in a statement provided to Fox News.
Source: Read Full Article