France's Macron scraps fuel tax rise amid fears of more protests, violence
December 6, 2018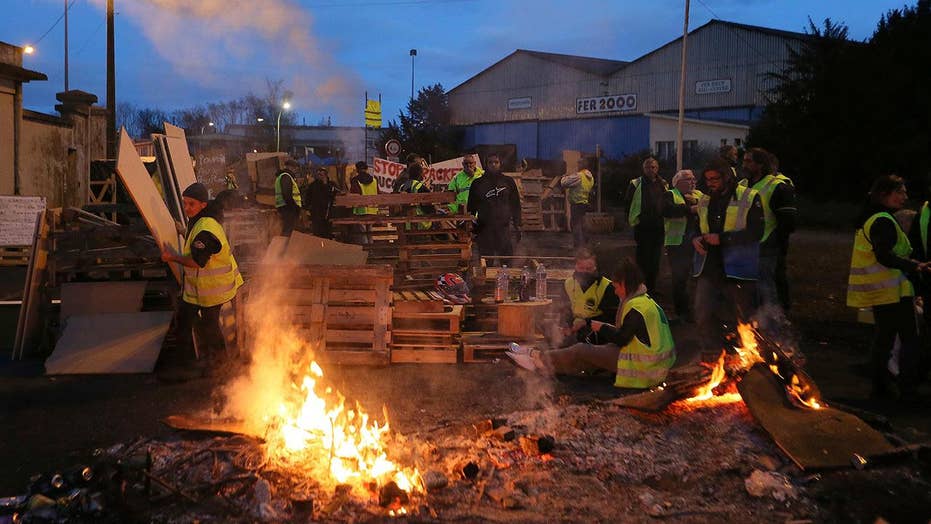 Riots force President Macron to reverse course on gas tax
The French government performed an embarrassing U-turn after violent protests against a new carbon tax forced it to back down; Benjamin Hall reports.
French President Emmanuel Macron has canceled a planned fuel tax increase after three weeks of nationwide protests that left four people dead and sparked the worst anti-government riot in Paris since 2005.
An official with the Elysee Palace told The Associated Press on Wednesday that the president decided to get rid of the tax, while Prime Minister Edouard Philippe confirmed to lawmakers that "the tax is now abandoned" in the 2019 budget. A day earlier, Philippe announced that the tax increase would be suspended for six months.
But despite the government's concession, protest leaders have said demonstrations are likely to continue with trade unions and farmers joining the fray against Macron's increasingly unpopular policies.
Jacline Mouraud, a self-proclaimed spokesperson for the so-called "yellow vest" protesters, told The Associated Press that Macron's move "is on the right path but in my opinion it will not fundamentally change the movement." She urged protesters to seize on the French government's weakness to push other demands such as a rise in the minimum wage. More protests are planned for Saturday in Paris.
On Wednesday, France's largest farmers' union said it will launch anti-government protests next week after trucking unions called for a rolling strike. A joint statement from the CGT and the FO trucking unions called for action Sunday night to protest a cut in overtime rates. France's transportation minister agreed to meet with truckers' representatives on Thursday.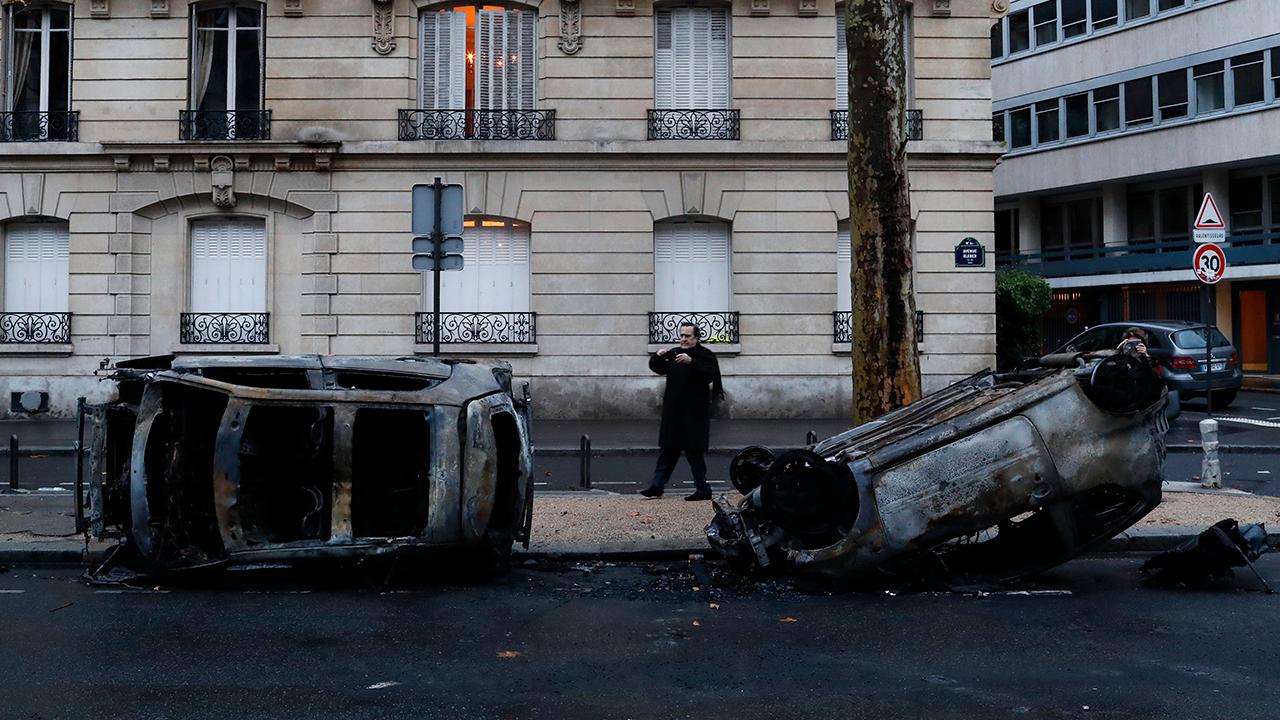 Gas tax hike to be suspended in France amid violent riots
French prime minister expected to announce a suspension of fuel tax hikes that provoked a protest movement.
The FNSEA farmers' union said it would fight to help French farmers earn a better income but would not officially be joining forces with the "yellow vests" — protesters wearing the high-visibility vests that French motorists are required to keep in their cars.
French police have cleared most of the fuel depots that protesters had blocked earlier in the week, but fuel shortages continued to hit parts of France on Wednesday, with hundreds of gas stations affected. Demonstrators were also blocking toll booths, letting drivers pass without paying, to press demands that ranged from higher incomes and pensions to the dissolution of the National Assembly, France's parliament.
Macron's popularity has slumped to a new low since the first demonstrations took place on Nov. 17. The former investment banker, who has pushed pro-business economic reforms to make France more globally competitive, is accused of being the "president of the rich" and of being estranged from the working classes.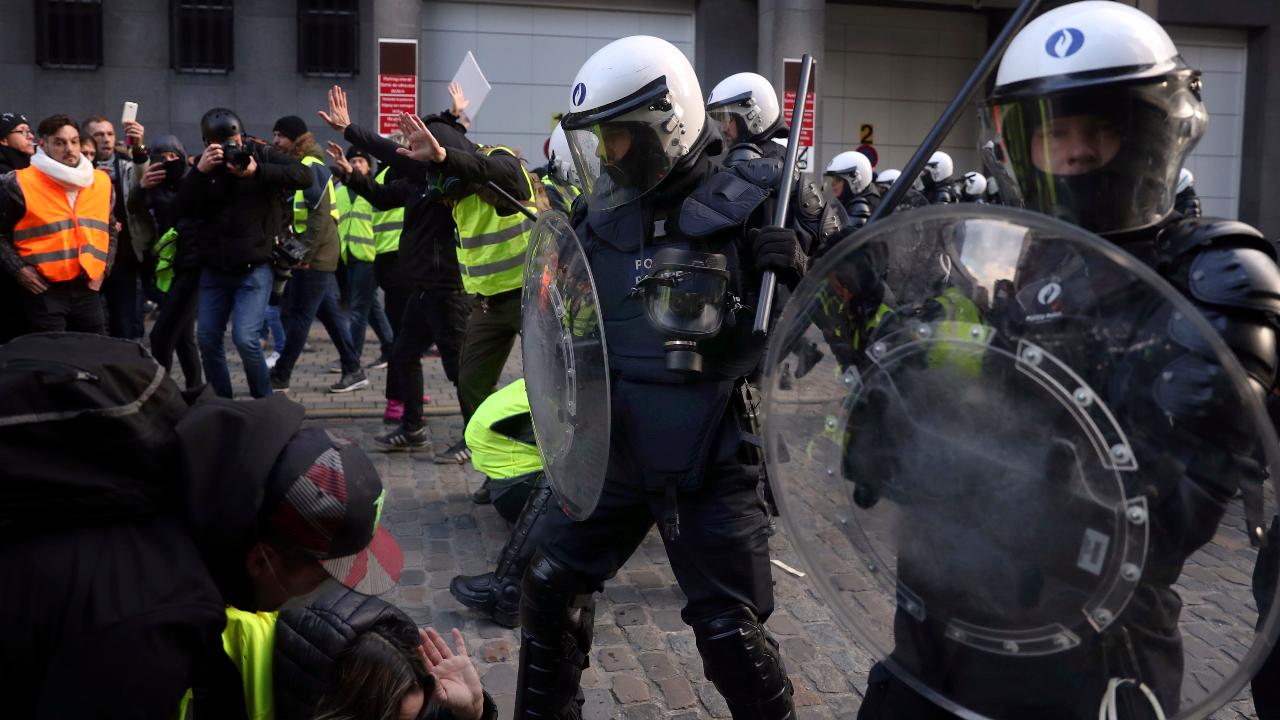 'Yellow Jacket' riot engulfs Paris
Paris riots being called the worst in a decade; Trace Gallagher reports.
At Tolbiac University in downtown Paris, students took over a school building and classes were canceled.
"We need taxes, but they are not properly redistributed," protester Thomas Tricottet told BFM television. "We obviously need to fight against this."
The high school students' FIDL union called for a "massive and general mobilization" on Thursday and urged France's education minister to step down.
One student was injured during protests at a high school in Saint-Jean-de-Braye in north-central France. BFM said he was shot in the head with a rubber bullet but authorities did not confirm that. Julien Guiller, a spokesman for the regional school administration, told The Associated Press the student was expected to survive.
Since returning from the G-20 summit in Argentina over the weekend, Macron's actions have done little to reassure protesters that he is listening to their concerns.
He has refrained from speaking publicly about the protests and has largely remained in his palace residence. On Tuesday night, the young leader was booed and jeered as he traveled to a regional government headquarters that was torched by protesters last weekend.
Four people have been killed in the unrest since mid-November. One activist said Wednesday that he fears more deaths if Saturday's "yellow vest" demonstration in Paris goes ahead, and urged Macron to speak out and bring calm to the nation.
"If not there will be chaos," said Christophe Chalencon, a 52-year-old blacksmith from southern France.
He told the AP that the French public needs Macron to "admit he made a mistake, with simple words … that touch the guts and heart of the French."
The Associated Press contributed to this report.
Source: Read Full Article