Ecuadorians say Assange's time in London embassy may be nearing end
December 6, 2018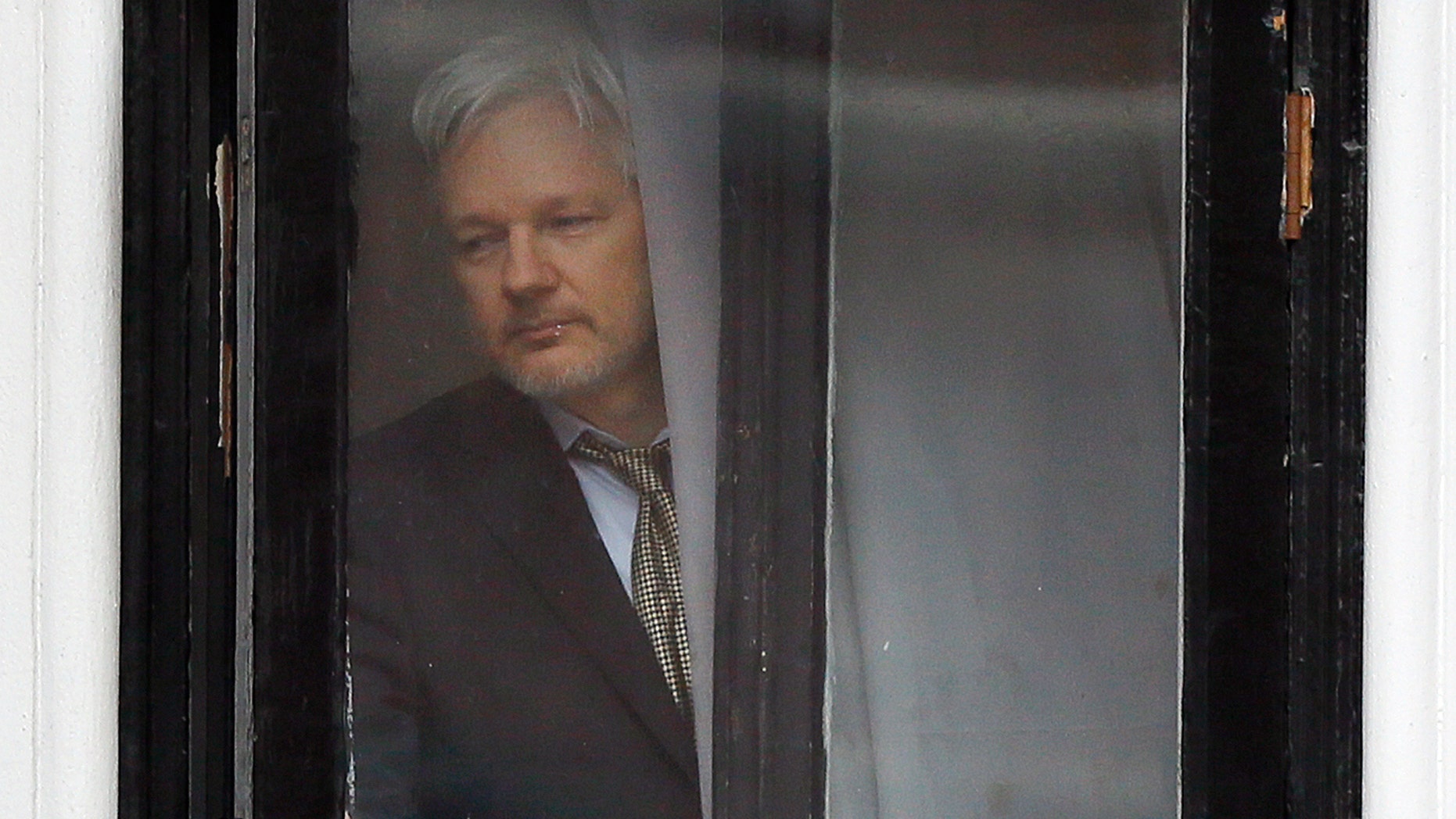 FILE – In this Feb. 5, 2016 file photo, Wikileaks founder Julian Assange walks onto the balcony of the Ecuadorean Embassy in London. An Ecuadorean judge ruled Monday, Oct. 29, 2018 against a request by him to loosen requirements he says are meant to push him out of the London embassy where he lives. (AP Photo/Kirsty Wigglesworth, File)
QUITO, Ecuador – Julian Assange's days holed up under the protection of the Ecuadorian Embassy in London may be numbered, as politicians in the Ecuadorian capital of Quito step up a campaign to strip him of his naturalized citizenship.
"From what we have in hand, it has cost Ecuador almost six million dollars," Paola Vintimilla, Ecuadorian Representative to the National Assembly for the SocialChristian Party (PSC) who is leading the political push on the Assange case told Fox News in a recent interview. "I am not asking that his asylum is removed, I only want his Ecuadorian citizenship to be taken away."
Vintimilla's interview took place before Ecuadorian President Lenin Moreno said in a radio interview Thursday that Britian had provided sufficient guarantees that Assange wouldn't be extradited to face the death penalty abroad. The comments signaled that efforts between Britian, the U.S. and Ecuador to end the six-year standoff with Assange may be nearing an end.
But Vintimilla said the president's comments don't much change the choice Assange faces. "Again, this is what I've been saying, and this is what's been being handled since some time ago. He has all the warranties in order to exit the embassy, turn himself to the British authorities. He would have to serve in prison from 3 to 6 months, and pay a fine which is also not too large.
"It's up to Assange if he takes this alternative or not."
Assange is said to be increasingly desolate in the embassy quarters, which he views as a means to force him out. He has reportedly been severed from internet use, and denied visitors.
The 47-year-old Australian native has been living in the Ecuadorian embassy since 2012. He was originally wanted by Swedish authorities on a sex crimes case, charges he vigorouly rejected, and argued were merely a ruse for extradition to the U.S. – where he has long been a topic of contentious debate.
The case in Sweden has since closed. Yet Assange maintains that if he takes as much as a step outside the compound quarters, he risks arrest by British authorities – and could then be forcibly summoned to the U.S.
Since Lenin Moreno took office as Ecuadorian president in May of last year, Assange has avowed that measures are being put in place to force him to vacate. Those claims have been strongly denied by Ecuadorian officials who still publicly stand by their commitment to "human rights."
"As it is publicly known, there is no forecast of a resolution to this problem, in the short term, at least," Santiago Chavez, Ecuador's Vice Minister of Human Mobility, told Fox News, dismissing any notion Assange may be imminently removed from the Embassy.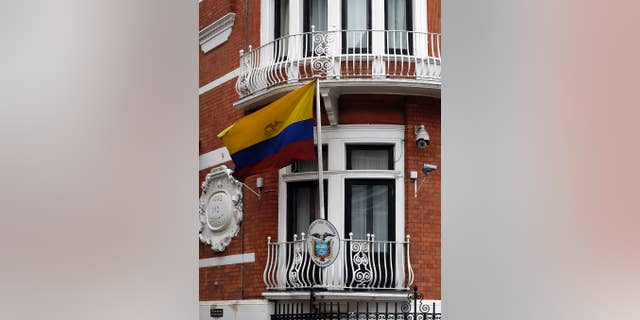 The Ecuadorian flag flies outside the Ecuadorian Embassy in London, where Julian Assange is fighting new restrictions on his activities. (AP Photo/Kirsty Wigglesworth)
(The Associated Press)
But it was revealed in a presidential decree this month – effectively immediately – that the Ecuadorian Ambassador to Britian, Carlos Abad Ortiz, be removed from the post. No reason was specified on the order, and no successor has subsequently been named.
Following the personnel recall, WikiLeaks' twitter account asserted on Nov. 22 that "all diplomats known to Assange have now been terminated to transferred away from the Embassy."
Ambassadors typically hold court for four or five years. Thus Abad Ortiz – who started his London reign in 2015 – was expected to stay up to 2020. Appointed by the former President Rafael Correa, he was considered an advocate of Assange.
"There was a very intimate relationship between Assange and the former ambassador, and the government considered that in order to comply with the new protocol that regulates the visits, communications and medical attention they needed somebody else," Vintimilla explained. "Assange will have to comply with this protocol, or he could lose his condition as a refugee."
Indeed, Assange has been subject to a swath of "new rules" on his living conditions, which came into effect on Dec. 1. Under the new guidelines, which came about in October after apparent concerns of hygiene, Assange is mandated to pay for his own food, medical care, laundry, and other general expenses, as well as take care of his own cleaning.
He promptly filed a lawsuit against the very country giving him protection, as well as its Foreign Minister, Jose Valencia. The case has since been squashed in a British court by a judge who ruled he must comply. Assange's legal team have said they will appeal.
Ecuador attempted to resolve the political standoff late last year by granting Assange Ecuadorian citizenship, and offering him a post as a diplomat in their Russian embassy. They were thus hopeful that he could depart the property – and the United Kingdom – under the cover of diplomatic immunity, and not be subjected to arrest for violating his previous bail terms.
But the British Foreign Office promptly turned down the request from the Ecuadorian government to grant him diplomatic status.
"I have not asked that he be kicked out of the embassy. My request is, and it will continue to be, that his Ecuadorian nationality be stripped away due to several irregularities being committed," Vintimilla stressed. "Among one of those irregularities is that he was granted the nationality with the sole purpose of naming him a diplomat and send him to our offices in Moscow."
Vintimilla emphasized they were not made aware in advance of the full intention to grant Assange citizenship for the purpose of relocating him to Moscow. She also claimed Assange's unwillingness to "accept the new protocol for his permanence in our embassy," has given them a push to look for other alternatives.
"This is why the option of being delivered to the British authorities is being analyzed. There he would pay three to six months in jail for having violated their injunction," she said. "Great Britain has offered him an agreement that he would not be extradited to any country that has capital punishment. Of course, the United States is included in that list."
The British Foreign Office declined further comment, and noted it was a matter for the Ecuadorians. But the office's representatives expressed frustration at the stalemate.
"It is now for over six years that the Ecuadorian embassy has been abused in its purpose as an embassy," Sir Patrick McLoughlin, Member for Derbyshire Dales in the House of Commons. "How long are the Government going to put up with this?"
Minister Sir Alan Duncan, in Foreign Office Oral questions in the House of Commons in June, said that while Assange is "in the embassy of his own choice" they were "increasingly concerned about his health" which they believed to be "deteriorating."
The Ecuadorian Embassy in London did not respond to a request for further comment. Barry J. Pollack, Assange's U.S.-based attorney, told Fox News he has no further insight on what Ecuador might do.
"Ecuador gave Mr. Assange asylum because of his legitimate fear of being prosecuted in the U.S. for his activities as a journalist," Pollack said. "That danger is greater now than ever. Ecuador should keep its commitment."
A Quito-based source closely monitoring the case said some shuffling could happen soon after Christmas, with the matter possibly taken to Ecuador's Supreme Court.
"Paola has a lot of political support on this," noted the insider.
But adding to the again-rising tensions on the Assange case, and calling into question the timing of whether or not he will be squeezed out, U.S. prosecutors made an "unintentional error" by unveiling in an unsealed court filing this month that Assange has in fact been charged under seal. Federal prosecutors in the Eastern District of Virginia have for years been investigating Assange and his international non-profit whistleblowing organization.
U.S. officials were alerted to Assange in 2010, after Wikileaks published troves of classified diplomatic cables and military documents. More recently, he has come under fire for allegedly exposing covert CIA cyber-operations.
He is also considered to be crucial to Special Counsel Robert Mueller's ongoing investigation into Russian hacking of the 2016 Presidential elections, given WikiLeaks's publication of emails from the Democratic National Committee. It has been alleged that the emails were breached by Russian intelligence, and transferred to WikiLeaks for publication.
But U.S. officials have not yet confirmed publicly he has been charged, and its not clear under what charges he would be extradited. There has been some discussion he would be charged with violating the Espionage Act.
In April of last year, then-CIA Director and current Secretary of State Mike Pompeo characterized WikiLeaks as a "non-state hostile intelligence service, often abetted by state actors like Russia."
The US Department of Justice (DOJ) did not immediately respond to a request for comment.
Vintimilla stated firmly that Ecuador has no agreement with the United States concerning the Assange matter, and if an agreement was reached, it would involve extradition to the U.S.
However, despite being a deeply polarizing figure – a traitor to some – Assange is lauded by others as a powerful beacon of press freedom and government accountability and still upholds considerable support globally and among some elite political circles in Ecuador.
"When the government of former President Correa assumed Assange's asylum, it was not only a government action. It was an action of the entire Ecuadorian state and their citizens," said Jose Serrano, who served as the Ecuador President of the National Assembly until March. "As long as Assange's physical integrity is under threat, Ecuador is obligated to protect him."
Opinions about Assange among Ecuadorians themselves remain mixed. Some told Fox News they have no vested interest in the matter, while others said it was important he stay. Still others reflected the opinion he had overstayed his welcome.
"At the time, the Assange case was viewed by Ecuadorians as a great humanitarian action of a man fleeing persecution and the government then wanted to flaunt its good deeds," added one local businessman. "But especially now with the rising cost of the Venezuelan crisis,  the government need to keep strong US relations and people are tired of it. People want this just to end."
Source: Read Full Article