Body found in Costa Rica amid search for Miami woman, 36
December 4, 2018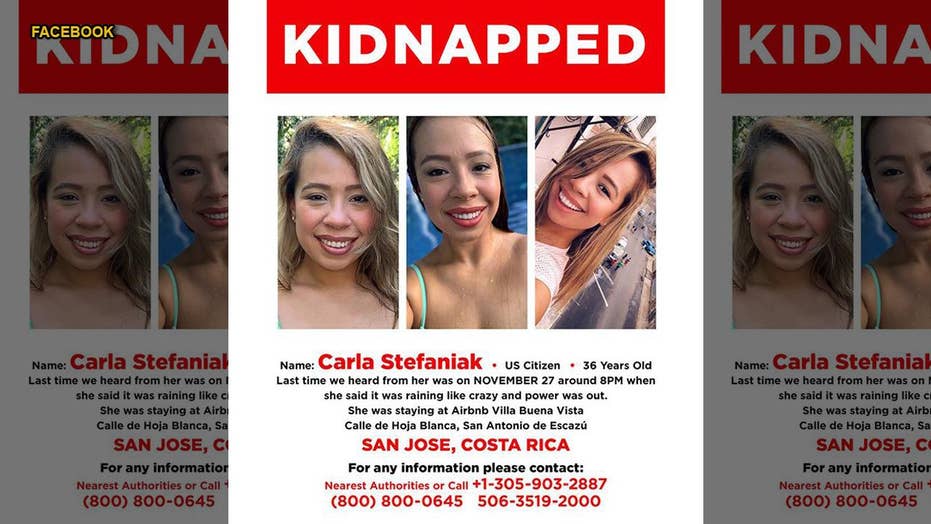 Florida woman vanishes while celebrating her birthday in Costa Rica
The family of Carla Stefaniak is searching for answers after the Miami woman vanished while celebrating her birthday in Costa Rica, just hours before she was reportedly set to return to the United States.
A body was reportedly found Monday on the Costa Rican property where a Florida woman who recently disappeared was staying.
The body was discovered at the back of an Airbnb location where Carla Stefaniak, of Miami, had been staying while celebrating her 36th birthday, WTVJ reported, citing the Costa Rica Judicial Investigation Department.
Authorities have not confirmed the identity of the body that was found, but said it was uncovered by search dogs half-buried on the property and covered in plastic bags.
Stefaniak was reported missing last week after she didn't return home from her trip to Costa Rica on Wednesday. She last spoke to her family Tuesday night.
FLORIDA WOMAN VANISHES IN COSTA RICA WHILE CELEBRATING BIRTHDAY
The missing woman was traveling with her sister-in-law, April Burton, who told Fox 13 she left the Central American country a day earlier than planned.
"It was her birthday, and it makes me feel really bad. I do feel guilty because I left early," she said, adding the last time she saw Stefaniak was when she dropped her off at the airport.
The family suspects Stefaniak was kidnapped, according to a Facebook page dedicated to helping find her. The owner of the Airbnb where she was staying reportedly told the family Stefaniak was last seen getting into an Uber with luggage around 5 a.m. on Wednesday. However, Stefaniak's Uber app history doesn't reflect her taking a trip at that time.
"None of us really believe this 5 a.m. story because it really doesn't make sense," Burton said. "We know she was abducted. There's no reason for her not to contact anyone."
As of Monday afternoon, the family wrote on Facebook they were "still working tirelessly to find Carla and to bring her home safely." Anyone with information on Stefaniak's disappearance is urged to contact the FBI.
Fox News' Ryan Gaydos contributed to this report.
Source: Read Full Article