Will Lindsay Lohan Have A Career Again Due To Chrissy Teigen?
June 13, 2021
This article includes mentions of self-harm.
Chrissy Teigen's cyberbullying scandal has resurfaced harsh tweets aimed not only at Courtney Stodden, but Lindsay Lohan, too. In case you missed it, a Twitter user shared a screenshot of Teigen's January 2011 tweet, where she mocked Lohan's past issues with self-harm. "Lindsay adds a few more slits to her wrists when she sees emma stone," she tweeted. 
Although Lohan never addressed the aforementioned tweet, her mother Dina revealed that it upset the entire family. "When someone says hurtful words they're not just hurting that person, they're hurting their siblings, their mother their grandma," she told the New York Post on June 11 (via Page Six). "They're inflicting so much pain." 
Shortly after the hateful tweets started circulating online, Teigen issued a public apology toward Stodden via the same platform on May 11. "I am ashamed and completely embarrassed at my behavior but that… is nothing compared to how I made Courtney feel," she tweeted. "I am so sorry I let you guys down. I will forever work on being better than I was 10 years ago, 1 year ago, 6 months ago." 
Despite the apology, Teigen went on to lose countless partnerships, including deals with Target, Bloomingdale's, and Macy's. Coincidentally, 2021 may also be the year Lohan finally makes her return to the big screen. 
Lindsay Lohan is ready to start filming again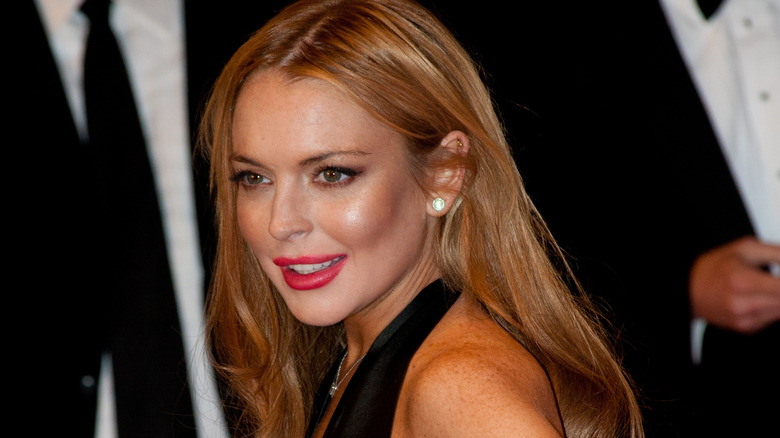 During a 2019 appearance on CNN's New Year's Eve Special, Lindsay Lohan said she's ready to move back to the U.S. to start filming again and "[take] back the life that I worked so hard for, and sharing it with my family and you guys" (via Page Six). Then, in May 2021, Lohan announced that she would be starring in a new holiday rom-com for Netflix. 
As reported by Variety, the movie sees Lohan as a wealthy hotel heiress suffering from amnesia after a skiing accident, who gets taken care of by a lodge owner and his daughter. The untitled new film is expected to arrive by the 2022 holiday season. "She's in such a good place in her life, she's clear and focused," an anonymous source told Page Six. 
Lohan's mother, Dina, also opened up about how far she has come. "Lindsay's now 34, she's grown up, but everyone is looking to the future," Dina told the same publication. "She said, 'mommy, I'm ready to do movies again, I want to do what I love and what makes me happy.'"
In general, people have been looking back at Lohan's life with a fresh pair of eyes. "She was always being used by people, treated like meat by the paparazzi," an old friend of Lohan's told Page Six. "We all contributed to what happened and we didn't stop it." 
So, as Teigen's popularity continues to fade due to her bullying behavior, it's only fair that celebrities like Lohan finally get the recognition they deserve. 
Source: Read Full Article