'Wicked' 'So Close' to Being Finished Before SAG-AFTRA Strike
July 21, 2023
Director Jon M. Chu explains in a statement that production for the movie adaptation of the stage musical is 'not done yet' and is currently 'paused until the strike is over.'
AceShowbiz –Jon M. Chu has revealed "Wicked" was "SO close" to being finished before the actors strike. The director has revealed that filming had to stop due to the Writers Guild of America and SAG-AFTRA strikes, with the team just days away from finishing production on the movie.
In a lengthy statement, he tweeted, "Not done yet. Just paused until the strike is over and we can finish the last pieces of the movie. We were only a few days away from being done so we were SO close. It's been very painful to put a halt to it all but we will be back! And we will finish properly strong when the time is right."
Chu added that the the planned 2024 release date "shouldn't be affected" and he will continue working with what they have already filmed.
He continued, "My heart goes out to our cast and crew who were cut short of what we came here to complete together. More to come but in the meantime I'm excited to excavate what we have shot for the past year here in Oz (release date shouldn't be affected). It has been an extraordinary adventure… more to do. #WickedMovie"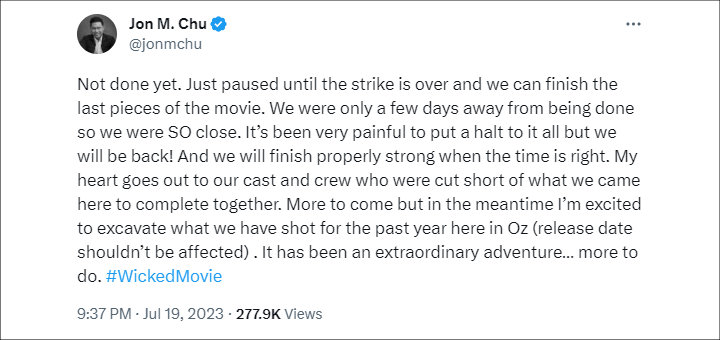 Jon M. Chu released a statement on 'Wicked' production.
The strike comes after the union tried and failed to reach a deal over residuals from streaming services and an agreement that artificial intelligence wouldn't replace actors. SAG-AFTRA president Fran Drescher has said that the actors guild is ready for a long strike.
She said, "Right now, we discussed what it would cost if it went for six months, so we're looking for the long haul. The gravity of a commitment like this is not lost on any of us. It's major. But we also see that we have no future and no livelihood unless we take this action, unfortunately."
You can share this post!
Source: Read Full Article