'When Calls the Heart' Season 9 Episode 5 Recap: A Fan-Favorite Character Returns
April 4, 2022
Sometimes, it just takes a small gesture to turn a potential enemy into a friend. That's the case for Landis and the Canfield family, who bond in a surprising way in the latest installment of When Calls the Heart. The April 3 episode of the Hallmark Channel series also featured the return of a beloved character and a special moment between Lucas and Elizabeth that may hint at things to come. 
[Warning: This article contains spoilers for When Calls the Heart Season 9 Episode 5, "Journey Into Light."]
Landis has dinner with the Canfields in 'When Calls the Heart' Season 9 Episode 5
Meanwhile, Rosemary (Pascale Hutton) worries that working with Lee (Kavan Smith) at the Valley Voice is putting a strain on their marriage. She feels that he's avoiding her. Things get worse when she discovers a poem hidden in a pile of papers on his desk. Could loyal Lee have a wandering eye? Elizabeth does her best to reassure her friend that he'd never even look at another woman, arguing that "true love never strays."
Fortunately, Elizabeth is right and Rosemary's fears are misplaced. Lee's been sneaking out because he's been building a set of Adirondack-style tête-à-tête chairs for their back garden. He wants them to spend more time together, not less. These two are truly couple goals.  
Elizabeth and Lucas look to the future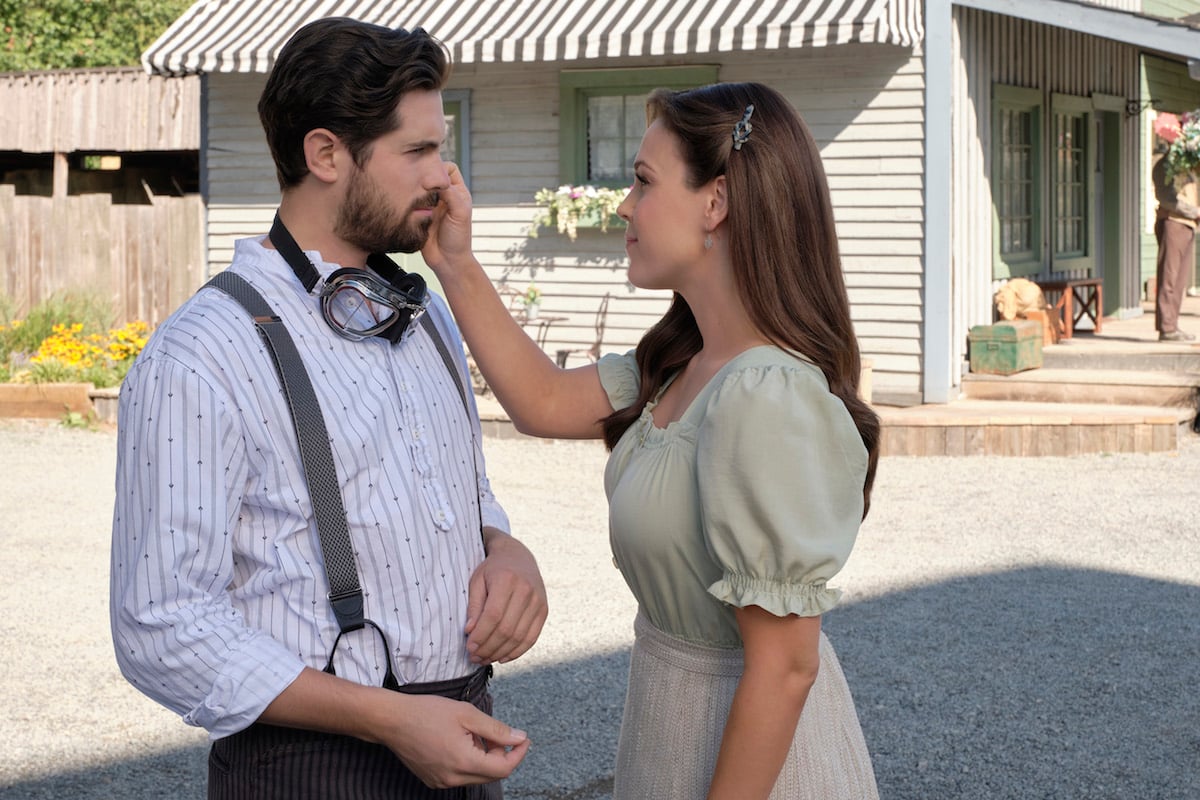 Speaking of couple goals, Lucas (Chris McNally) and Elizabeth's romance heats up in this episode. She finds him fixing up Lee's old motorcycle, and thing get a bit steamy when she expresses appreciation for his more "rugged" look. But their PDA is interrupted when an amused Robert interrupts them to deliver the mail.
Lucas reveals he bought the motorcycle to 'blow off some steam." He gets a chance to do that when he and Nathan challenge each other to a race, with Lucas on the bike and Nathan on a horse. Elizabeth thinks this whole contest is a little ridiculous, and she wonders if Lucas is still trying to prove something, either to her or to his former romantic rival. But if his goal was to show up Nathan, he fails. The motorcycle breaks down midway through the race, forcing Lucas to walk back to town.  
Elizabeth is patiently waiting for him, but the whole stunt has her a little concerned. She wants stability for herself and little Jack, and she's worried this race is a sign Lucas hasn't got his longing for adventure out of his system. But he's quick to reassure her. "You are my adventure. You are my passion," he tells her.
"And if we should marry, I will hurry home to you every night," he goes on to say. "And I will have to pull myself from you every morning. That I promise." Elizabeth repeats those words back to him, and it's hard not to imagine them saying something similar at the altar. This seems like another clue that Elizabeth and Lucas could be heading to an engagement by the end of the season.
What else happened in this episode of 'When Calls the Heart'
Elsewhere in this episode of When Calls the Heart:
There's not much action on the Wyman Walden front, but Bill (Jack Wagner) and Nathan are keeping an eye on the shady businessman – and keeping an eye on Lucas and Hickam (Ben Rosenbaum), whom they think are a little too eager to rub elbows with the man Bill describes as a "snake." 
Fiona (Kayla Wallace) is back from San Francisco, where she sealed the deal on the sale of the oil business to Jerome Smith and his investors. But Henry Gowen (Martin Cummins) is unhappy because he was stalling the sale as he tried to find out what Smith was up to. That plan might have worked better if he'd clued Fiona in before she left. 
Allie gets some advice about embracing her natural beauty during a girls' night with Mei Sou and Faith (Andrea Brooks). 
Most fans probably won't mourn the loss of Nathan's mustache. But is Hickam still Hickam without his signature bowtie? 
The next episode of When Calls the Heart Season 9 airs Sunday, April 10 at 8 p.m. ET on Hallmark Channel.
Check out Showbiz Cheat Sheet on Facebook!
Source: Read Full Article