We're Already Casting Some Spells in Hopes That 'The Winchesters' Comes Back for Season 2
October 12, 2022
Dust off your Tumblr account, the world of Supernatural is back with The CW's new prequel series The Winchesters. It's all about Sam and Dean's parents and their demon-hunting past. OK OK OK, I am being a little dramatic. It's been just under two years since the Supernatural finale aired. But still. Now that the story of this, well, supernatural family is back on the air you're probably wondering if it'll last as long as the original did.
Here's what we know about The Winchesters season 2.
Has The Winchesters been renewed for Season 2?
As of the season premiere, The CW has neither renewed nor canceled The Winchesters. But here's the thing… Supernatural ran for 15 seasons. It's hard to imagine that this won't run for at least two. Right?? It wouldn't be The CW without a couple of Winchesters. Plus, Jensen Ackles' involvement as executive producer and occasional guest star should help The CW feel confident in continuing the series. There have been attempts at Supernatural spin-offs before, but they didn't have one of the brothers at the helm. (Though I would still kind of like to see the Wayward Sisters spin-off that never ended up happening. More witches on my TV? Yes, please.)
Who would be in The Winchesters Season 2?
Not only would Meg Donnelly and Drake Rodger return as Mary and John Winchester, but the longer the show goes on the more likely it is that other cast members and characters from the original Supernatural could join the prequel series as well.
One person who might likely come back is Smallville and Lucifer star Tom Welling, whose involvement was announced at New York Comic Con 2022. He will be appearing in the show's seventh episode as Samuel Campbell, Mary's dad. It's officially a recurring role, so no doubt he'll be back.
A post shared by Tom Welling (@tomwelling)
What would The Winchesters Season 2 be about?
The show takes place about seven years before Dean Winchester was born (and 11 years before Sam). They aren't even together yet at the start of season 1, so that leaves room for a lot of stories about their adventures and romance.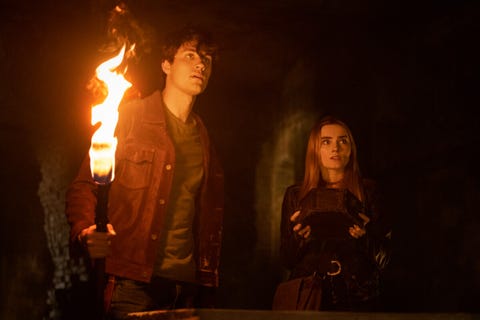 When would The Winchesters Season 2 be released?
Season 1 was still filming when the first few episodes started airing on The CW. That's not uncommon for network television. In theory, they could start working on season 2 and have it ready by this time next year since isn't like an HBO or Netflix show that could take multiple calendar years between seasons.
Supernatural aired consistently from 2005 to 2020. Every season premiered in either September or October (just like The Winchesters) and ended in May or April. The one exception is the final season, which concluded in November 2020—but that gets a pass since a lot of shows were, obviously, delayed that year. So look for news about The Winchesters Season 2 in the coming months. And if the news is good, look for the new season at/around September or October 2023.
Source: Read Full Article