The Truth About Lara Flynn Boyle And Kyle MacLachlan's Romance
September 1, 2021
In the professional world, dating your colleagues is almost always a bad idea. In the celebrity world, this advice is largely ignored… although it's still usually a bad idea. Just take Lara Flynn Boyle and Kyle MacLachlan; while the dark-haired pair were most famously co-stars on iconic mystery "Twin Peaks", they also shared a two-year off-screen romance. And turns out, their relationship may have caused some problems on set.
Interestingly though, Boyle and MacLachlan mixing business and pleasure didn't result in the kind of issues you'd normally expect from co-workers hooking up, such as bitter fights or excessive PDA. Instead, it appears that their romance went far beyond just HR complaints — one of their other co-stars alleged that it actually altered an entire storyline on the show! So, despite "Twin Peaks" being considered a bit more high-brow than your average soap opera, it seems there's plenty of juicy gossip to go around. Keep reading to find out more.
What has Lara Flynn Boyle and Kyle MacLachlan's co-star said about their relationship?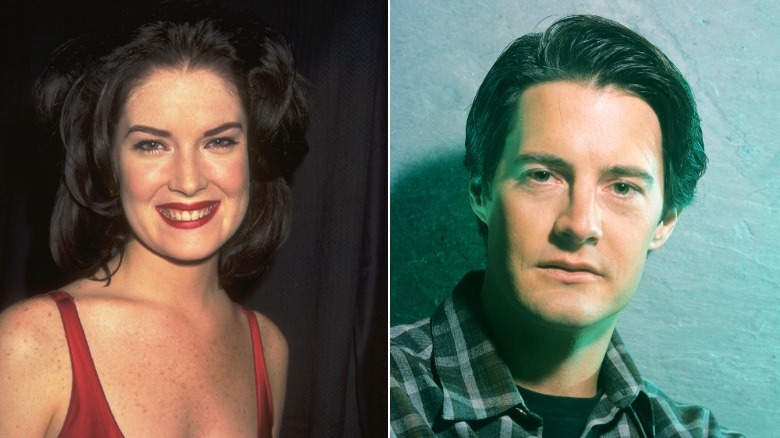 If reading the names Lara Flynn Boyle and Kyle MacLachlan sent you into a spiral of nostalgia, then congrats: you're officially a 90s kid. Despite only lasting two seasons, "Twin Peaks" built a cult following, and launched several of its young actors into fame. Aside from Boyle and MacLachlan, one of these freshly minted stars was Sherilyn Fenn, who portrayed Audrey Horne. And, true to her character's troublemaking nature, Fenn had some choice words to say about her co-stars' romance.
Speaking to The AV Club, the "Wild at Heart" star said that she thought that Audrey and Special Agent Dale Cooper, MacLachlan's character, were a natural romantic fit. However, Boyle allegedly wasn't too keen on this development. "She was mad that my character was getting more attention," Fenn said, "so then Kyle started saying that his character shouldn't be with my character because it doesn't look good, 'cause I'm too young."
Lara Flynn Boyle and Kyle MacLachlan's relationship was a curveball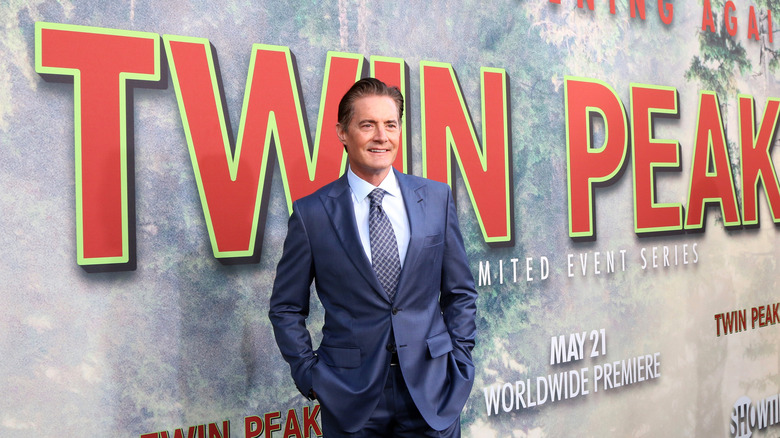 While Lara Flynn Boyle and Kyle MacLachlan have never commented on Sherilyn Fenn's accusations of nixing her romantic arc with Agent Cooper, there does appear to be some truth to the story. In a 2011 interview with WFDU radio, "Twin Peaks" co-creator Mark Frost seems to confirm that some storylines were altered due to professional jealousy. "Somebody in the cast was involved with somebody else," Frost teased. "And that somebody else was not overly thrilled with the idea of the somebody else having love scenes with a third somebody else. And so, she kinda turned the screws and put the kibosh on it." However, in keeping with the mysterious nature of his co-creation, he didn't name any names, but did admit that "it was a curveball that we all had to react to, and react to pretty quickly." The reaction came in the form of new character Annie Blackburn.
MacLachlan's supposed reasoning that his character was too old for Audrey does fall apart a bit when you consider he was eventually paired with Annie Blackburn — played by Heather Graham, who is in fact younger than Fenn. Ironically, MacLachlan also didn't seem to have a problem with his own 11-year age gap with Boyle, her being only 20 years old when they started dating.
Whatever may have really gone down on set, one thing's for sure: this isn't just damn good coffee – it's damn good tea!
Source: Read Full Article