The Truth About Julia Haart's Husband Silvio Scaglia
July 10, 2021
Netflix's reality series "My Unorthodox Life" follows Julia Haart, who went from living in an orthodox Jewish community to becoming a fashion magnate. The show gives an inside look at Haart raising her four children while balancing her role as the CEO of the prestigious modeling agency Elite World Group, via Forbes. She works alongside her husband, Silvio Scaglia, who is the chairman of Elite World Group, via MSN. Haart created a successful shoe line in 2013, and in 2015, sat down with the brand La Perla, where they struck up a partnership, which eventually led to a role under her husband.
Haart has grown resentful over the years, as she has heard whispers behind her back that she owed her success in the fashion world to her marriage. "People will say, 'What's the big deal? She just married a rich guy,'" she told Forbes before the release of her Netflix series. The Elite World Group honcho refers to her early success in the industry, which came well-before marrying Scaglia. "The truth is, this was before I met my husband. One thing had nothing to do with the other," she added. Elite World Group was valued at $90 million when Haart took over as CEO in April 2019, and its value soared to more than $1 billion after two years with Haart at the helm. "It's ridiculous to say that a woman needs a man behind her to find success," the fashion mogul said. So, who exactly is Haart's husband?
Why Silvio Scaglia bought a modeling agency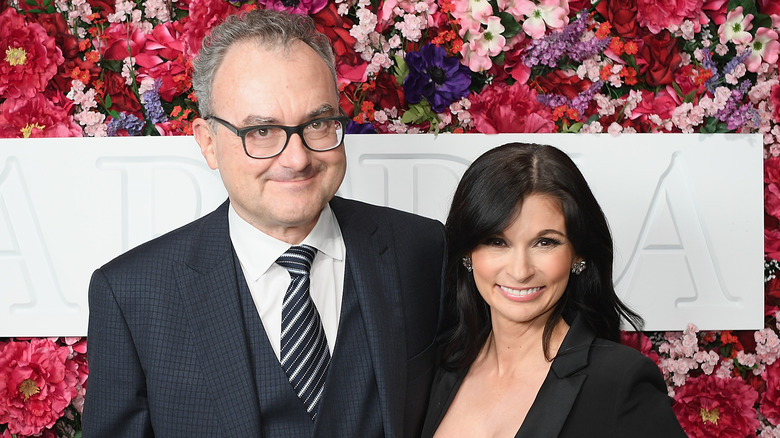 Julia Haart's husband, Silvio Scaglia, is an entrepreneur who made a fortune in the tech industry. Scaglia founded Fast Web, the second largest Italian telecommunications company. He sold his shares in the company in 2007 to become a billionaire, per his website. In 2010, Forbes ranked him among the 1,000 wealthiest people in the world. After he accumulated his fortune, the former engineer did not want to retire and instead diversified his holdings. The Italian entrepreneur purchased Elite World Group in 2010, as he had a big picture plan for the renowned agency, where he would use the connections of the company to influence other sectors of the industry. "Elite, for example, advises the city of Shenzhen in China, which is the largest producer of textile goods, in order to develop their own fashion system," he explained to Arabian Business in 2015.
Always looking to further expand the scope of his company, Scaglia purchased Italian lingerie brand La Perla in 2013 as it was in bankruptcy, per Fashion United. Scaglia foresaw synergy between his two holdings. "We realized that Elite has the potential to really add value to a company like La Perla due to its relationship to the fashion business," he said in 2013. The billionaire believes in following one's instincts in both business and life. As he told Arabian Business, "You need to have a good solid understanding of the analytical situation but then you need to decide with your guts."
Source: Read Full Article