The Truth About Brandi Glanville's Gruesome Health Scare
August 6, 2021
Brandi Glanville usually makes headlines for her uninhibited antics and unfiltered opinions. Last year Brandi and Denise Richards' supposed hookup was a major storyline on Season 10 of "Real Housewives of Beverly Hills" and caused a rift between many of the women on the show. The result of Brandi bringing up this incident on camera? Denise sent cease and desists to production as well as fellow cast members in an attempt to prevent the footage from airing.
On Tuesday night Brandi tweeted to her 795,000 followers "I think I got bit by something in the night!:/I have so much to do today I'm not sure I can go to the doctor." She shared a photo of her hand, which was completely inflamed and stiff. Earlier in the week Brandi had tweeted she was getting her son Mason ready for college move-in day, which is likely what the "Drinking and Tweeting" author meant when she said she had "so much to do."
So, what ended up being wrong with Brandi's hand? Read on to find out.
Brandi Glanville was hospitalized for an infected bite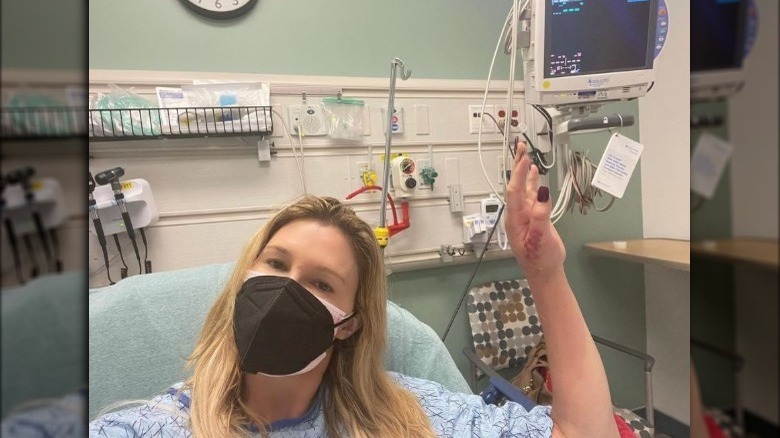 Brandi Glanville continued to share updates with her followers throughout the day. A few hours after she tweeted the initial photo of her hand, she tweeted another image of her swollen hand from the emergency room. "My little piggy hoofer has an infected bite of some kind (not human) spending my day at ER I wanted to leave but they said I could lose a limb so I'm chilling -ON A TUESDAY!!!!" the "Brandi Glanville Unfiltered" podcast host wrote. She was admitted to the hospital and the following day she shared a photo of herself on Instagram in a hospital bed holding up her infected hand. "Hey guys yes I was admitted to the hospital yesterday and I have amazing first responders taking care of me!" Brandi shared with her 607,000 Instagram followers. "We are not exactly sure what we are dealing with we believe it may be an infected spider bite… More tests to run." 
The "Drinking and Dating" author was still in the hospital on Wednesday night, tweeting a picture of the salad she was having with the caption "Dinner." On Thursday she tweeted that the swelling was beginning to go down, and joked that she was planning her escape from the hospital. "Feeling so much better today!!! They just took my lunch order but little [do] they know I will be going home before lunch I have an escape plan set!" We're wishing Brandi a speedy recovery!
Source: Read Full Article