The Celebrity That Dean Cain Dated At Princeton
August 23, 2021
"Lois & Clark: The New Adventures of Superman" may be Dean Cain's most famous role by far, but there is certainly more to the actor than meets the casual fan's eye. Did you know, for instance, that Superman was once of Asian descent? Well, he was when Cain played him, as the actor has always owned the fact that he's one-quarter Japanese, telling a Twitter follower in 2017 such when the fan threatened to "take your Asian card away." Cain's heritage is so overlooked by fans and the media, in fact, that when Comic Book Resources tweeted a 2019 article asking. "Does #Superman Need to be White?," Cain fired back incredulously, "Ummmmm… really? You're about 25 years too late." 
Some might attribute the obscurity of Cain's race to his conservative-leaning political views, ones he expresses freely and often on both social media and Fox News. In response to a line from a July 2021 issue of Marvel Comics' "The United States of Captain America," in which Captain America opines the American Dream isn't "real" for many, Cain passionately responded on Fox News that he was "so tired of this wokeness and anti-Americanism" and that America is "the most fair, equitable country anyone's ever seen."   
Befitting this "man of mystery" mystique, Cain's love life can be just as surprising. While he has a son, Christopher Dean Cain, with ex Samantha Torres (per ABC News), his heart once belonged to a very famous name. Find out next the A-list celeb Cain dated while attending Princeton University.
Dean Cain took this A-lister's virginity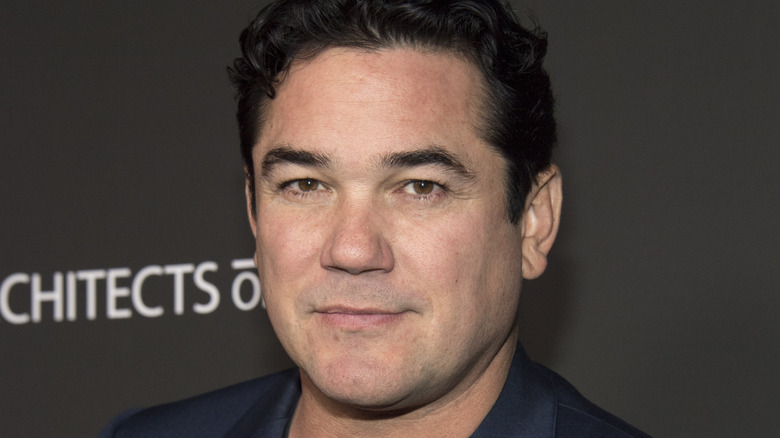 In her 2014 memoir, "There Was A Little Girl," Brooke Shields revealed that she lost her virginity to Dean Cain during their two-year relationship while they attended Princeton University. Per book excerpts published by the Daily Mail, Shields revealed that her close bond with mom Teri resulted in her being "terrified of physical contact with boys." Enter Cain, a star football player at the Ivy League school, whom Shields claims she shared "instantly crazy" mutual chemistry with, as the two were "always holding hands and trying to find ways to be alone and kiss." 
In very Clark Kent fashion, Cain was "incredibly and painfully patient with me regarding sex," Shields revealed. The two ultimately did consummate their relationship in college, and Shields' reaction to losing her virginity made her feel "so overwhelmed that I jumped out of my bed," she described, continuing, "I was buck naked streaking down a hallway and running like I had just stolen someone's wallet… Dean leapt up and ran after me… He hugged me tight and asked me where I was going." Shields shared in her book that her fear was that, "I didn't know where I began and where my mother ended. I didn't know how to fit Dean in." 
In response to Shields' abundance of intimate revelations, Cain told Fox News (via the Daily Mail) in 2014, "Brooke was a very big part of my life, and I'm honored to have been a part of her life."
Dean Cain's ex-fiancé died by suicide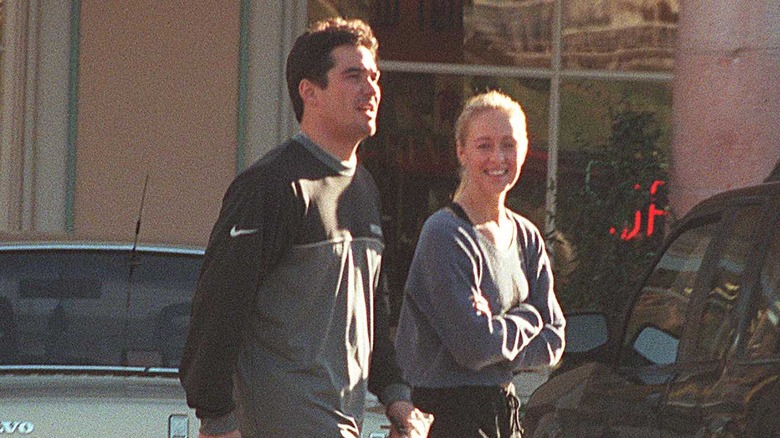 In much more tragic news concerning Dean Cain's romantic life, the actor has been linked romantically to many women, but the only one he almost married was ex-fiancée Mindy McCready, who died by suicide in 2013, via People. Cain and McCready dated from 1997 through 1998, via the outlet, during the course of which they moved in together. Though Cain shared he was "saddened" by her death, he also told People he was "not surprised," adding that "[a]ll her troubles were self-inflicted … She was a tremendous talent but everything about it was a waste."
One day after McCready's death, Cain offered insight into their romance's pitfalls. "Things weren't allowed to be good," Cain revealed to People. "She was never abusive or addictive with me, but red flags were everywhere." Cain even stayed at hotels hoping to escape the drama, ultimately giving McCready the boot, saying, "I saw all the bad signs and told her to get out." Cain worried for his own son, Christopher Dean Cain, with Samantha Torres (via ABC News), as well as the two McCready had outside their relationship. The actor told People his first thought hearing of the suicide was "of the poor kids. To think about the legacy those boys have been left, it's just tragic."
Lucky for Cain, he loves raising his son single. "My best day would be just to wake up, and … having no plans and hanging out with my son," Cain enthused to ABC News.
If you or anyone you know is having suicidal thoughts, please call the National Suicide Prevention Lifeline​ at​ 1-800-273-TALK (8255)​.
Source: Read Full Article