'Stranger Things 3' Episode Titles Have Finally Been Released
December 10, 2018
1. Season three will premiere in 2019. David Harbour (Hopper), first revealed this information in two separate Variety interviews. In December 2017, he said, "You probably won't get [season three] until sometime in 2019," adding that the cast and crew "need time." Less than three weeks later, he told Variety, "I'm not the authority on any of this. But if you use logic, our first season came out July 15. Our second season came out October 27. Theoretically, if we keep on the same timeline, what's our next release date? I guess it would be January or February 2019. But I don't know. I would love for it to be as soon as possible. We just want to make them good, and good takes time. It all goes into shaping a really beautiful product, and that's the most important thing." OK, dad.
On July 16, Netflix released the first teaser for season three, along with the suggestion that season three won't premiere until Summer 2019. Some five months later, in an episode title reveal video, Netflix simply wrote, "coming 2019."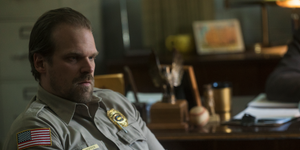 2. Unlike previous seasons, season three will take place in the summer. As executive producer Shawn Levy revealed at PaleyFest in March 2018, season three will take place one year after the events of season two, placing Eleven, Mike, and friends in the summer of 1985. Things that were popular that summer: "Heaven" by Bryan Adams, "Shout" by Tears For Fears," "Sussudio" by Phil Collins," and Back to the Future (see item no. 10). Nintendo was also released that October, which only makes me weep for Bob.
3. The youngs you've been shipping are still together. For now. According to Levy, "Mike and Eleven and are going strong, so that's a relationship that continues, and same with Mad Max and Lucas." But keep in mind that they're still 13, 14-year-old kids. "So what does romance mean at that stage of life? It can never be simple and stable relationships and there's fun to that instability," Levy says.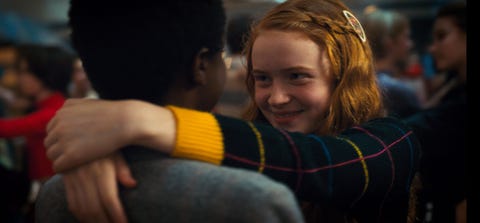 4. Expect more Steve. And more importantly, "Dad Steve." Again, from Levy at PaleyFest: "I don't want to say much more, but I literally feel that we were walking along and we stumbled onto a gold mine with Dad Steve," Levy said. Does this mean we'll actually see him get busy with a bottle of Fabergé Organics? (Four pumps, remember.)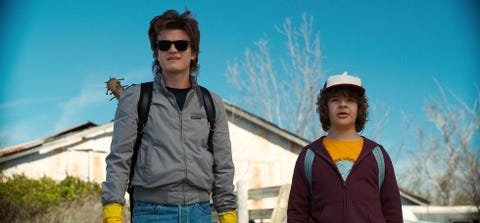 5. Erica Sinclair, Roast Queen and little sister of Lucas, will be promoted to a recurring cast member. In March 2018, Netflix announced actress Priah Ferguson's promotion, along with details of what to expect from her character on season three. Get ready for Erica, more grade-A roasts, and her "army of friends," who will all be part of a mission to save Hawkins from another dangerous threat.
6. Kali, Eleven's "sister," will probably be back. Kali was last seen on "The Lost Sister" (season two, episode seven) making a run with her crew as Eleven headed back to Hawkins to save her friends. Regardless of your feelings about the character, Kali's storyline seemed unfinished, especially since she opened season two. In November 2017, Matt Duffer revealed during Vulture Fest LA that it felt "weird" to leave her storyline out of season three. "I would say chances are very high she comes back."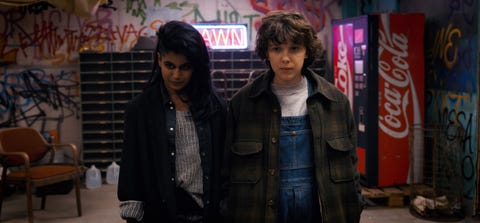 7. Uma Thurman and Ethan Hawke's daughter will play a new character. Maya Thurman Hawke, who just made her TV debut playing Jo March in the 2017 BBC adaptation of Little Women, will play a character named Robin on Stranger Things season three, according to Variety. Robin is "bored with her mundane day job" and "seeks excitement in her life," leading her to get "more than she bargained for when she uncovers a dark secret in Hawkins." In its official announcement, Netflix added that Robin is an "alternative girl."
Maya Thurman-Hawke is headed to Hawkins as Robin, an "alternative girl". That is her literal character description so get ready for some angst. pic.twitter.com/zbyUteq3kA
8. The Shadow Monster is not going anywhere. If you finished season two, you know that the Shadow Monster is an uninvited guest at the Snow Ball. As Levy tells Variety, the monster "is still lurking up there out there in the Upside Down" and is "determined to find a way to achieve his goals." The Demodogs, however, will probably sit this one out. "The dogs didn't get it done in season two, so he's going to have some new strategies."
#StrangerThings producer @ShawnLevyDirect on what's next for the shadow monster (Watch) pic.twitter.com/MiZpwoSCzr
9. If Stranger Things 2 was dark, the third season will be creepy. "Legitimately creepy," to be exact. According to Levy, who spoke to Entertainment Weekly at PaleyFest. "It's very much the Stranger Things I think people know and love. It's big and spooky. Season three has legitimately creepy moments and events, but it's incredibly warm and character-based because at the end of the day, I think that's what people love most about Stranger Things."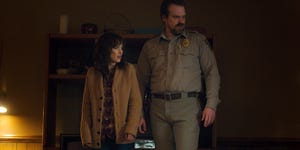 10. Stranger Things 3 will draw from Back to the Future, creators announced in March 2018. If you're not familiar with the sci-fi classic starring Michael J. Fox and Christopher Lloyd, watch the trailer, and then immediately make plans to watch the film this weekend. In the movie, teenager Marty McFly (Fox) is sent back to 1955 through a time machine built from a DeLorean car and meets his parents in high school. On top of it all, he becomes his mom's love interest. Marty's friend Doc Brown (Lloyd) helps him along the way as the two try to make it back to 1985. The film spawned two sequels, Part II and Part III.
11. The guy from Princess Bride will guest star. In April 2018, Netflix announced that Cary Elwes will play Mayor Kline, a "handsome, slick, and sleazy… classic '80s politician." Jake Busey, son of Gary, who was most recently on Agents of S.H.I.E.L.D. as Tony Caine, will also guest as a journalist for The Hawkins Post. He'll also have a "sick sense of humor," according to Netflix. FYI, The Princess Bride came out in 1987, two years after when season three takes place. Unless there's a time jump of some sort, I wouldn't put too much hope into a Westley reference.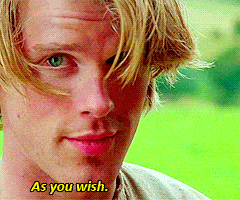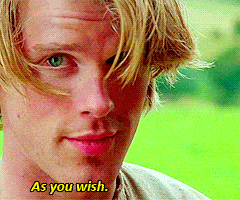 12. Production officially started in late-April. To celebrate the first day of filming, Netflix released this behind-the-scenes video featuring the season three cast.
13. There's a new mall in Hawkins. It's called the Starcourt Mall and both Steve and Robin (Maya Hawke) work there as ice cream scoopers at Scoops Ahoy. On July 16, Netflix released the first teaser for season three in the form of a promo for Starcourt.
14. Following Stranger Things tradition, we now know the titles for the season three episodes. On December 9, Netflix unveiled the episode titles for Stranger Things 3.
The titles are:
A few questions: Who's Suzie? Who's the missing lifeguard? Does Will celebrate a birthday, or is it really about the Shadow Monster? And what kind of batter should we be expecting at Starcourt, aka the mall where Steve works?
This post will be updated as more season three information is revealed.
Source: Read Full Article