'RHOP': Candiace Dillard Says She's Not Friends With Ashley Darby Because Darby Isn't 'Loyal'
August 16, 2021
For several seasons, fans of The Real Housewives of Potomac have been perplexed on exactly what the issues are between Ashley Darby and Candiace Dillard. Now, Dillard is giving her side of the story. According to the singer and reality star, Darby did not show her any loyalty amid her joining the cast.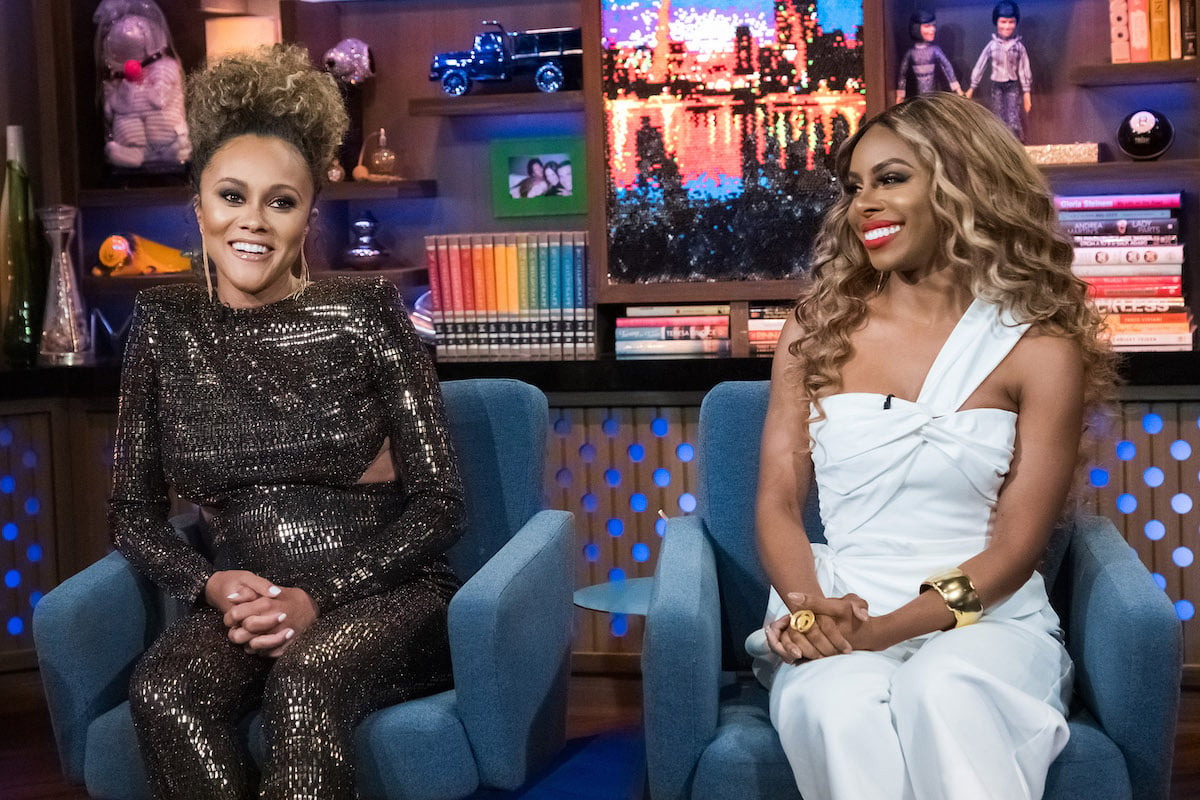 Candiace Dillard says Ashley Darby isn't loyal
Viewers were first introduced to Dillard in season 3. Dillard came into the show as an acquaintance of Darby. But Dillard says despite their previous relationship, she began to distance herself from Darby because she feels Darby lacks loyalty.
"For me, when I first joined this cast, when I first joined this group of girls, I came in as Ashley's friend," she explains in a recent chat with Entertainment Tonight. "We knew each other through the pageant world. As a friend, I have a standard of protocols. Loyalty is one of them."
Dillard says watching Darby speak negatively of her throughout her first season was baffling.
"For example, when Wendy [Osefo] came in, I welcomed with open arms," Dillard shares, contrasting her experience with Darby. "I introduced her to the group, I stood by her, I called her every other day, I made sure she was good, I checked in with her, I was her friend but I didn't get that from Ashley. Ashley brought me in, she dumped me on the side of the road, and then she was shading me in confessionals five minutes after I joined the cast. I didn't even see that until it aired. I was like, 'Wow. Who is this girl?'"
The 'RHOP' star says Ashley Darby siding with Monique Samuels was the final straw
Dillard doubles down on her disappointment from Darby's season 3 confessionals, telling ET. "If we're friends, why are you shading me in your confessionals?" she asks. "And why are you not showing any sense of loyalty to me, whatsoever? From there, it became a bunch of flexing matches."
Despite such, she was still willing to move forward in a positive direction. But the line was drawn permanently in the sand during season 5. Darby confessed to Dillard that she was writing a letter of support for Monique Samuels in her legal battle against Dillard following their physical altercation.
"The true catalyst, for me, was when she involved herself in legal matters, simply to be vindictive," Dillard explains.
Darby admitted that she wanted to help Samuels because Samuels came to her aid when a cameraman accused her husband of gripping him. Darby accuses Dillard of taking the opportunity to slander her and her family. 
Ashley Darby says Candiace Dillard doesn't accept accountability
During a recent appearance on Watch What Happens Live, Darby explained that she doesn't have a close relationship with Dillard because Dillard doesn't own up to her bad behavior.
"That's my issue with Candiace, no matter how much you try to talk to her about something and confront her about something, she's always going to find some way to, you know, like, push it off, shove it off," Darby said.
But Dillard isn't buying it, telling ET: "I think it's poppycock," Dillard shot back. "Ashley is the queen of deflection. The queen of deflection. There are so many examples… She's full of you know what. I literally pay her no mind. None. You can't take anything she says seriously."
RHOP airs every Sunday on Bravo at 8p EST.
Source: Read Full Article