'RHOBH': Kyle Richards' Friend Justin Sylvester Reveals Why He Doesn't Always Like to Go to 'Houswives' Events
June 29, 2020
Although Justin Sylvester from E! News and Daily Pop is close friends with Kyle Richards from The Real Housewives of Beverly Hills, he doesn't always love hanging with her when she's filming.
Sylvester worked for Richards before becoming a familiar face in entertainment news. Richards was not only his employer, but she was one of the important people in his life who helped him come out.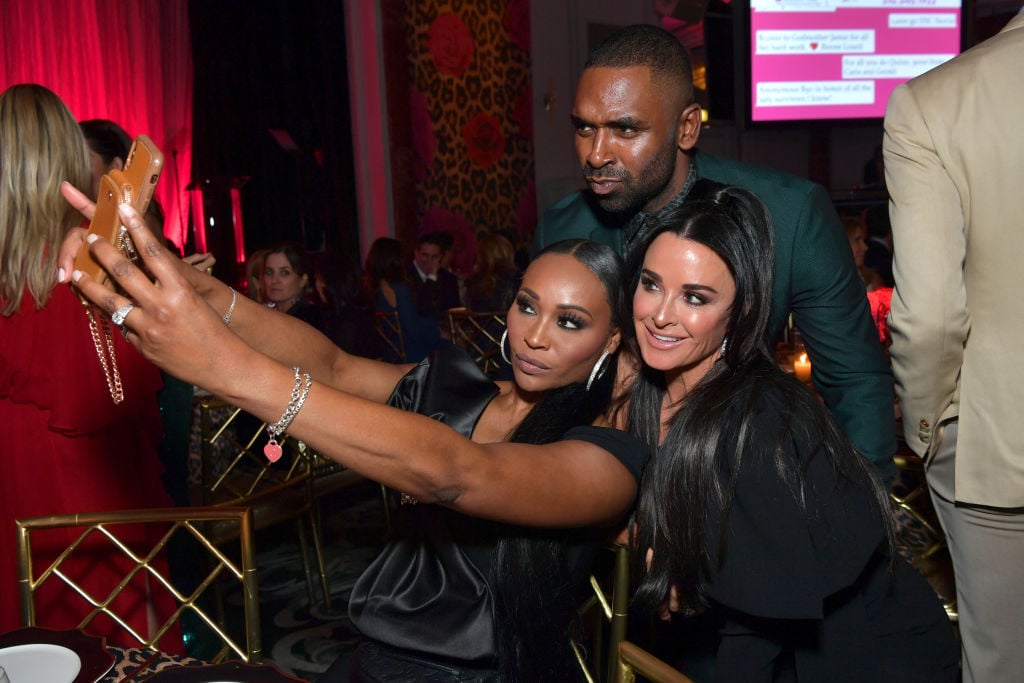 "I was working for Kyle Richards and I was out to certain people in my life and this woman on the show hosted a gays and gals party for the Real Housewives of Beverly Hills," he told E!. "It was my first year working here and she invited me to it and she said, 'Hey, this is the party. I know you're not completely out yet so you can decide if you want to come to this or not. I would love for you to come with me.'" And while Sylvester loves Richards and his RHOBH family he would probably prefer to report on the show than be part of it.
Sylvester was at the infamous dinner at Kyle Richards' home
The problem with being friends with a Houswife is they assume you know they are always filming. "If you're invited to their house that you know there's going to be a camera," he said on the Juicy Scoop with Heather McDonald podcast. "That's just how they operate in life." When he's asked to come to a party, the cast member will often forget to mention that the party or event will be filmed for the show, he shared.
RELATED: 'RHOBH': Kyle Richards Reveals Housewife Who Has Brought The Least To The Show
"Because that's their normal life," he says. "I didn't even ask [if they were filming]. And I should have known. I'm such a fool. I worked for this woman for five years and we've been friends for 11 years. I know when the show is filming. They are filming every aspect of her life."
"But I know this is so ingrained in her, she just doesn't say it's going to be filmed," he says. "Because she just assumes we know everything's going to be filmed. And I think sometimes she forgets to tell Maurice [the bartender] that those black things are cameras and maybe let's not serve as strong as drinks as we have in the past."
Lisa Rinna is usually going to stir the pot
"But that is why sometimes I don't like to go to all Housewives events," Sylvester admits. "Because when you have all those women in one room, something is bound to go down."
"And I just look at Lisa Rinna's lips because I know that it's gonna get started from those puckers," he insists. "Like I always just assume that Lisa Rinna is going to bring up what everybody else does not. Which is why we all love her. And the minute she said something, I was like, 'Oh here we go.' Here we go with the games. But I love these women and I think they're all fabulous."
RELATED: 'RHOBH': Teddi Mellencamp Explains Why Sutton Stracke Made Her Cry
Rinna suggested that the group share their first impressions of each other. Unfortunately, the truth serum was flowing as newcomer Sutton Stracke's first impression of Teddi Mellencamp was that she was boring. Mellencamp ended up in tears and the room got awkward. Of course, that's not the most uncomfortable part of the dinner. Denise Richards' husband Aaron Phypers described his career in frequency medicine, which had the group looking more than confused.
Source: Read Full Article