'Jeopardy!' Champ Sets New Record by Reaching $1 Million Mark in 14 Games
April 24, 2019
AceShowbiz -A contestant on "Jeopardy!" has broken records! James Holzhauer, professional sports gambler from Las Vegas, has surpassed $1 million in total earnings in the Tuesday, April 23 episode of the show, thanks to his calculated strategy. The 34-year-old reached the milestone after 14 games, making him the only contestant who did it in the shortest time in the show's history.
Holzhauer earned $118,816 in the game that aired on Tuesday after correctly answering this Final Jeopardy clue that read, "On May 1, 1869, these two men met at the White House, four years and three weeks after a more historic meeting between them." His win put his total take at $1,061,554.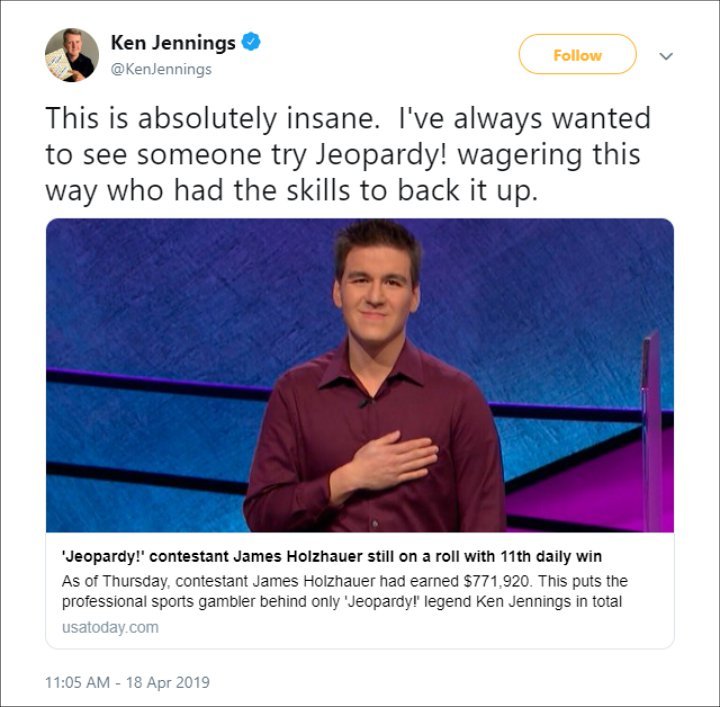 "He's a beast but you're more likeable and funny," one fan replied in the post. "I've been watching it. It's been amazing. A long time since I've seen someone this good, haha," another one added.
"You are still the most intelligent of all Jeopardy contestants hands down. His strategy is great and his betting is well calculated," another user said. "Waiting to see who will unseat him. My guess is a young non white contestant who is quick on the buzzer. He's very exciting to watch."
Source: Read Full Article