Is Kristen Wiig Worth More Than Her 'Bridesmaids' and 'SNL' Co-Star Maya Rudolph?
June 18, 2020
One person actor Kristen Wiig has likely turned to since becoming a mom to twins? Her long-time friend and co-star Maya Rudolph, who has four kids of her own. Here's a look at their respective careers and net worths.
Kristen Wiig and Maya Rudolph became famous for 'SNL'
RELATED: Kristen Wiig Was the Reason Maya Rudolph Returned to 'SNL'
Both Wiig and Rudolph are known for getting their start on Saturday Night Live. As Rudolph tells it, they met via the network of Groundings performers in Los Angeles, at a baby shower. Melissa McCarthy (another Bridesmaids star), was also in attendance.
Rudolph and Wiig worked together on SNL for years. When Wiig joined the sketch series in 2005, Rudolph had been there for years. It was watching Wiig perform in 2006 that made Rudolph, then on maternity leave, want to return to work. "I thought, 'I want to go back, and I want to play with her. It looked so fun," she said in a 2019 interview on The Ellen DeGeneres Show.
Rudolph got her start in music
Before Rudolph joined SNL, she was a member of the rock band The Rentals. She also appeared in such shows as Chicago Hope and films like As Good as It Gets. Rudolph was on SNL for nine seasons before exiting with season 33. However, she's returned on many occasions to reprise old characters and take on new ones.
Rudolph is known for films such as Inherent Vice and the Grown Ups franchise. She co-hosted the short-lived variety series Maya & Marty and starred in the Amazon show Forever. Rudolph is also known for her voice work in films such as The Emoji Movies and The Angry Birds franchise.
Wiig has branched out into writing and producing
RELATED: 'Bridesmaids' Director Paul Feig Recounts Kristen Wiig's 'Genius' Line
Wiig's career, meanwhile, kicked off in 2003. After a couple of small roles, she joined the cast of SNL with season 31. She remained on the show for seven seasons. Like Rudolph, she began as a repertory player, and has come back as a host and in other capacities over the years.
Wiig is known for such films as Ghostbusters. She has appeared in TV series like The Last Man on Earth and The Spoils of Babylon, the latter of which earned her an Emmy nomination. She has also moved behind the camera. In addition to writing Bridesmaids, she co-wrote the upcoming film Barb and Star Go to Vista Del Mar.
What other projects have they worked on together?
Though SNL and Bridesmaids were their two earliest projects together — and, for that matter, the most cited — Rudolph and Wiig have collaborated in other ways over the years. In fact, the same year that Wiig's film came out, they starred in the romantic comedy Friends with Kids together.
Rudolph joined Wiig in The Spoils of Babylon follow up The Spoils Before Dying. Both have voiced characters on Big Mouth, and have appeared in episodes of series like Portlandia and Nobodies, albeit not together. At present, Wiig and Rudolph are part of the voice cast of the Fox animated sitcom Bless the Harts.
Wiig and Rudolph's respective net worths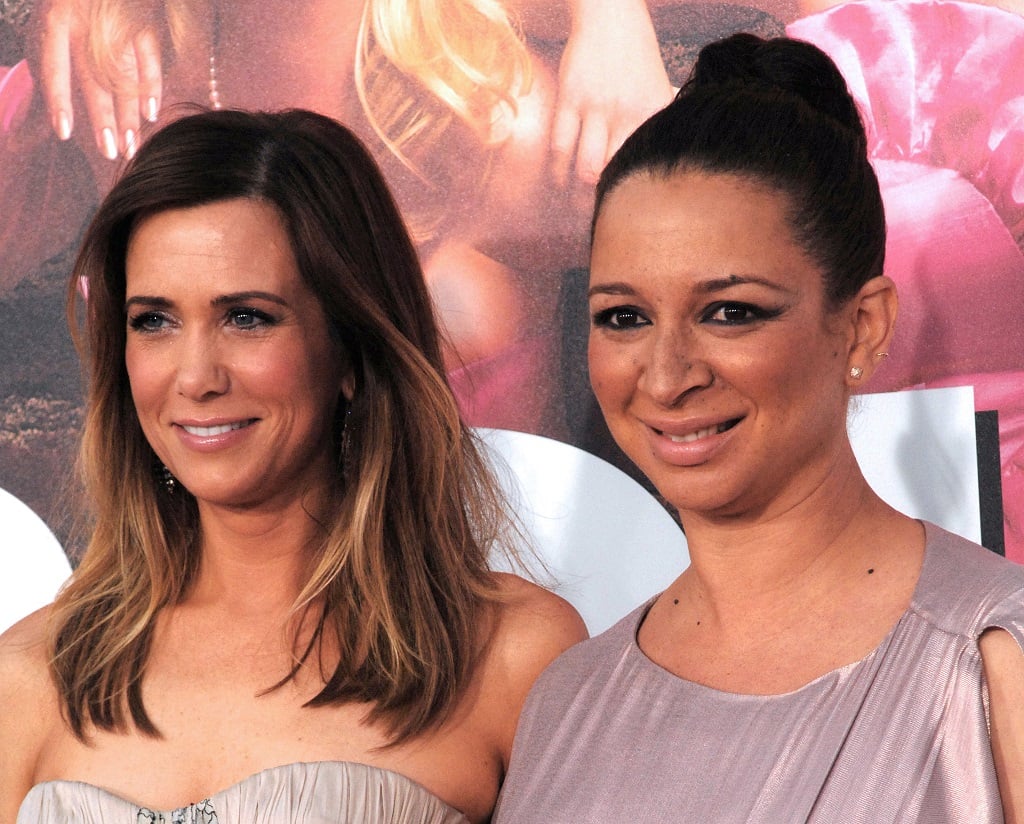 RELATED: How Much Maya Rudolph is Worth and How She Became Famous
The two actors have put in a lot of hours in the business over the past two decades. So they've made quite a bit of money in this time. According to Celebrity Net Worth, Wiig is worth $25 million. As for Rudolph, who hasn't done the producing Wiig has, the same site estimates she's worth about $10 million.
Source: Read Full Article