Is Amazon's 'The Marvelous Mrs. Maisel' Based on a Real Person?
December 6, 2018
The Marvelous Mrs. Maisel is back for Season 2. The second season of the Emmy-winning show debuted on December 5, and so far, the reviews are positive.
The Amazon original tells the story of Midge, a 1950s housewife in New York City who discovers she has a gift for stand-up comedy. From the witty dialogue (courtesy of Gilmore Girls creator Amy Sherman-Palladino) to the spot-on period details, viewers have fallen in love with the show. And some are wondering if Midge's story is wholly fictional, or if it was inspired by a true story.
Midge is loosely based on Joan Rivers
The Marvelous Mrs. Maisel
isn't inspired by any one person's life story. But the character of Midge is loosely based on Joan Rivers. Like Midge, Rivers was Jewish and a native New Yorker (though she was from Brooklyn, not the Upper West Side). Both got their start in the 1950s, though Rivers first tried to make it as an actress before switching to comedy.
In the show, Midge makes her impromptu debut on the stage of the Gaslight Café in Greenwich Village. Rivers also performed there in the early 1960s as she was getting her start as a comedienne. But there are also some big differences between the characters. While Midge is a mom-of-two who is blindsided when her husband walks out, disrupting their picture-perfect life, Rivers was single at the beginning of her career (a short-lived first marriage lasted just six months).
The real comic and the fictional character differ in another big way, according to actress Rachel Brosnahan, who plays Midge. "Joan's comedy came from a place of feeling like she never belonged. She always referred to herself as the ugly duckling," she said in a Vanity Fair interview. "Midge is the opposite. She knows she is beautiful; she knows she is great at what she does, and she will be the first to tell you about it."
Sherman-Palladino has acknowledged that Rivers was an inspiration. "I'm a massive Joan Rivers fan; the world is sadder without her, and will always be sadder without her," she told Vanity Fair. "And she had that wonderful mix, that battle of wanting to be accepted on a feminine level—[but] you can't have that many balls and be accepted on a feminine level. It just doesn't work that way."
The other real-life inspirations for The Marvelous Mrs. Maisel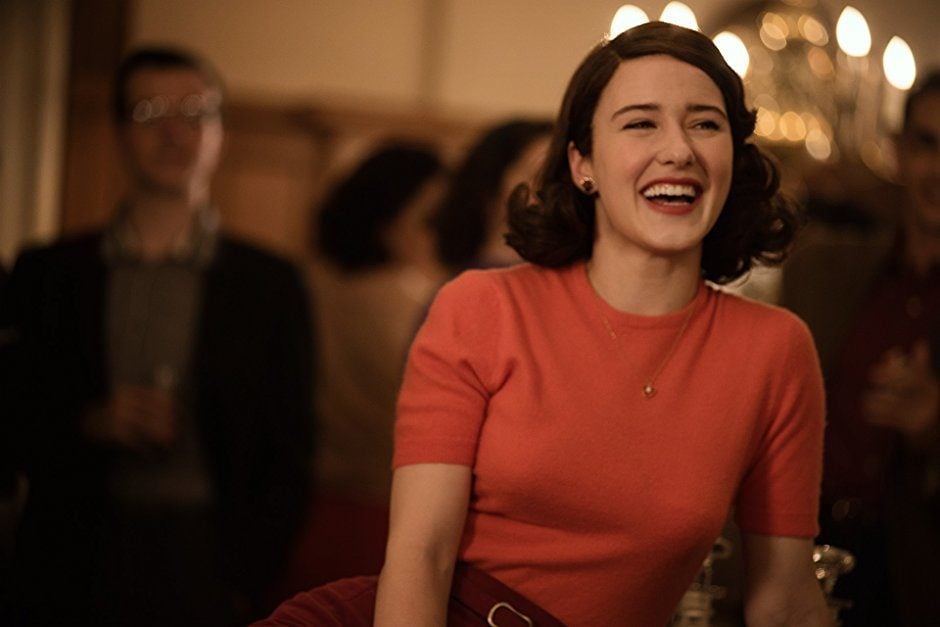 Rachel Brosnahan in The Marvelous Mrs. Maisel | Amazon
Midge isn't the only character in The Marvelous Mrs. Maisel that's inspired by a real person. Alex Borstein, who plays Midge's booking agent Susie Myerson, told the Los Angeles Times she took her cues from legendary talent agent Sue Mengers when thinking about how to portray the character.
Sophie Lennon (Jane Lynch) might also be a version of famous female comic Phyllis Diller, Vulture speculated. Like Diller, Lennon deliberately makes herself less attractive to make her act more palatable to her audience. (In the show, Lennon wears a fat suit, while Diller wore bag dresses to hide her figure.)
In addition to characters inspired by real people, several famous faces pop up in The Marvelous Mrs. Maisel. In the first episode of Season 1, Midge meets comedian Lenny Bruce. (Rivers has said Bruce encouraged her early on in her career.) Activist Jane Jacobs makes an appearance, as does comedian Red Skelton. Folk group The Kingston Trio also show up in the pilot episode.
Some of the inspiration for The Marvelous Mrs. Maisel is more personal. Sherman-Palladino's father Dan Sherman was a stand-up comic who once worked in Greenwich Village coffeehouses. She drew on her memories of him when developing Midge's character.
Season 2 of The Marvelous Mrs. Maisel is now streaming on Amazon.
Check out The Cheat Sheet on Facebook! 
Source: Read Full Article