Here's Why You Recognize The Cast Of 'The Equalizer'
June 22, 2021
There are a lot of reasons to watch CBS network's "The Equalizer," one of which being the high-wattage, credits-toting cast. Led by the inimitable and incredibly successful Queen Latifah, "The Equalizer" is the show you should be watching — assuming you didn't catch it after the Super Bowl in 2021. Believe it or not, this is the second reboot of the franchise: It originally began as a 1980s television series starring Edward Woodward, and was then revived as a pair of movies that featured Denzel Washington in the lead role.
The story follows a single mom who uses her CIA operative training to become a guardian angel to those needing some vigilante justice. Since the character has always been played by a male actor, Queen Latifah was thrilled to bring her perspective to the role as Robyn McCall. "We knew we could tell this story from Queen Latifah's perspective and a Black woman's perspective in America, who is a parent," she said at the 2021 TCA press tour, via Good Housekeeping. "We have a different sort of setup for this story that we can tell week in and week out. She faces a different set of circumstances."
Now you might also recognize the rest of the cast, but not be sure where you've seen them before. We've got you covered with some of their most famous credits and why you should know more about them, especially since they are coming back this fall for a second season.
Tory Kittles has worked with Queen Latifah before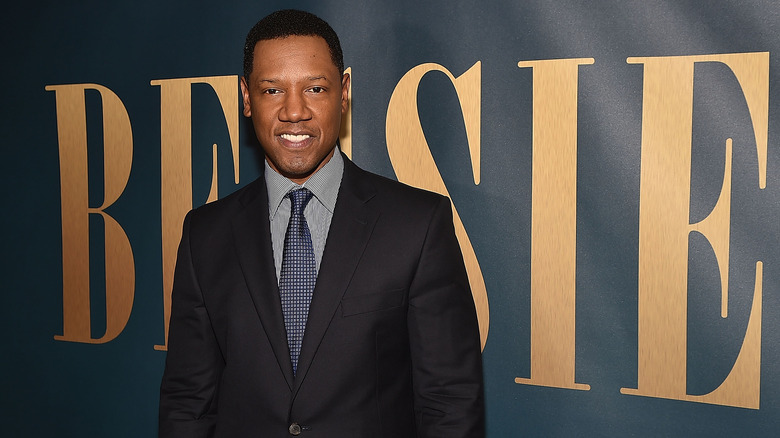 Besides starring in "The Equalizer" with Queen Latifah, Tory Kittles also shared the screen with her in "Bessie," the 2015 HBO movie about the famous blues singer Bessie Smith. He had such a great experience with her that he was thrilled at the prospect of working with her again on the CBS series. "I said yes before I ever read the script. I said yes because I knew Queen Latifah was attached, and I wanted to be a part of it," he said in an interview with Fansided's Precinct TV. "And then I read the script and I thought, oh, I'm glad it's good. I knew it would be good because of the people involved in it."
If you didn't catch "Bessie," then you might also know Kittles from his turn as Detective Thomas Papania in HBO's first season of True Detective with Matthew McConaughey and Woody Harrelson. He said working with McConaughey was "intense" because he "stayed in character" on set, and it was a strenuous shoot. "We kind of ended up doing the interrogation scenes like a play. They just said "action" and we just kept going," he revealed to Vulture. "That first day with Matthew, we were into episode four or five, at least. We did 27 pages nonstop, and he was chain-smoking. They were smoke-filled days."
It sounds like Queen Latifah is a little easier to work with — no cigarette smoke in sight.
Queen Latifah's singing talents brought her to the big and small screens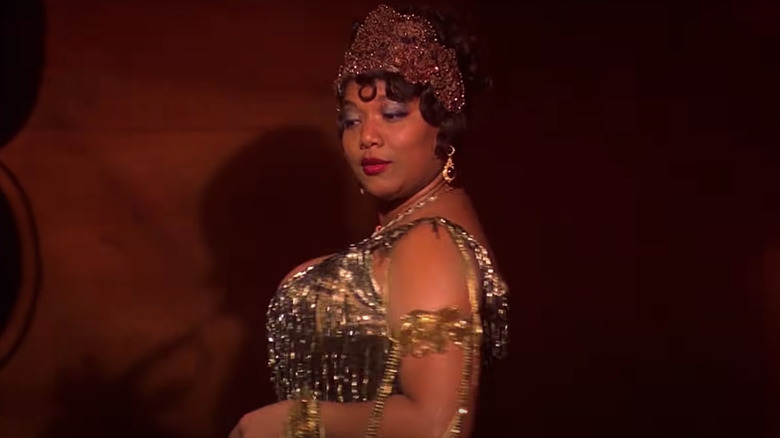 Queen Latifah burst onto the hip-hop music scene in the late 1980s and she opened doors, not only for women in music, but for the rap genre. As Vibe noted, she became the first rapper to ever perform in the Super Bowl halftime show when she took the stage during the program's tribute to Motown in 1998. But music wasn't the endgame for Queen Latifah, she had other areas in Hollywood to conquer.
She hit the big screen for the first time in "House Party 2" and "Jungle Fever" in 1991, where she kept plugging away and honing her craft of acting. It eventually led to bigger roles like her Academy Award-nominated role of Matron Mama Morton in 2002's Chicago, proving she truly is a triple threat. But she might most be remembered for her work in the 1990s on the small screen on a show about six single friends living in Brooklyn called "Living Single." The precursor to "Friends" ran a successful five seasons on Fox.
It was so good that Queen Latifah has been trying to reboot the series for several years now. "Funny you should ask — we're actually working on it," she told Andy Cohen on "Watch What Happens Live" in 2017. "It's not there yet, but hopefully we can get it happening." If anyone can do it, the Queen can.
Adam Goldberg has worked with Steven Spielberg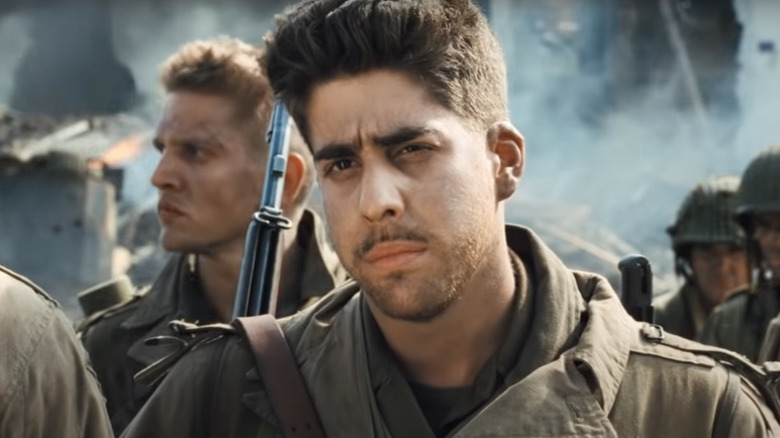 Before Adam Goldberg took on the part of the lovable but paranoid tech guy Harry Keshegian on "The Equalizer," his face graced TV and movie screens with some serious Hollywood heavyweights. He got his first small role in "Designing Women" back in 1990 at the age of 20, since then he's continued to work as one of the entertainment industry's busiest character actors.
"Friends" fans will recognize him as Chandler's annoying roommate Eddie. The second season storyline was only a three-episode arc, but Goldberg almost turned down the opportunity because he wanted to be a film star. He shared the story on HuffPost Live that he was "a little snobby" at the time when it came to doing television. "The 'Friends' thing was totally fun and completely worth it," Goldberg said. "It was idiotic of me to think for two seconds that I shouldn't have done that."
He also snagged the role as the wisecracking soldier Mellish in 1998's Oscar-winning film, Saving Private Ryan. It was a character that wasn't defined until he auditioned for Steven Spielberg and made a huge impression on the legendary director. "My role wasn't written in the movie until I was cast," the actor recalled to the Los Angeles Times. "During the auditions, we didn't have scenes from `Saving Private Ryan.'" For Goldberg, the Spielberg movie was a huge turning point in his career.
Lorraine Toussaint knows her way around TV procedural shows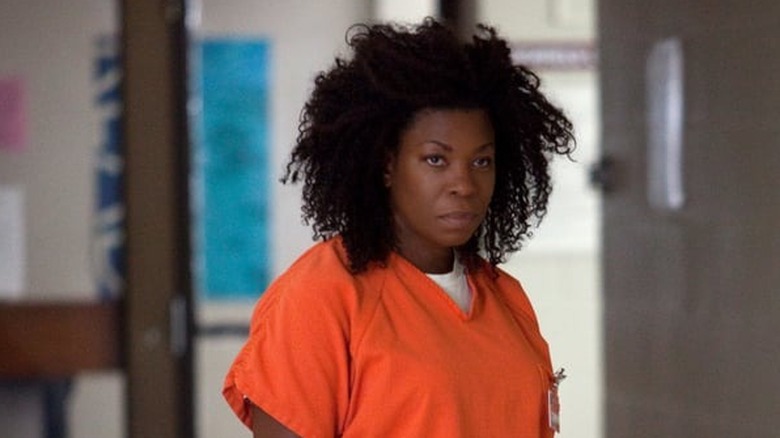 Lorraine Toussaint might be the queen of police, doctor, and lawyer roles because she's done a string of shows like "Law & Order," "Any Day Now" and "Crossing Jordan." And, of course, there was her incredible portrayal of prison villain Yvonne "Vee" Parker in "Orange Is the New Black." You loved to hate Vee, and Toussaint played that character to the hilt — she was so bad, you couldn't wait for every moment that she stole the show from the ensemble cast.
It wasn't an easy role for her, though. She admitted to Variety that she had to leave the character behind on the set each day. "I have not seen it," she shared. "She's too scary for me to watch. I don't want to see it. I have my own fantasy about who she is and I'm going to hang with that for a while."
Now that she plays Viola "Aunt Vi" Marsette on "The Equalizer," Toussaint gets to explore the sweeter side of her personality as the nurturing aunt of Queen Latifah's character. "The last few years, whenever I've gotten the opportunity to luxuriate in motherhood," she told The A.V. Club. "I've jumped at it because it really does show the softer, more vulnerable aspects of me that for a good chunk of my career, I was not asked to play." And for Toussaint, it's a good opportunity to leave the dark vibes of Vee behind — for now.
Mr. Big is also on The Equalizer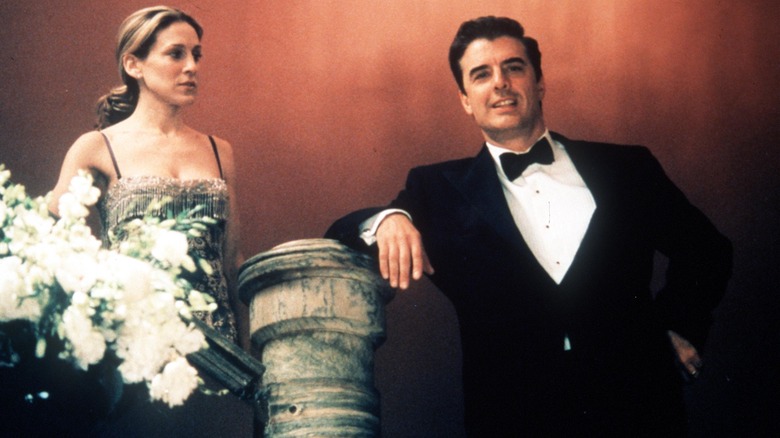 Chris Noth has had a consistent run on television after getting his big break on "Law & Order" in 1990, a show he would later be fired from in 1995 because producers thought his character was too much like co-star Jerry Orbach's — or as Noth said in Chicago Tribune, "kind of canceled each other out." Evidently, this wasn't a bad thing. He told the outlet he "already had one foot out the door" and was somewhat "relieved" to be moving on.
When he joined the cast of "Sex and the City" in 1998 as Mr. Big, Carrie Bradshaw's longstanding love interest, his television career was firmly cemented — it also changed the level of fame. "My favorite time of Sex In The City was the first year and a half of it before anyone knew what it was," Noth shared with Glamour. "We could do the work and celebrate it and have a good time and not be hounded. People got out of their minds about this show."
He then catapulted onto his first CBS show, "The Good Wife," in 2009 as the cunning politician Peter Florrick, who had a little bit of Mr. Big in him. It was a show that gave him, as he said in The Hollywood Reportrer, "a really interesting seven years" because his character "live[d] in crisis" and was always "under fire." The rush of adrenaline should hit again because Noth has officially joined "Sex and the City" revival "And Just Like That." Talk about a big development. 
Laya DeLeon Hayes might have the coolest Disney cred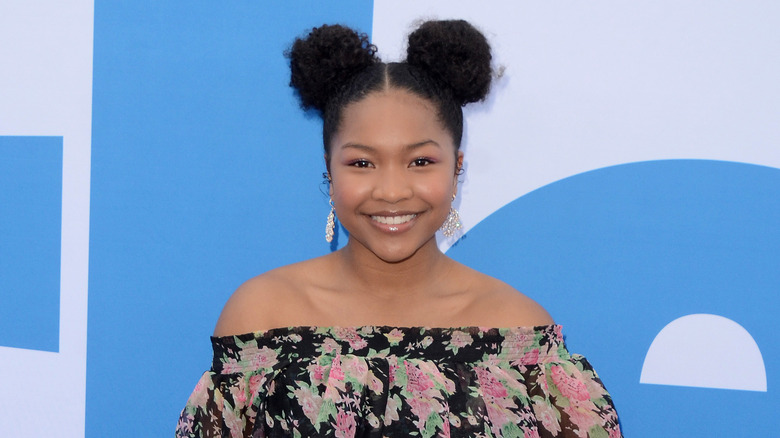 You might not recognize Laya DeLeon Hayes by sight, but many parents might recognize her voice if they have little ones at home. For five seasons, the young actor was Dottie McStuffins, a girl who dreams of becoming a doctor one day and practices by fixing her broken toys on the Disney Junior animated series "Doc McStuffins." Playing the role gave her fans from multiple generations because families often watched the Disney Junior show together.
"Voicing Doc was very inspiring. To be able to play one of the only black animation characters on television was pretty amazing," she told Carrie's Chronicles. "Doc has a lot of fans, and when kids and parents find out I was the voice, the adults freak out and the children just stare in awe."
Even though she's a veteran of other Disney Channel shows like "Liv and Maddie: Cali Style" and "Raven's Home," Hayes said playing Queen Latifah's daughter, Delilah, on the show has been a game-changer for her young career. Not only have they been able to "create a bond" as mother and daughter, she considers the actor to be a mentor in her life. "Every time that I do a scene with her, I'm learning and soaking everything up," she shared in a People interview. "I think one of those things has definitely been having your own opinions on set."
People want to see more of Liza Lapira on Nancy Drew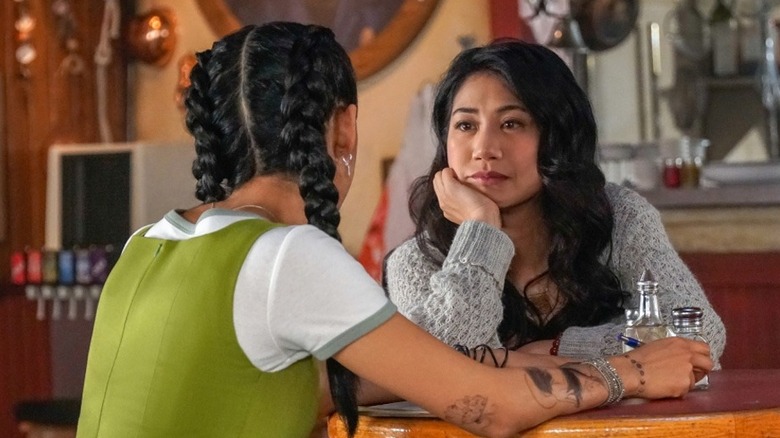 Liza Lapira is currently doing double duty on two shows right now: "The Equalizer' and "Nancy Drew." She plays Melody "Mel" Bayani, a bar owner and friend of Queen Latifah's character, who also happens to have some pretty serious sniper skills after serving some time in the Air Force.
She also recurs as a clairvoyant on The CW's "Nancy Drew," where fans have been begging to see more of her character because her skills as a medium are helpful for solving crimes. The good news is that the show was picked up for a third season and will return in the fall, but will Lapira have time to film since she's a full-time cast member on "The Equalizer?" That question has yet to be answered, but the good news is that she's in demand as an actor — and that's something she's incredibly grateful for.
"A lot of people have given me chances when they didn't have to," Lapira said in a CBS New York interview. "A lot of people thought outside the box, even though the part was supposed to be for someone blonder or with bluer eyes. All that aside, it's been fun. I've been living the life beyond my dreams. It's been great."
Erica Camarano is another figure in the Law & Order universe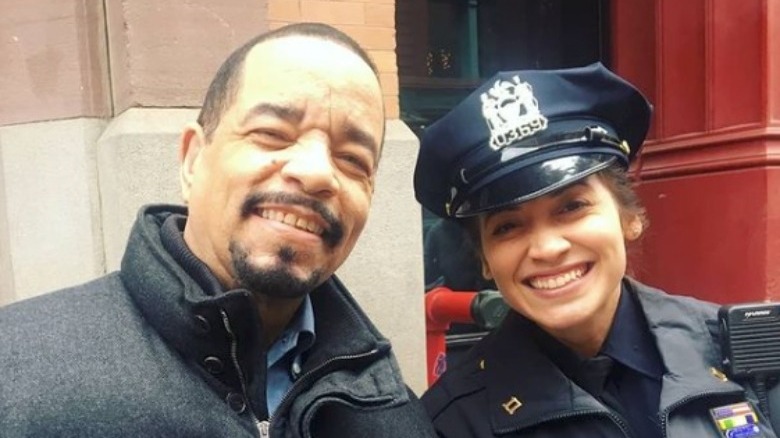 Erica Camarano has been a part of "Law & Order: Special Victims Unit" since 2013 as Officer Rachel Ortiz, where she got her "start in television" acting alongside Mariska Hargitay and Ice-T. She shared with her Instagram followers that she's thrilled she gets "to keep coming back" on the longstanding series because she "learn[s] something new every time" from the "amazing cast and crew."
It was equally as exciting to be a part of the Super Bowl series premiere of "The Equalizer," where she recurs as Detective Paley in three episodes of the first season. She revealed on her Instagram account that they were filming episodes "two nights before Christmas, in the middle of a pandemic and one of the most difficult years of life on earth," but as we all know, the show must go on. "I don't take it for granted for one second how lucky I am to be working," she wrote. "I am inspired by the teams of people around me who are showing up each day to do the thing."
Let's hope she gets the opportunity to work on both "Law & Order: Special Victims Unit" and "The Equalizer" next season because we know actors love to be busy and booked.
Jennifer Ferrin is a pro at playing district attorneys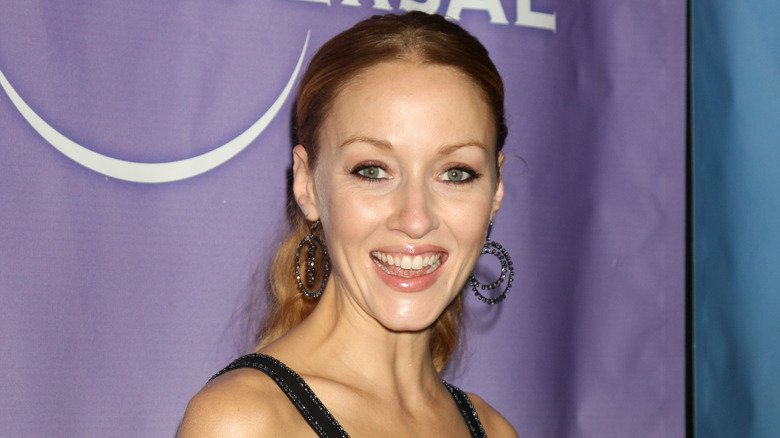 If you're a fan of "The Blacklist," you know all about Jennifer Ferrin's Assistant United States Attorney General Anna McMahon, the devious character who coordinated an international conspiracy against her own country alongside the president in Season 6. In real life? She was carrying a child: "7 months pregnant and working like a champ," she wrote on Instagram in 2019. "So grateful to have been playing with #TheBlacklist family these past several months."
Ferrin is now the recurring character D.A. Avery Grafton on "The Equalizer," where she appeared in three episodes during season one. Even though she's playing another district attorney, her CBS character is more of a straight shooter than her corrupt counterpart on "The Blacklist." But don't think Avery Grafton isn't messing with Queen Latifah's Robyn McCall — vigilantism isn't this district attorney's favorite pastime, especially since she has her eyes on a major political future. We can't wait to see how her character tries to interfere on "The Equalizer" in Season 2.
Source: Read Full Article