George H.W. Bush: How Long Were He and Barbara Married?
December 5, 2018
George H.W. Bush, the 41st President of the United States, may be gone now, but his legacy won't soon be forgotten. Though he was known for his foreign policy, Bush leaves behind a political family and a deep compassion for others. However, one of the most profound aspects of the late president's life was his love story with his wife, Barbara Bush. The pair were teenage sweethearts whose love withstood War War II, the loss of a child, and the political stage.
At the time Barbara Bush's death on April 17, 2018, the Bushes had the longest presidential marriage in American history. So how long were George H.W. Bush and Barbara Bush married?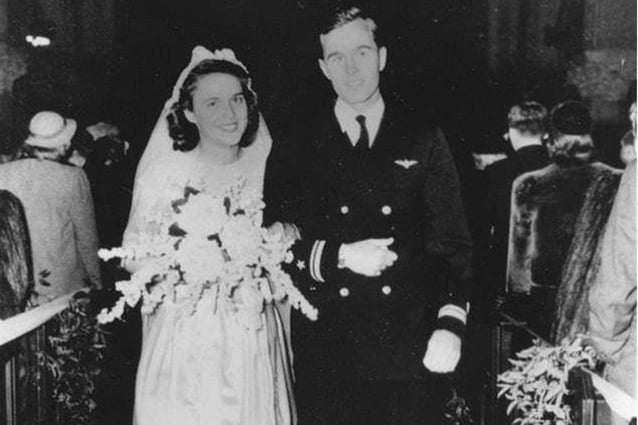 George H.W. and Barbara Bush on their wedding day in 1945 | Library of Congress/Wikimedia Commons
73 years of wedded bliss
Barbara Pierce met George H.W. Bush when she was just 16 years old, and he was 17. The duo met at a Christmas dance in Greenwich, Connecticut in 1941 just after the attack on Pearl Harbor. The late first lady was dressed for the festivities in a green and red dress, and when the late president spotted her, he asked a friend to introduce them. Mrs. Bush later said of meeting her husband, "I thought he was the most beautiful creature I had ever laid eyes on. I couldn't even breathe when he was in the room."
They would have a long distance courtship for several years. Mrs. Bush was attending boarding school in South Carolina, and George H.W. was a senior at Phillips Academy in Massachusetts. He would soon enlist in the U.S. Navy as a naval aviator. He was assigned just three days before his 19th birthday in 1943, which made him one of the youngest naval aviators ever.
George W. Bush (C) poses with father George Bush and his mother Barbara Bush in Rye, New York, summer 1955. | Newsmakers/ Getty Images
Love letters
With Bush overseas fighting a war and Barbara finishing high school before briefly attending Smith College, the pair communicated through letters. In a letter that Bush wrote dated Dec. 12, 1943, he said, "Darling Bar. I love you precious with all my heart, and to know that you love me, means my life." The future president almost did not make it home from the war. On Sept. 2, 1944, his plane was shot down over Chichi Jima in the Pacific. Though he survived the crash, many of Barbara's letters did not, nor did two of his crewmen.
Luckily, Bush did make it home, and he and Barbara were married on January 6, 1945, at the First Presbyterian Church in Rye, New York.
Heartache
Though their marriage was blissful, the Bushes lives were not without heartache. Though they would have six children together including, their first born, 43rd President George W. Bush, the family's second child, a daughter named Robin, tragically died at age 3 in 1953 from advanced leukemia prompting the Bush family to establish a foundation for leukemia research.
Though Robin's death was a crushing loss, the Bushes love for one another never wavered. While eulogizing his mother at her funeral, Jeb Bush said, "Our family has had a front-row seat for the most amazing love story."
The pair remained married and very much in love until Mrs. Bush's death in April of 2018. In his last conversation with his mother, Jeb Bush recalled her saying, "I don't want to leave your dad. But I know I will be in a beautiful place."
Read more: Extraordinary Photos of U.S. Presidents on Their Wedding Days
Check out The Cheat Sheet on Facebook!
Source: Read Full Article