Bryan Adams Tests Positive for COVID-19
October 31, 2021
Adams was set to perform a medley of songs honoring Tina Turner
Getty Images
Bryan Adams pulled out of Saturday night's Rock and Roll Hall of Fame induction ceremony honoring Tina Turner, after he tested positive for COVID-19, his rep confirms.
Keith Urban stepped in for the esteemed musician, who was scheduled to perform a medley of songs with Christina Aguilera, Mickey Guyton and H.E.R. to pay tribute to the legendary Turner.
Anyone and everyone involved with the Rock Hall ceremony was required to show proof that they tested negative for the virus, whether vaccinated or not. Although Adams' reps confirmed that he has been fully vaccinated and he has no symptoms, his test did come back positive.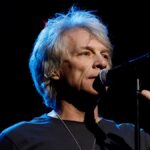 Another rocker, Jon Bon Jovi, also tested positive for COVID today, forcing him to pull out of a planned concert at Loews South Beach in Miami Beach. The audience that gathered at the event was informed of Bon Jovi's diagnosis and the rest of the band remained and performed without him while he left to go into quarantine, according to Miami's WSVN.
Reps for Bon Jovi did not immediately respond to requests for comment.
Adams and Bon Jovi are two of the latest musicians to test positive for COVID-19, following Ed Sheeran's positive test result the week before his latest album was released.
Source: Read Full Article