American Pickers: Who Is Mike Wolfe's Brother, Robbie Wolfe?
August 4, 2021
There's a saying that you not to treat your coworkers like family, and that's arguably a relevant lesson for Mike Wolfe and Frank Fritz of The History Channel's "American Pickers." For those who aren't already familiar, Mike and Frank are a pair of Midwestern pickers who travel to uncover and restore antiques and collectibles from across the nation for Mike's business, Antique Archaeology. Throughout the countless seasons, fans have witnessed the unmatchable chemistry between the two co-hosts and saw them as a staple anchor amidst the show's revolving door of unique personalities. But viewers have noticed that Frank, one-half of the magnetic duo, has been notably absent from the show since an episode from March 2020. Fast-forwarding to July, The History Channel dropped the bombshell that Frank has officially departed from "American Pickers," according to Entertainment Weekly.
In an interview with The Sun, Frank confirmed his estrangement with Mike and let slip that he has a suspicion that Mike wants to replace him with someone in the family. "I think Mike wants to get his brother Robbie in there to replace me. I don't know why he's behaving like that towards me. You couldn't just stick two people in a van and get the chemistry you get from me and Mike. We've known each other for about 40 years. We can finish each other's sentences," Frank vented.
So, who is Mike's brother Robbie? We dive into his background after the jump.
Robbie Wolfe shares the same passions as his brother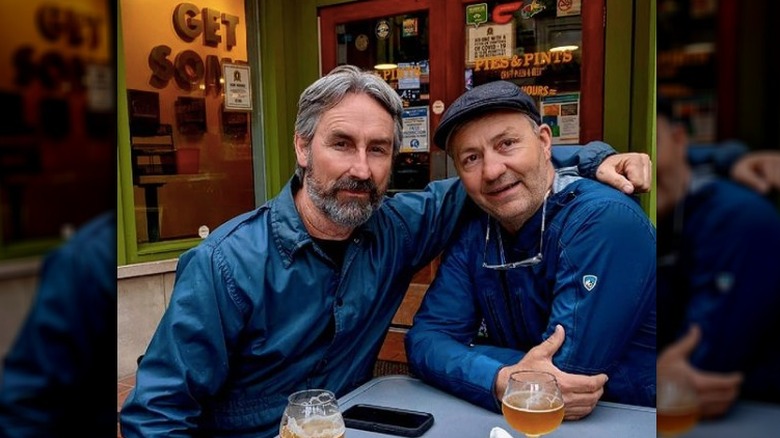 Robbie Wolfe is a big fan of "original paint cars and trucks," per his Instagram bio, so it's no surprise he joined his brother Mike Wolfe and Frank Fritz starred in the pilot episode of "American Pickers."
Since then, Robbie has continuously dropped in on "American Pickers," and his IMDb profile currently places him in 76 episodes across all seasons. A familiar and beloved figure, Robbie became known for his agreeable personality and his tight bond with his brother. In an official clip from a Season 12 episode where he's checking out a barn overfilled with vintage signs, Robbie geeked out over the items but still didn't forget to follow his brother's advice. "My brother taught me early on, buy the rare stuff," he told the camera.
Robbie also had high praise of the show and its stars, telling Dr. Anthony Paustian in May, "We're all true people… there's nothing fake about this show, there's nothing fake about who we are." He added, "We live it, we eat it, we breathe it every single day."
Robbie Wolfe has his own business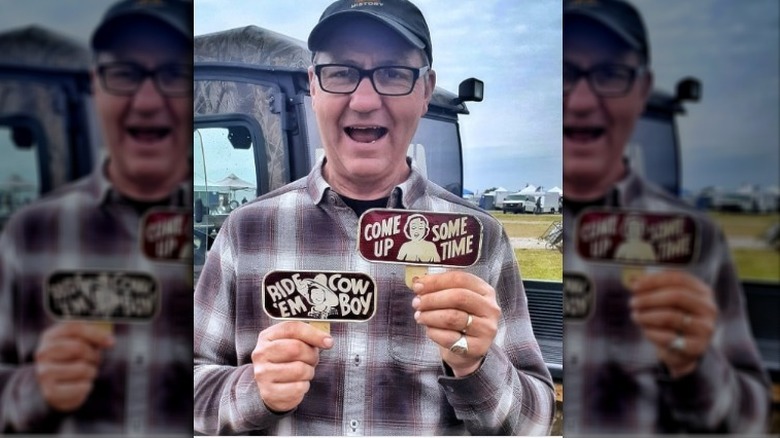 A man of many talents, Robbie Wolfe has participated in the landscaping business for over 20 years and is the proud owner of a landscaping company called R.J. Wolfe & Sons, according to the company's official profile on Houzz. Mainly serving the needs of the Quad Cities business community, the company provides landscape design, masonry, and light scaping services.
Robbie is also very active with his online profiles. His official Instagram account stands as of this writing at 66.5k followers and 1,200+ posts, and his feed is a splattering mixture of vintage cars, teasers for upcoming "American Pickers" episodes, and adorable pictures of his dog, Slater Blue. In one particular post from May, Robbie posted a picture of himself sharing an embrace with Mike. "My brother [is] the hardest working most stubborn person I know. Has taught me so much about people places and history," Robbie wrote in the caption.
It's safe to say that's proof the brothers are closer than ever, and despite it being impossible for anyone to replace Frank's position on "American Pickers," fans should be prepared for the very likely chance that Robbie will join the beloved series full-time.
Source: Read Full Article