'90 Day Fiancé': Avery Warner Tells Fans They Only Get 5 Percent of the Real Story
October 7, 2020
90 Day Fiancé: Before the 90 Days stars Avery Warner and Ash Naeck were on-again, off-again throughout season 4. After months of make-ups and break-ups, they revealed during the recent Tell-All special that they've called it quits for good. Avery also told fans on social media that they don't know the whole truth. She explained that they only get "five percent of the real story."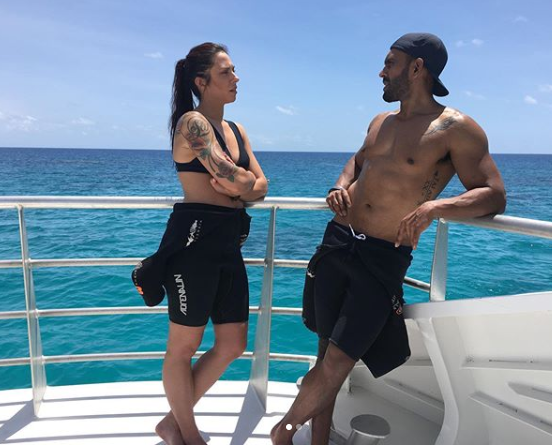 Ash admits he joined '90 Day Fiancé' to meet Avery in person
According to Screen Rant, Ash recently admitted that he joined the cast of 90 Day Fiancé: Before the 90 Days to meet Avery in person. The couple first met online when Ash reached out to the mom-of-two on Instagram.
The Australian initially contacted the Seattle-based chef to compliment her food, but he quickly found himself falling for her. They dated via video chat for nine months before making their debut on the TLC reality show.
Now Ash claims he agreed to join 90 Day Fiancé: Before the 90 Days so they could meet in person. But as soon as Avery traveled to Australia problems started to surface in their relationship.
Both Ash and Avery were in failed marriages, but he lied about his past. He never came clean about his bankruptcy. He also claimed he had been divorced for 10 years, but the truth was it had only been one year. Ash also shares a son with his ex-wife, Sian, and she wasn't comfortable with the idea of her child moving to America.
The '90 Day Fiancé' star takes no responsibility for the failed relationship
The biggest problem in their relationship, though, stemmed from Ash's profession. As a relationship coach, the 90 Day Fiancé star has a number of female clients. This resulted in a lot of trust issues for Avery.
Ultimately, they couldn't make things work, but Ash takes no responsibility for the failed relationship. CelebratingTheSoaps recently reported that Ash appeared on the Reality TV and Me podcast with Kristen Moore. During the interview, he placed zero blame on himself.
Ash said that he didn't even know what90 Day Fiancé was until he was on the show. He claims Avery applied and talked him into it. Ash also claims that he and Avery weren't together when they joined the cast. But, they decided to give their relationship another shot and meet in person.
Avery and Ash were on-again, off-again before they joined the show. They also had a few break-ups and make-ups in front of TLC cameras. According to Soap Dirt, Ash also admitted that it happened again after they stopped filming before they ultimately called it quits.
Avery says that fans only get 5 percent of the real story
During an appearance on 90 Day Fiancé spin-off B90 Strikes Back, Ash took the opportunity to insult his ex. He explained that Avery lacked his ex-wife's qualities. Those qualities included "being very smart, very kind, very warm, having a huge heart, and on top of that gorgeous." Ash added that Avery was "too jealous and didn't trust him."
Ultimately, he doesn't regret joining the show. Ash says that TLC fans who also happened to be doctors reached out to him. They suggested he get tested, which led to his Graves' Disease diagnosis.
As for Avery, she says that 90 Day Fiancé fans don't get anything close to the real story. When a fan on social media pointed out that Avery seems very different online compared to on TV, she explained why that is.
"Can't always believe what you see on TV. You guys get 5 [percent] of the real story, and that's constructed how the network wants the people to view the person," Avery wrote. "I encourage everyone not to get so caught up with any kind of TV show as the truth, it's not worth it LOL, it's all very constructed."
New episodes of 90 Day Fiancé: The Other Way return to TLC in October.
Source: Read Full Article