Winter Olympics LIVE: Team GB face ROC in curling after Dave Ryding misses out on medal
February 16, 2022
Mouat holds nerve in tricky end
A much better end from the ROC sees them left with the two closest stones. Mouat has the hammer, though, and pulls out a magnificent shot just when it was required, knocking both Russian stones out of contention. That stretches their lead to 7-4.
Team GB lead over ROC narrows
After seven ends, the ROC have managed to narrow the gap to 6-4 after seven ends of this men's round-robin match.
Bruce Mouat's side do now have the hammer, though, and they'll have one eye on the finish line. Their place in the playoffs is already secure after that tremendous victory over Sweden yesterday.
US stunned by Slovakia in ice hockey
The United States were stunned by Slovakia in the quarter-finals of the men's ice hockey tournament earlier this morning.
The US had led 2-1 with less than a minute of regulation time remaining, only for Marek Hrivik to score a dramatic late equaliser before Peter Cehlarik sealed Slovakia's shock victory in the shootout.
Valieva results will 'have an asterisk against them', say IOC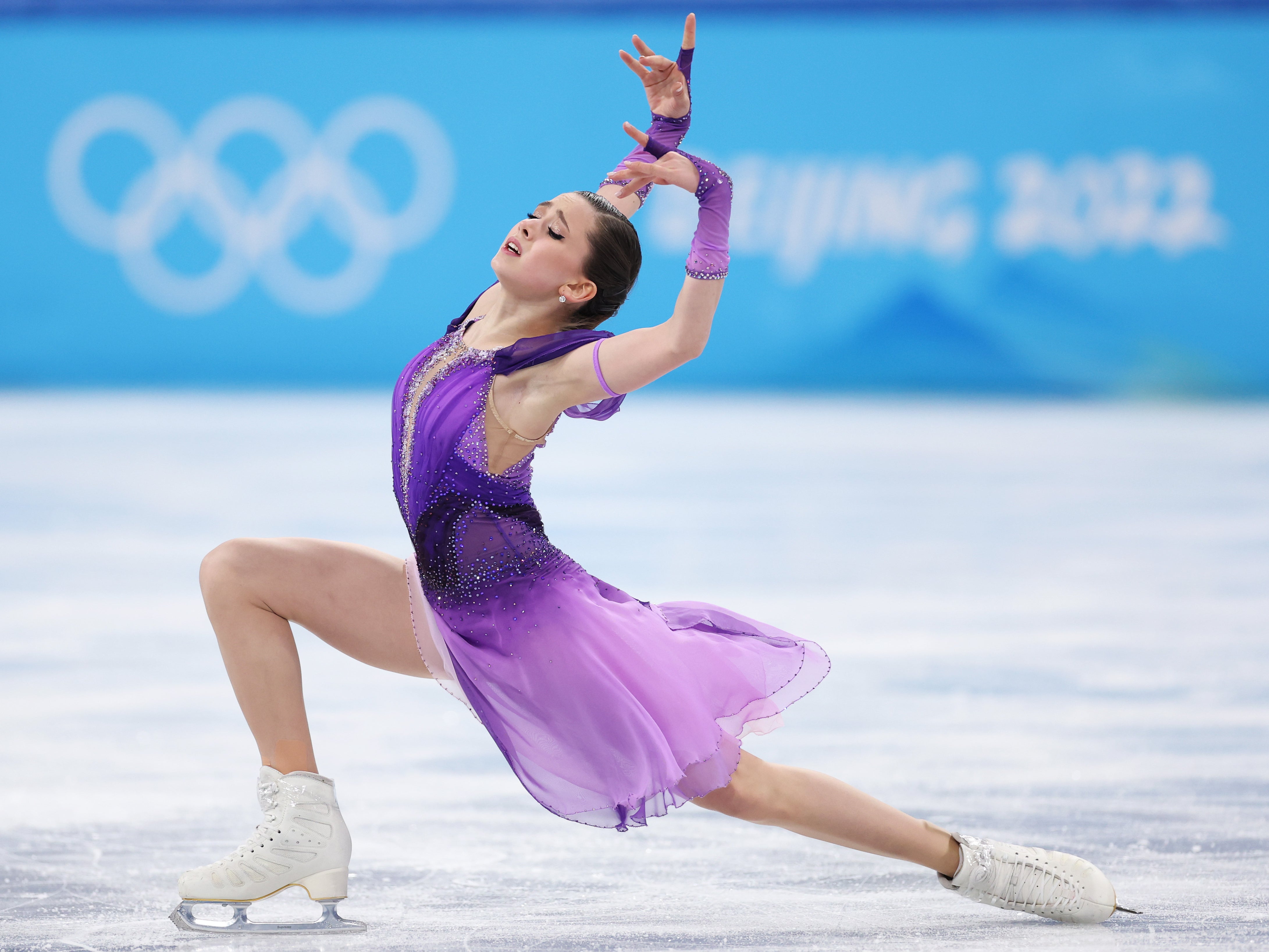 Kamila Valieva results will 'have an asterisk against them', say IOC
The 15-year-old took the lead in the individual event on Tuesday amid a storm of controversy
Team GB curlers lead ROC at halfway stage
Mouat manages to shunt the ROC's stone out of the rings with his final shot of the end. The ROC still have one more effort to go, though, and slide in for a single point. Team GB lead 5-2 at the halfway stage.
GB curlers in differing fates
Things are still going smoothly for Bruce Mouat's side against the ROC. They lead 5-1 after four ends and are seemingly cruising towards victory, with their playoff position already secure.
However, in the early hours of this morning, defeat against China was a disastrous result for Eve Muirhead's team. They now need to beat the ROC in their final match and hope results elsewhere fall in their favour.
"We need to come out and concentrate on our performance against Russia and focus on what we can do and then hope the curling Gods are on our side," Muirhead said.
"It's been one of those weeks, sometimes you get the rubs and sometimes nothing seems to go your way.
"I thought I'd made that shot, another millimetre and we'd have forced an extra end. That was a tough shot, you aren't going to make it very often but when you've got no other shot then you need to give those things a go."
USADA: Credibility of Valieva defence 'undermined'
The head of USADA, Travis Tygart, has claimed the fact that two legal substances used to improve heart function were listed on Kamila Valieva's anti-doping control form "undermines the credibility" of her defence.
The World Anti-Doping Agency filed a brief in the Valieva case stating that the existence of L-carnitine and Hypoxen, though both legal, undercuts the argument that a banned substance, trimetazidine, might have entered the skater's system accidentally.
Hypoxen, a drug designed to increase oxygen flow to the heart, was a substance USADA recently tried, without success, to get placed on the banned list. L-carnitine, another oxygen-boosting performance enhancer, is banned if injected above certain thresholds. The supplement was the focal point of the doping case involving track coach Alberto Salazar.
Tygart believes combining those with 2.1 nanograms of trimetazidine, the banned drug found in Valieva's system, is "an indication that something more serious is going on".
IOC reject Richardson's comments
The International Olympic Committee have rejected American sprinter Sha'Carri Richardson's comments that Kamila Valieva has benefitted from favourable treatment.
Valieva was allowed to continue competing at the Winter Olympics, despite it being revealed that she failed a drugs test in December, while Richardson missed the Tokyo Games after testing positive for marijuana.
"Every single case is very different. She (Richardson) tested positive on June 19 (2021), quite a way ahead of the Tokyo Games," IOC spokesman Mark Adams said.
"Her results came in early order for USADA (US Anti-Doping Agency) to deal with the case on time, before the Games. Ms Richardson accepted a one month period of ineligibility which began on June 28.
"I would suggest that there isn't a great deal of similarity between the two cases."
Ryding reflects on missing out on a medal
"It was OK. I left myself way too much to do and for some reason I didn't have my best skiing, it's disappointing, it is very tight and I was missing my A game really.
"No regrets in my career. I always do what I can, put out what I have got. The Olympics won't define me because I have had a great career but you always want to top it off with something special. I think I have got another year, we'll keep going in the World Cup.
"There is always stress around performances and you sometimes want it too much, it is hard to say. To do it every run is fine margins, and it's tough.
"Everything felt fine, when you are skiing… I just knew I didn't have it, didn't have something – c'est la vie, I will go home to my fiancee and have a couple of days off, that's the most important thing, there are more things in the world than the Olympics."
GB make strong start in curling
Bruce Mouat's side have made a strong start in their curling match against the ROC. Team GB lead 3-1 after two ends. They are of course already secured their place in the playoffs after yesterday's brilliant victory over Sweden.
Registration is a free and easy way to support our truly independent journalism
By registering, you will also enjoy limited access to Premium articles, exclusive newsletters, commenting, and virtual events with our leading journalists
{{#verifyErrors}} {{message}} {{/verifyErrors}} {{^verifyErrors}} {{message}} {{/verifyErrors}}
By clicking 'Create my account' you confirm that your data has been entered correctly and you have read and agree to our Terms of use, Cookie policy and Privacy notice.
This site is protected by reCAPTCHA and the Google Privacy policy and Terms of service apply.
Already have an account? sign in
By clicking 'Register' you confirm that your data has been entered correctly and you have read and agree to our Terms of use, Cookie policy and Privacy notice.
This site is protected by reCAPTCHA and the Google Privacy policy and Terms of service apply.
Source: Read Full Article