'Robot umpires' coming to Triple A ball this year after tryout in lower leagues
January 21, 2022
Fox News Flash top headlines for January 20
Fox News Flash top headlines are here. Check out what's clicking on Foxnews.com.
Robotic umpires that use an automated system for determining ball and strike calls will now be used in Triple-A baseball for the 2022 season, MLB officials announced.
This puts the Automated Ball and Strike (ABS) system, which has seen success after experimental adoption by some ballparks in the minor leagues, just one level below the major leagues.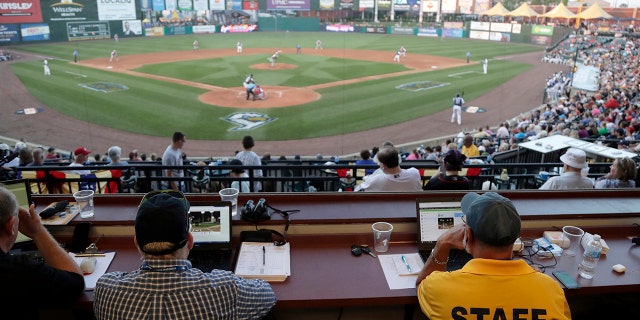 Ron Besaw, right, operates a laptop computer as home plate umpire Brian deBrauwere gets signals from radar with the ball and strikes calls during the fourth inning of the Atlantic League All-Star minor league baseball game in York, Pennsylvania, July 10, 2019.
The ABS was previously used at most of the ballparks last season for Low-A Southeast League, the 2019 All-Star Game for the independent Atlantic League, and the Arizona Fall League that same year.
The robot umpires do have their drawbacks and bugs, however — and their critics.
"It would change the game for the good. It would continue the effort to eliminate human deficiency," Hall of Famer Mike Schmidt said in 2019, The Associated Press reported that same year. "We have replay everywhere else in the game. Like it or not, replay gets the call right."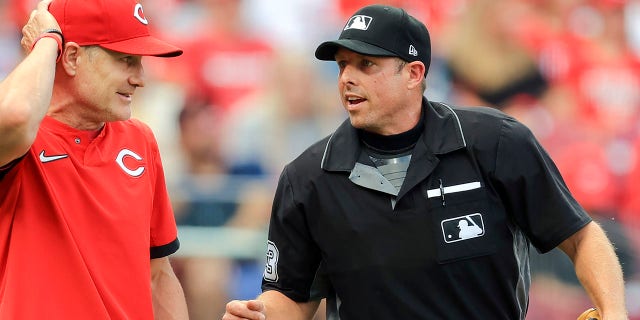 Cincinnati Reds manager David Bell, left, talks with umpire Tripp Gibson, right, between batters during the first inning of a baseball game against the San Diego Padres in Cincinnati, July 1, 2021. 
(Associated Press)
"I think it's a little naive to think that simply letting computers generate strike or ball," then-Houston Astros manager A.J. Hinch said during the 2019 World Series. "It's incredibly naive to think that there's not going to be pitfalls in that scenario, as well."
"It's hard to handicap if, when or how it might be employed at the major league level, because it is a pretty substantial difference from the way the game is called today," Chris Marinak, MLB's chief operations and strategy officer, said in March 2020, according to FOX 13.
MLB has not announced an adoption of the ABS system in the major leagues, but the Major League Baseball Umpires Association agreed last year that it would help with its implementation, should Commissioner Rob Manfred approve of it.
Source: Read Full Article