From the Archives, 1974: Chalk one up for the ladies of snooker
September 10, 2019
First published in the Sydney Morning Herald on September 13, 1974

Irene Sheargold is a magician who does a marvelous disappearing duck act . . . but she could not make snooker balls disappear into a pocket.
Irene was the last to arrive at the Trade Union Club, making a grand entrance into the snooker room in fur coat, full-length brown evening dress, a cue under one arm and the cue chalk attached to a gold chain around her waist.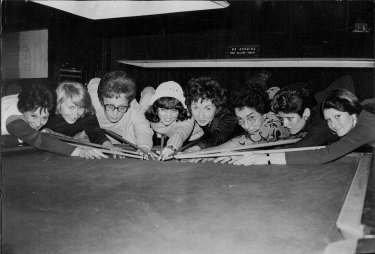 NSW Womens Snooker Titles at the Trade Union Club Surry Hills. Pat Dixon, Elizabeth Jenkins, Gail Squire, Llynda Nairn, Irene Sheargold, (unidentified), Colleen Cooper and Chris Richey. September 11, 1974.Credit:Alan Gilbert Purcell
It was opening night of the NSW amateur snooker championship, the first major event of its type in this country, and Irene said she wanted to look the part on such an auspicious occasion.
This wag of a woman (of the club act Irene and Brooke) had only a short bow before being bundled out of the tournament 54-19 and 60-37 by 18-year-old Westmead girl, Chris Richey.
Making a grand entrance… Irene Sheargold on September 11, 1974.Credit:Alan Gilbert Purcell
"Not only did I have trouble making the balls disappear but I almost fouled on the black when I leaned over the table," said Irene with a wide grin.
"I've put on some weight around the bust and that's one of the hazards of a woman leaning over a snooker table."
It was a night to remember as the happy hustlers, keen to explain that their snooker prowess had nothing to do with a mis-spent youth knocked down one of the last barriers of male domination.
Gone were the dinner suits and black ties of the men's competitions and in their place were slacks and multi-coloured tops, a crochet bonnet and Irene in full regalia.
So many show business women were competing that I expected Rex Mossop to appear and welcome me to the Club Show.
A cry of "your cue" would have brought two performing jugglers, a former operatic and club singer, a contortionist who can chalk her cue with a foot over her shoulder… and Irene and the disappearing ducks.
Top seed Frances Wheelhouse practices at the Trade Union Club on December 3, 1973. Author of many books including 'Digging Stick to Rotary Hoe', she lectured widely in Agriculture and Museum Techniques and was a specialist consultant to many museums across Australia.Credit:Grant Peterson
Paula Squire, wife of professional player Norman Squire, is also a professional snooker player and a juggler on the club circuit. Hence the interest of many of her club friends in this amateur event.
Llynda Nairn, another juggler ("would you like me to throw up a few snooker balls") looked like Little Miss Muffett in a quaint crochet bonnet which she wore right through her defeat by Pat Freeman.
Gail Squire, a former singer and athlete who finished third in an Australian shot putt championship a few years ago, is a daughter of Norman Squire and she is one of the favourites for the inaugural snooker title. She beat Pat Dixon 59-29 and 68-25.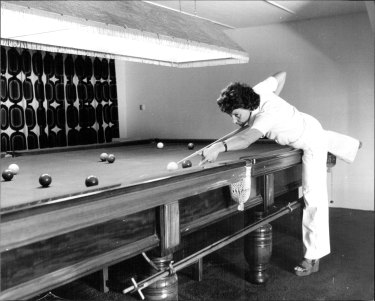 Mrs. Paula Squire, champion female snooker player pictured at Penshurst. December 20, 1977.Credit:Rick Stevens
Chris Krause (her friends refer to her as Chris Cross because of her body manipulations) is the wife of Barry Krause, a ventriloquist who dabbles in a little magic.
Top seed, Frances Wheelhouse, is a lecturer in biology at the University of NSW and the Technical College, Ultimo, and the author of several books.
But this motley crew (in occupation only, mind you) all have one thing in common — to break down the discrimination against women in snooker.
This tournament is conducted by the Billiards and Snooker Association of NSW but many clubs bar the women from the snooker rooms.
"It's the last domain, love and they are hanging on to it like grim death," said Irene.
"I mean, I don't want to wrestle a guy or go tackle him at football – but I can't see what is so masculine about snooker.
"It's a genteel game of skill."
Source: Read Full Article