Your Weekly Tarot Card Reading Is Here
September 21, 2020
You don't need to know the difference between a three-card and a Celtic cross spread, to get the most out of a tarot card reading. All you need: your Sun sign! Here's what I do: Shuffle my tarot deck and pull out the cards in order from Aries to Pisces plus one general card for everyone so that you can get specific advice around your personality. Let's go!
A GENERAL CARD FOR EVERYONE: THE LOVERS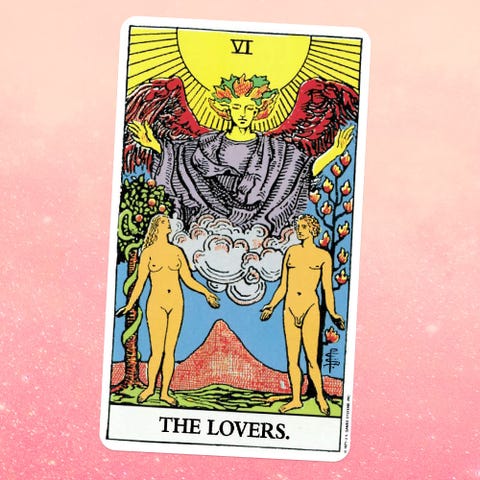 Confusion and conflicted feelings mean it's time to press "pause." Stop what you're doing and wait a sec. The Lovers is a card about head vs. heart decisions. Don't overthink it! Take a break and see what unfolds. While you do so, trust that your subconscious is working it all out. Wait and see what happens, because you WILL feel differently by the end of the week. Give your instincts time to come into focus, then act on them.
ARIES: FIVE OF WANDS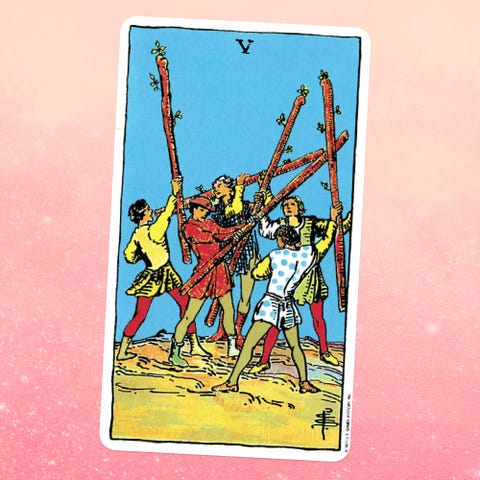 You're ruled by Mars, which makes you makes you just a lil combative. And it's going to be a week, Aries, so get ready for action. The Five of Wands is feisty and challenging, and you might find yourself pitted against people or situations that just get on your nerves. Chill out, my friend. This too shall pass, so don't make it worse with one of your infamous flare-ups. Let it go, and focus on better times ahead.
TAURUS: SIX OF SWORDS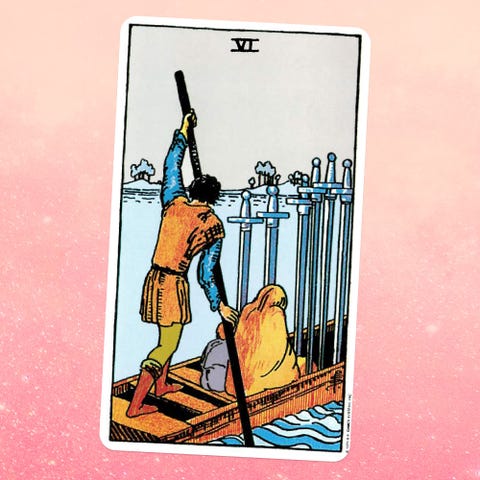 Whatever you've been thinking of leaving behind…this is the week to do so. The Six of Swords says you're ready for a change of scene. None of this will feel sad or difficult, because you've simply outgrown your current surroundings. Cut the cords. It's time. Take a deep breath, bb, and make that all-important move.
GEMINI: TEN OF CUPS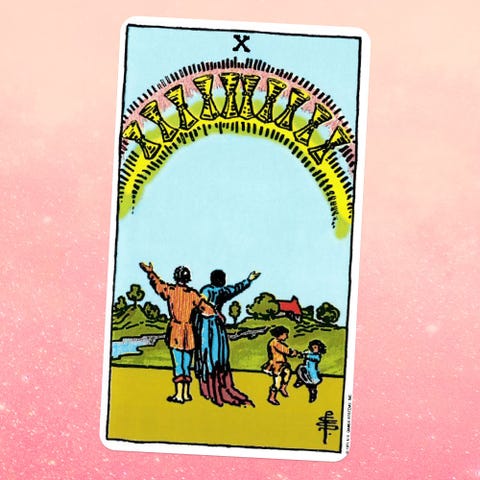 Love is in the air, Gemmy, so keep an eye out for your new secret admirer. You could meet a new cutie, especially a sexy water sign (a Pisces, Scorpio, or Cancer), or you could feel a surge of passion from your current S.O. This connection could be the one that lasts, so go all-in. The Ten of Cups is one of the tarot's best ~love cards~.
CANCER: PAGE OF CUPS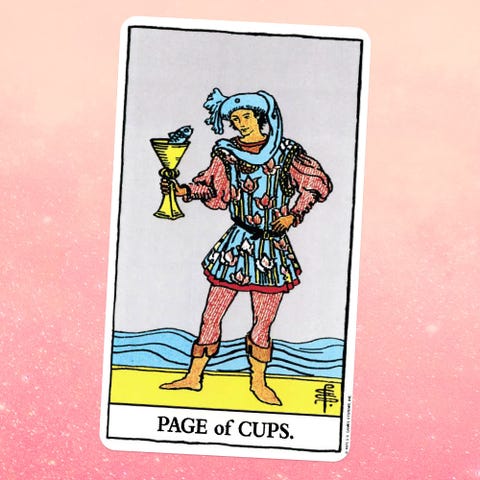 Simple pleasures, wholesome hobbies, your favorite board games—this is your prescription from the creative and childlike Page of Cups. Remember the things you used to do when you hung out in your bedroom as a kid? Listening to music, rearranging your stuff, doing mini makeovers, calling friends and gossiping for hours? Bring it all back. Revel in the little things that make you feel comforted and happy.
LEO: TWO OF CUPS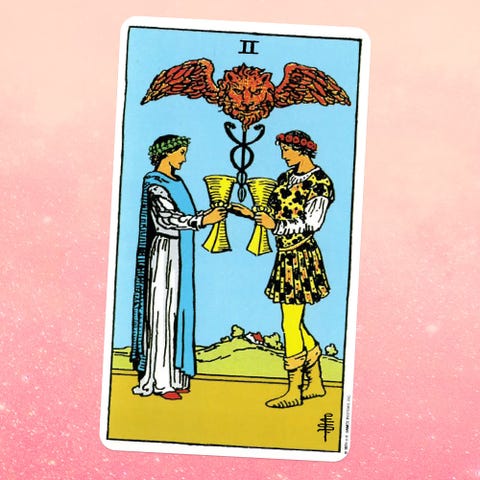 A new romance or an intense friendship is activated this week, and the bond makes you feel amazing. The Two of Cups is a soul mate kind of card. It hints that someone close to you has the potential to be so much more. Be receptive, warm, and open to the people in your life. Anything is possible this week, so put out good vibes and let them multiply.
VIRGO: PAGE OF SWORDS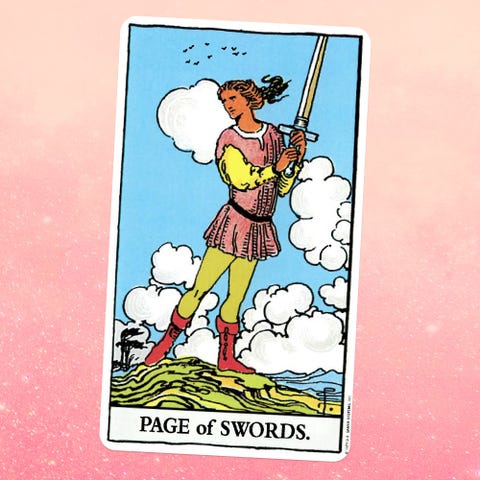 You're not sure about something, and every time you think you've made up your mind, something happens to make you second guess your decision. When the Page of Swords is around, it's best to just make a choice and move on. Maybe you'll never feel totally sure about your decision, but it's best to resolve it quickly rather than perfectly. As long as you move with confidence, you'll head someplace worth going—and it's definitely better than where you are right now.
LIBRA: FOUR OF SWORDS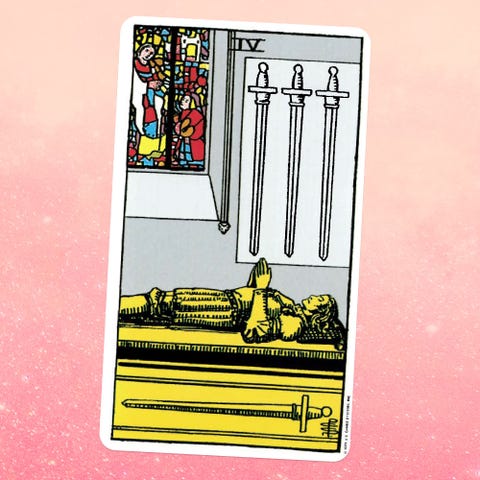 Chill time. As fall gets closer, you're starting to slow down, light your candles, go to bed earlier, and hibernate. The Four of Swords says that's okay. You're ready to withdraw from the world for a little while, so your body and spirit can prepare for the darker nights and cooler air ahead. Rest, Libra. Get cozy and chill.
SCORPIO: NINE OF COINS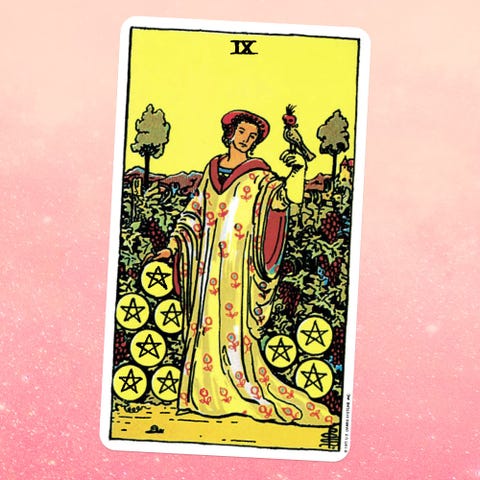 Nothing worthwhile comes easily. You're in the mood to begin a project that will take a lot of time and energy, but it has the potential to bring big rewards. The Nine of Coins hints you should start it this week. Maybe it's a change in routine, a home improvement project, an online class, or a new budget. Whatever long-term goals you've got swirling around you, activate them now.
SAGITTARIUS: ACE OF SWORDS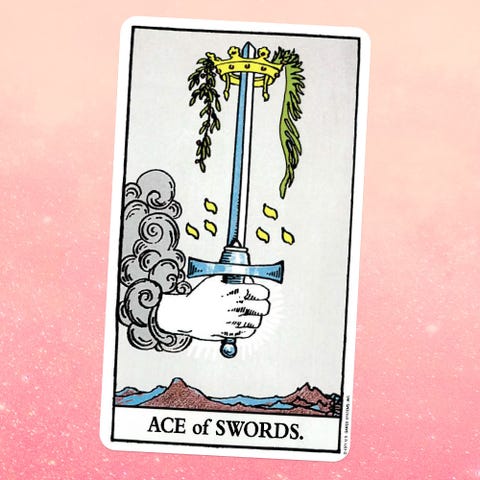 You famously have no filter, Sagittarius. And the Ace of Swords hints you're at your blunt ways again this week. This time, you need to bite your tongue when they respond. Don't talk over them, and don't react with a knee-jerk emotional outburst. Listen. Think about it. Consider your reaction, and then express yourself honestly and calmly. This dialogue could be transformational.
CAPRICORN: THE EMPRESS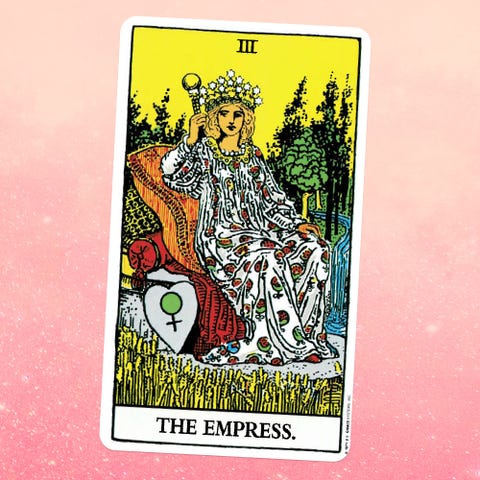 Home is the most important place in your world, and you're all about ~making it nice~ this week with the loving, hearth-warming Empress card. New decor, DIY, home-cooked meals, cozy blankets, books, candle-lit pampering rituals…embrace it all. The Empress brings magic to your abode. Take the opportunity to truly rest and relax in surroundings that heal your spirit. Spend time in your favorite place.
AQUARIUS: ACE OF WANDS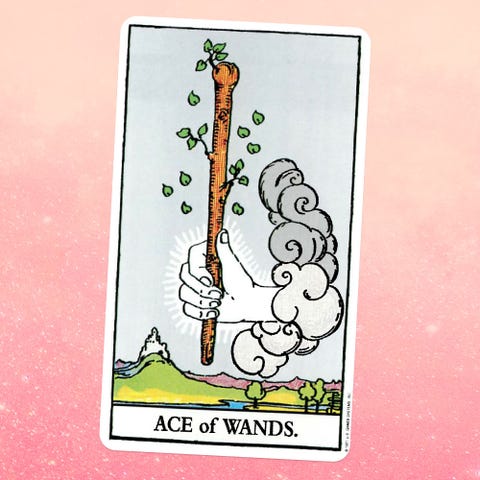 It's time for something new. Something authentically ~you~. The Ace of Wands means you're ready to tackle a new project, role, or activity. It's inspiring, fun, and motivating. You can't wait to get going, so move! Seek a new opportunity and draw it into your world. Fall is a great time for learning, growing, and developing, and you're ready to get started.
PISCES: TEN OF COINS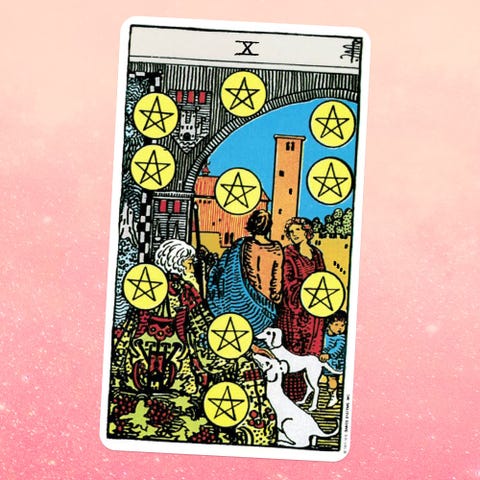 Security is important to you—not just physical security, but material and emotional security, too. The Ten of Coins sees you making changes to create a feeling of stability and grounding in your life. Maybe it's your finances, home, or personal boundaries. Maybe it's something about your relationships or work role. Whatever you need to fix in order to feel stronger, get to it this week and you'll make wonderful progress.
Source: Read Full Article