'World's most modified youth' has had over 40 procedures to 'stand out'
December 7, 2018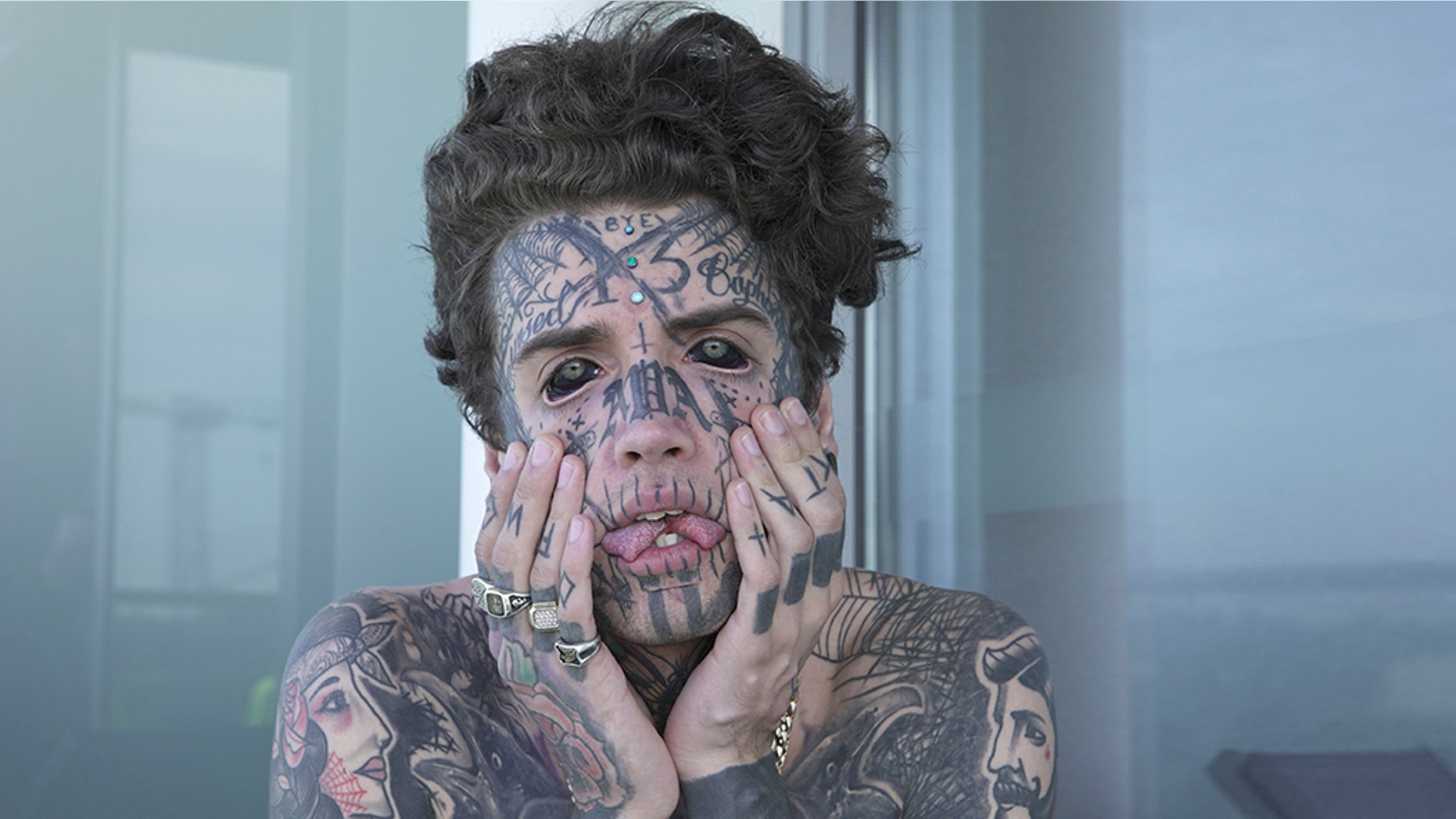 Ethan Bramble said he likes the way he looks and has no intention of stepping away from the needle and knife — although he admits there's not much skin left on which to tattoo or modify.
(Barcroft TV)
A young Australian man who went through more than 40 body modification procedures claims to be "the world's most modified youth".
Ethan Bramble from Melbourne, Australia has had a string of body modifications including getting his tongue split, his belly button removed and his eyeballs tattooed black. Bramble, who recently turned 22, has always had a passion for body art and started modifying his body at just 11 years old. He told Barcroft TV: "More or less I just fell in love with the way it looks and how you feel when you walk down the street and you kind of get that sense of empowerment."
With tattoos across his body and face, Bramble says he doesn't like to put a number on how many individual tattoos he has but says about 75 to 80 per cent of his body is entirely covered in ink.
ANOREXIC SISTERS HOSPITALIZED AFTER MODELING AGENCY TELLS THEM TO 'LOSE WEIGHT SO THEIR CHEEKBONES WERE VISIBLE'
Mr. Bramble estimates that he has spent within the region of $15,000 to $20,000 dollars and the most expensive was getting his eyeballs tattooed. The procedure was very risky "because it can easily go wrong and you can end up being blind".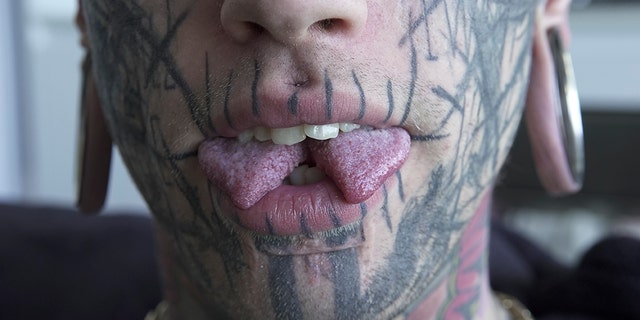 The most painful procedure Bramble has ever had is getting his tongue split.
(Barcroft TV)
He said: "When I got my eyeballs tattooed, my mum couldn't look at me for like a month without getting tears in her eyes."
The most painful procedure Bramble has ever had is getting his tongue split.
"About seven days after the procedure not being able to talk, eat or drink was tormenting me," he said. "I had to lay in bed for three or four days."
Although Bramble says body modification empowers him, his extreme appearance has provoked some negative reactions from the public and online.
"You realize when you look like this that there are going to be certain downsides and not everyone is going to treat you how they should. But it's nice when people do treat you properly."
For others, Bramble is a living work of art, covered from head to toe in meaningful words and images.
FOLLOW US ON FACEBOOK FOR MORE FOX LIFESTYLE NEWS
Girlfriend Jade Randazzo approves his look but admits that there are few things that she doesn't like about her partner's appearance. The couple has been together for six months and met after Bramble already had most of his tattoos and procedures done.
Bramble said he likes the way he looks and has no intention of stepping away from the needle and knife — although he admits there's not much skin left on which to tattoo or modify.
Next up on his list is inserting silicone into his penis.
He said: "I think genital implants to me is just being very courteous to your partner or the opposite gender."
Claiming he has no regrets with any of the procedures done, Bramble says his appearance hasn't changed who he is.
He said: "No one wants to live their life not being seen, not being recognized. I like to stand out."
This story was originally published by News.com.au.
Source: Read Full Article