Valerie Bertinelli vs. Giada De Laurentiis: Which Food Network Star Has the Higher Net Worth?
September 21, 2021
Food Network personalities Valerie Bertinelli and Giada De Laurentiis may have kicked their careers off differently, but they're two of the cable channel's biggest stars. Find out which of the culinary queens has a higher net worth.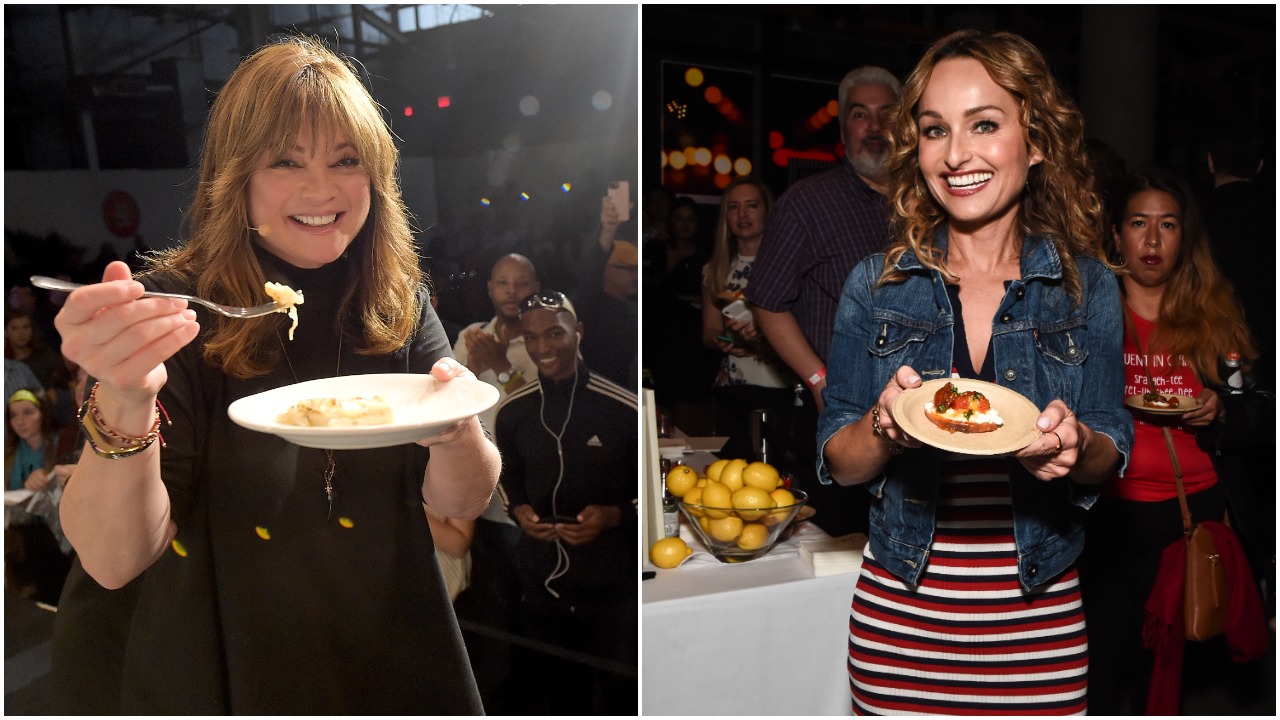 Valerie Bertinelli's journey from actor to television personality
Actor Valerie Bertinelli got her career start in her teens as Barbara Cooper on One Day at a Time. The sitcom ran from 1975 to 1984. She also co-starred on the television drama Touched By an Angel from 2001 – 2003 and on the comedy Hot in Cleveland with Betty White, Wendie Malick, and Jane Leeves from 2010 – 2015. Bertinelli announced recently that she had joined the cast for the upcoming NBC comedy pilot Hungry starring Demi Lovato.
In 2009, she served as spokesperson for diet company Jenny Craig and lost almost 50 pounds. It was during a break from Cleveland that Food Network came calling and her popular cooking show Valerie's Home Cooking came to be. In 2019, she won two Daytime Emmys for the program.
"I was doing Hot in Cleveland, and the cooking show was going to be a fun summer thing to do," she told The Philadelphia Inquirer. "Then Hot in Cleveland was canceled, and I still had my cooking show and it did very well."
Bertinelli also hosts Kids Baking Championship and Family Food Showdown for the Food Network and is the author of two cookbooks: One Dish at a Time and Valerie's Home Cooking.
The television personality has spoken out recently about her dissatisfaction with the self-hate she says she's nursed for too long: "Enough already with beating ourselves up, right?," she said on Today. Her upcoming memoir, Enough Already, is due out in 2022.
De Laurentiis has been with Food Network from its start
The Italian chef's grandfather Dino De Laurentiis was one of Hollywood's most successful producers creating several box office hits including 2007's Hannibal Rising. Despite her family's efforts to draw her into the industry, De Laurentiis' first love was in the kitchen and she received training at the renowned Le Cordon Bleu culinary school in Paris. After her schooling, she began work as a caterer and personal chef.
"I'll admit, my family connections helped. Ron Howard became my first client," she told Time. "He had moved to LA for a while, and he needed a chef for a year. It was great. He has four kids, and I was having fun and they were wonderful to work for."
Soon enough, a new cable channel called the Food Network took notice of her in 2002 and asked her to become part of their line-up of chefs. Her first program, Everyday Italian, debuted in 2003. More shows starring De Laurentiis were added: Behind the Bash, Giada's Weekend Getaways, Giada In Italy, Giada Entertains, and eventually Giada at Home. She has also served as a judge on The Next Food Network Star. Recently she starred in, alongside fellow Food Network chef Bobby Flay, Bobby and Giada in Italy.
De Laurentiis has earned three Daytime Emmy Awards, has three successful restaurants in Las Vegas and Baltimore, and is the author of several cookbooks including her most recent Eat Better, Feel Better.
Bertinelli's net worth
Bertinelli's net worth is approximated by Celebrity Net Worth to be around $20 million, thanks in part to her acting work, her Food Network shows, and her publications.
De Laurentiis' net worth
De Laurentiis has an estimated net worth of $30 million, according to Celebrity Net Worth. Much of her wealth comes from her cooking shows, cookbooks, and restaurants.
Source: Read Full Article