Uh, Gypsy Rose Blanchard's Engagement Ring Comes from a Divorced Fellow Inmate
April 15, 2019
Have you heard the happy/kinda-shocking-all-things-considering news? Gypsy Rose Blanchard is engaged. And her engagement ring situation is pretty…interesting. Gypsy, who's the subject of Hulu's dark new series The Act, is currently in prison for the second-degree murder of her mother, Dee Dee Blanchard—and yep, she met her fiancé (who's identity has yet to be revealed) behind bars. Her ring, however, doesn't come from him…it comes from a fellow inmate at Missouri's Chillicothe Correctional Center.
"Another inmate was getting divorced and gave her that for her to just have, so that she could feel good about it," family friend Fancy Macelli told E! News. "They'll go together and pick out rings, obviously later, at a time when she's out and they could do that and have their own intimate moment."
In Touch initially broke the news of Gypsy's engagement, with Macelli telling the outlet, "She keeps him very private. We're not going to release his name or anything like that, but she does have a fiancé. That's something she wouldn't have ever been able to do with her mom: be engaged."
The pair met through a pen-pal program, and Macelli tells E! that Gypsy and her husband-to-be plan to wait until she's out of jail to get married. As for the proposal, the details are staying private, but Macelli says Gypsy and her fiancé were "very practical" about it. She also describes Gypsy as "happy" and adds that she's "flourishing" in prison while completing her GED and focusing on her interest in cosmetology.
FYI, Gypsy is serving out a 10-year sentence and will be eligible for parole in 2024, right before she turns 33.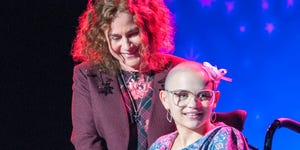 Source: Read Full Article