This Is Us' Rachel Naomi Hilson Has the Vegan Taco Recipe You Need to Try Right Now
September 16, 2020
Exclusive: The Love, Victor star revealed her favorite way to break a sweat, her go-to healthy recipe and so much more as part of E! News' Wellness Wednesday series.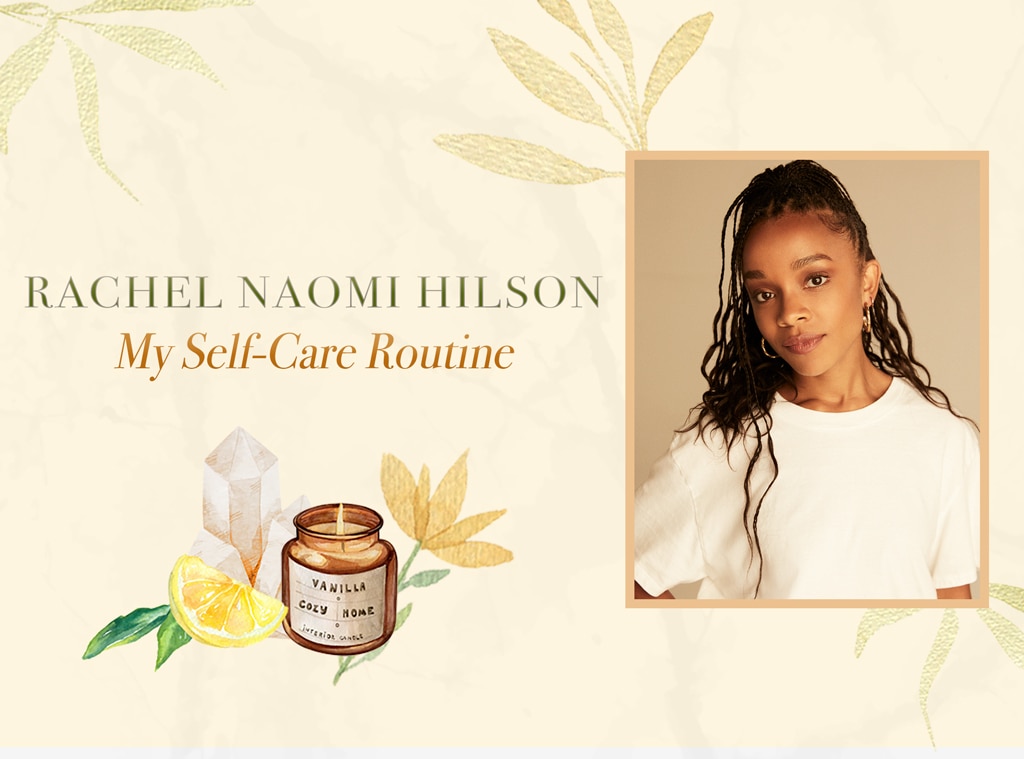 This is us…swooning over Rachel Naomi Hilson's approach to wellness. 
The This Is Us and Love, Victor actress is responsible for all of our meals this week, thanks to the easy and delicious ideas she provided to E! as part of our Wellness Wednesday series. Who knew we'd be craving vegan taco meat and sweet potato toast?
In addition to causing our stomachs to growl, Hilson is inspiring us to get moving, whether it's by talking a walk or dancing in our apartment. Plus, she's revealing her go-to face mask (made with ingredients you likely already have in your kitchen) and two book recommendations you should consider adding to your queue. 
Keep reading for all of her self-care musts…
Affirmation or Mantra You Tell Yourself:
"Worry is a down payment on a problem you may never have." I think Joyce Meyer said it first, but my mom would always quote it growing up. It stuck.
The First Thing You Do in the Morning:
Boil some water for tea and check on my balcony plants! I just got these new loose teas from this Black-owned tea company called Nya Tea (can be found at the Hollywood Farmer's Market or online!) and it's my favorite morning ritual. I've been trying to get up early because the sun is in full swing by 6:30 or so these days. It's nice to have a quiet moment with my tea and my plant children (the ones that are still alive :/) before I get started with my day.
Three Things You Try to Do Each Day:
Drink a crap ton of water. Get 10,000 steps! I moved from New York last year. I love walking. Journal, to remember and for self-therapy.
Social Media Accounts You Follow for Positivity:
@goldenunicornrae, the sweetest little golden retriever puppy with only one ear that's on top of her sweet little head and @iamtabithabrown, who's this magical, funny, light being with the most soothing voice who shares bomb vegan recipes and little intimate motivational videos. Ugh, she's great.
Your Favorite Way to Break a Sweat Right Now:
I've been doing a lot of dancing in my apartment. I'll turn on some music and just go. Sometimes it's more structured, sometimes it's interpretive, sometimes I twerk. Also hiking!
Trending Stories
Bella Hadid "Can't Stop Crying" Before Sister Gigi's Baby Arrives
Inside Cardi B's "Shocking" Decision to File for Divorce From Offset
Colton Underwood's Alleged Texts to Cassie Randolph Revealed
Your Go-To Snack:
Sweet potatoes and almond butter. I know it doesn't sound like much, but let me walk you through this: Preheat the oven to 420 degrees. Slice a sweet potato (1/2 cm each or so). Place your slices on a baking sheet, drizzled with little olive or coconut oil and salt. Bake until soft and maybe a liiiiittle brown-ish. Plate a few slices and drizzle almond butter, a little maple syrup, cinnamon, maybe a pinch more salt and some coconut flakes and voila! Tastes like pancakes. Also highly recommend you use JEM Salted Caramel Almond Butter. You're welcome.
Your Go-To Healthy Recipe:
Walnut meat lettuce tacos! My friend Adam introduced me to these recently. We were doing a quarantine homemade goods exchange. Walnut meat was one of the goods and it's changed my life. Basically, you blend walnuts, pepitas, sundried tomatoes, and pretty much every seasoning you own in a food processor and then lay it on a lettuce leaf (or tortilla) with some sliced avocado on top. So. Good. Here's a good walnut meat recipe.
Your Go-To Indulgence:
Van Leeuwen ice-cream, particularly the vegan honeycomb! Or doughnuts. Or both.
View this post on Instagram
Happy Juneteenth! Threw on some of my favorite outfits for @whowhatwear and talked mindful consuming, vintage shopping/thrifting, and shared a few of my favorite BIPOC-owned vintage merchants and sustainable brands. Will include a link in my story to swipe up. Buy black! 🖤
A post shared by Rachel Hilson (@rachelonacloudyday) on
Your Go-To Easy Beauty Routine:
I love a homemade mask! An easy go-to (for both skin and hair) is avocado, honey, olive oil and banana.
Your Current Feel-Good Song:
I'll give you three that always make me smile or dance. "We Got Love" by Teyana Taylor, "Up" by Jon Bap, and "Texas Sun" by Leon Bridges. "Texas Sun" is particularly great for a sunset drive or bike ride. There's a part in the song where he talks and says "Ooo baby, you're so gorgeous. How about you and me take a little trip…" and I pretend he's talking to me. LOL.
No. 1 Self-Care Tip:
Saying no and not feeling bad about it!
You Can't Go to Bed Without Doing This:
I can't go to bed without playing a song or two on my ukulele. It's really been a saving grace during this pandemic.
What Is Making You the Happiest Right Now:
The farmer's market on Sundays! I've been volunteering for the last few months and I just love the community and environment there. The vendors, the incredible management team, the regular shoppers and the gorgeous, gorgeous produce and flowers and plants and artisanal goods. Being there makes me so happy. They've also done a great job of adapting to COVID and making it safe for both vendors and shoppers.
Reading Recommendation:
The Hidden Life of Trees by Peter Wohlleben. I highly recommend it as an audiobook and listening to it on a walk! Also We Are the Weather by Jonathan Safran Foer! It's an incredible book about climate change and our role in it. His analysis of our collective inaction is really profound and can honestly be applied to how we think about almost every issue we face as a globe, particularly systemic racism.
Love, Victor is currently streaming on Hulu. 
Source: Read Full Article