These Starbucks Holiday Gifts From Around The World Will Give You Major Wanderlust
December 5, 2018
It's the merriest time of the year, and Starbucks is helping you deck your cupboards with a cool lineup of brew-centric gifts for the season. If you're in the market for one-of-a-kind stocking stuffers this year, head on over to the coffee giants' international gift guide filled with lust-worthy items for bae or your BFF that you won't be able to pick up stateside. Excuse while I go book my flight overseas, because these Starbucks holiday gifts from around the world are here to serve you some major wanderlust.
The countdown to Christmas is officially here, which means that 'tis the season to start thinking about your travels during the holidays and including a pit stop at Starbucks for a familiar taste of home. Nowadays, Starbucks is pretty much scattered all around the world, and as of 2018, the retailer operates over 24,000 locations. There's even an incredibly photogenic Starbucks Reserve Roastery in Milan (think custom marble, chic metal accents, and a mosaic floor hand-crafted by local artisans) that opened on Sept. 7, so visiting an international Starbucks can be a memorable experience in itself.
In honor of the upcoming holidays, Starbucks shared a press release on Monday, Dec. 4 filled with its most crave-worthy merch worldwide, so I'd definitely scroll through to see if you'll be hitting any of these countries before the end of the year so that you can snag one of these goodies.
Nicknamed "Santa's Favorite Bearistas" on the blog, these plush collectibles are available at Starbucks locations in Asia and will be a bear-y (sorry) cute stocking stuffer for anyone on your Christmas list.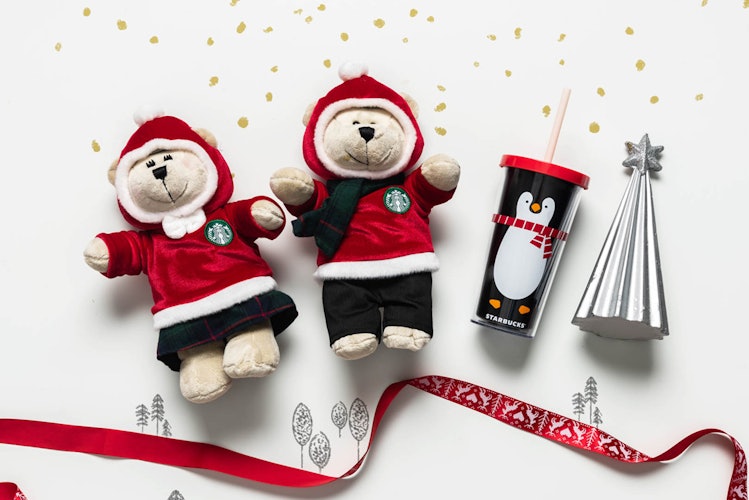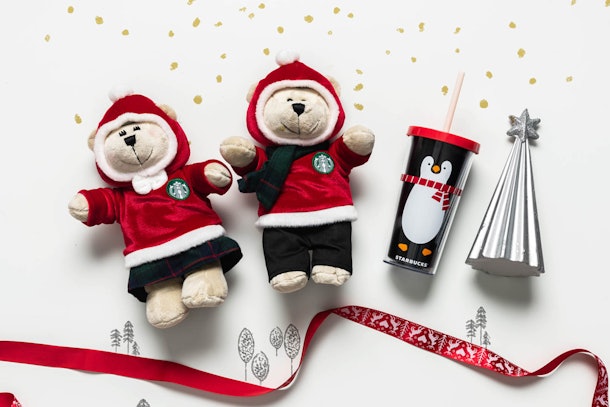 Available in Singapore, this frosted double-walled glass is guaranteed to spread Christmas cheer when it's turned upside down.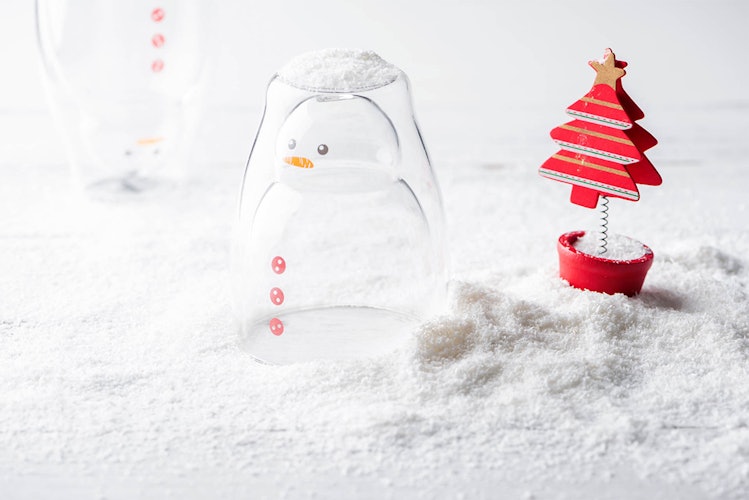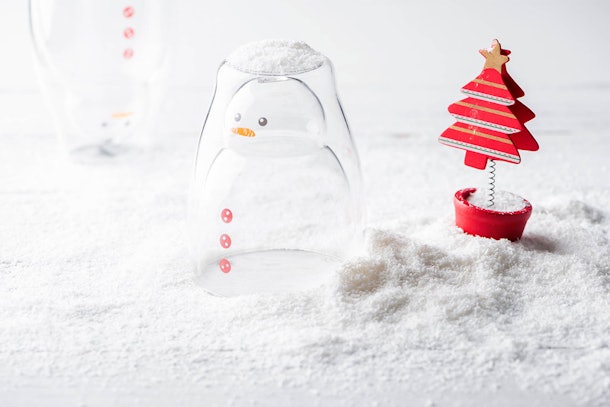 Starbucks rewards cards are always a much-appreciated stocking stuffer, and these aqua-toned ones available in China are bound to be a hit. Not only are the cards themselves mini-sized and modeled after a mermaid's tail, but they come with surprisingly chic sequined and studded leather keychains that you'll actually want to carry around.


In Asia, you can gift your tea-loving friend a set of embellished tea trays and matching coasters that he or she will want to use all year long.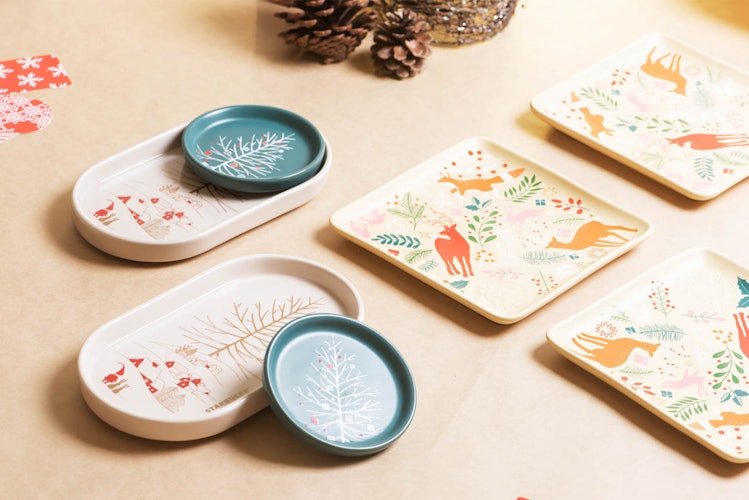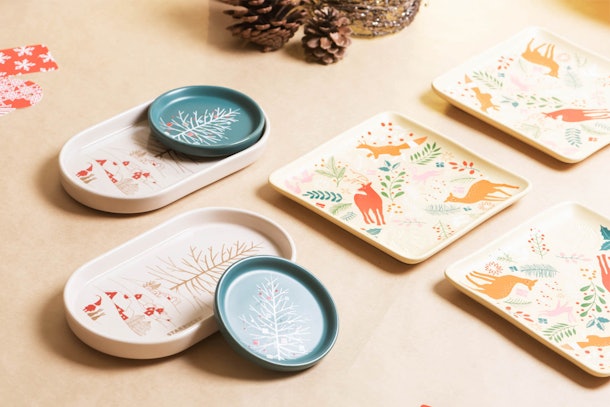 Also available in Asia, the Hello Deer collection featuring a reindeer design is the matching lunchtime collection of your childhood dreams. Even my grown-up self is completely losing it over the matching Starbucks S'well Bottle paired with a lunch box, a cup with a lid for cold drinks, and a cozy mug, all in the same design.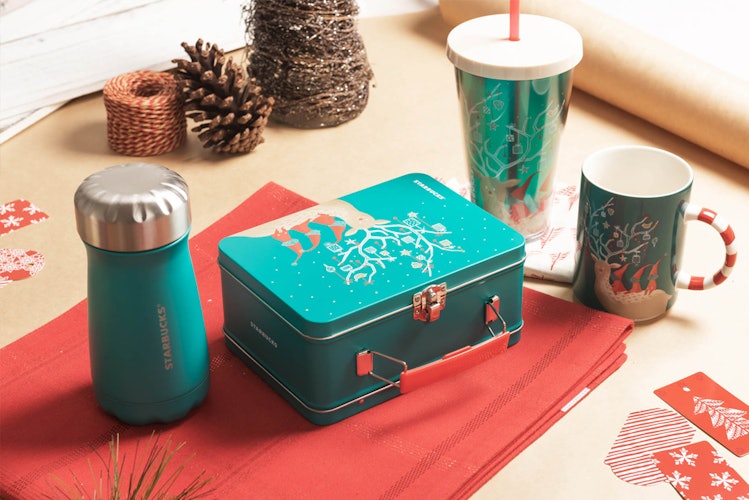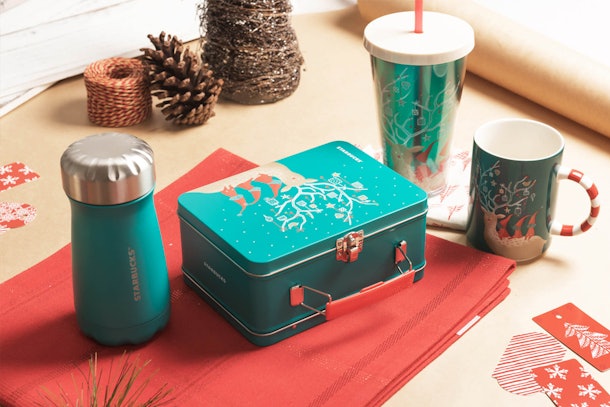 It's a universal truth that making a mini edition of something automatically makes it 100 times cuter. In Singapore, you can purchase pint-sized Starbucks mug ornaments when buying a Singapore snow globe, which happens to be housed in a classic Starbucks cup.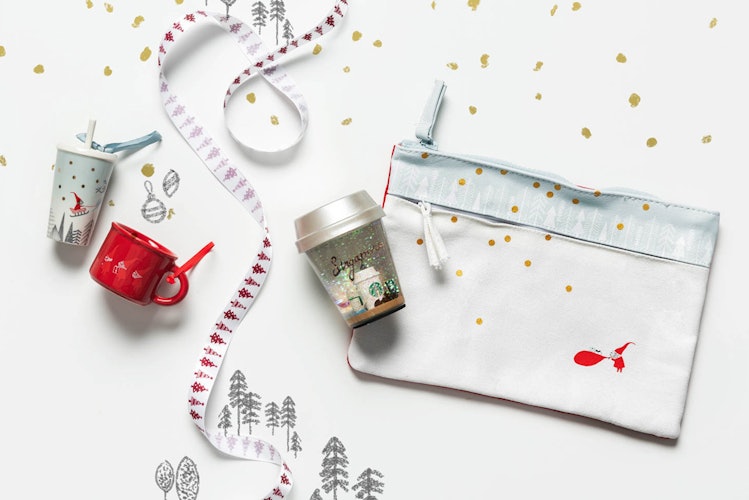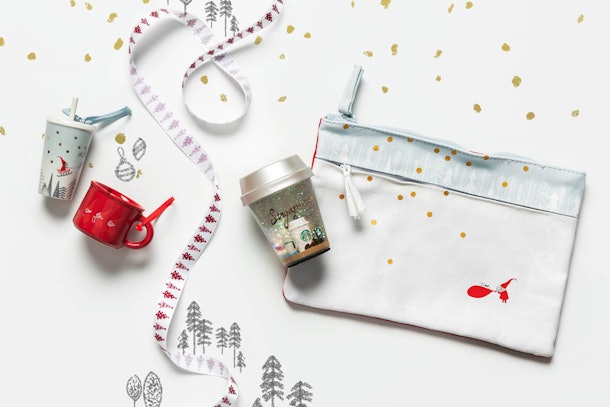 One of Starbucks' most nostalgia-inducing holiday collections can be found at locations in Asia. According to the blog post, various drinking containers have been styled with an "old-school color palette and pops of candy cane red" in mind.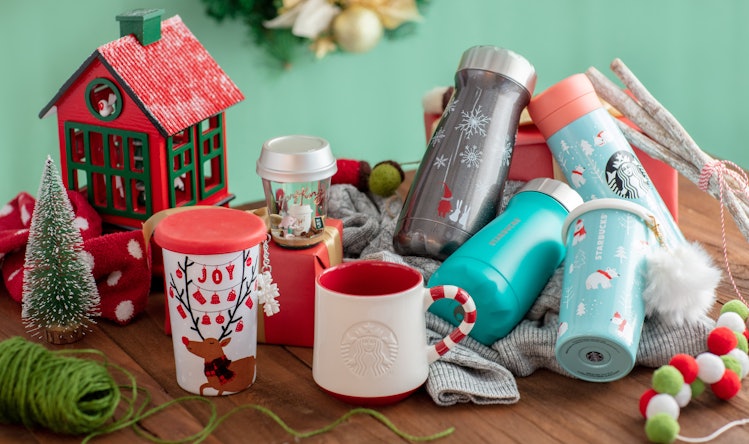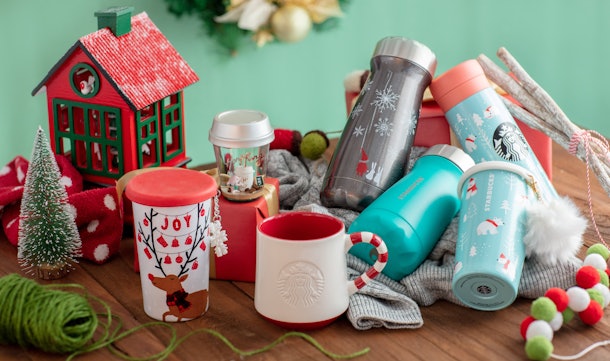 In addition to various drink-holders in the millennial pastel hues of the moment, Starbucks Japan is also selling journals inspired by this year's holiday cup designs.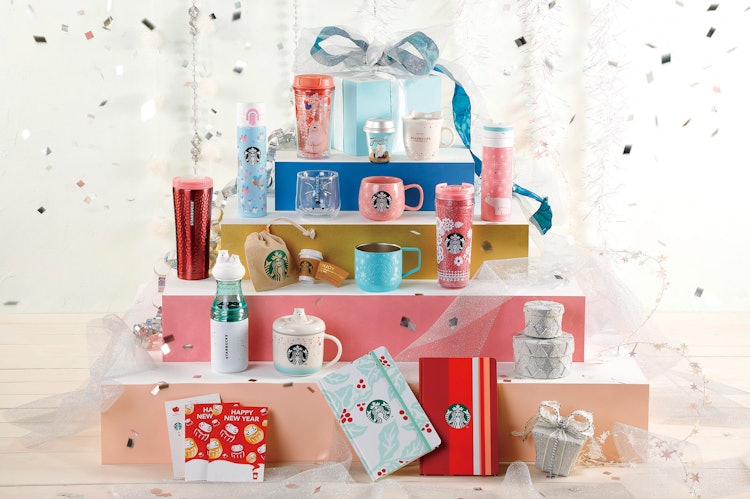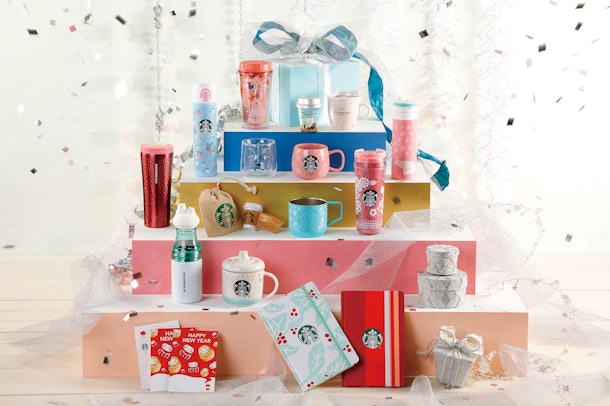 A collection of flattering light blue vestibules ensure you'll have the prettiest container for your holiday sips in Asia.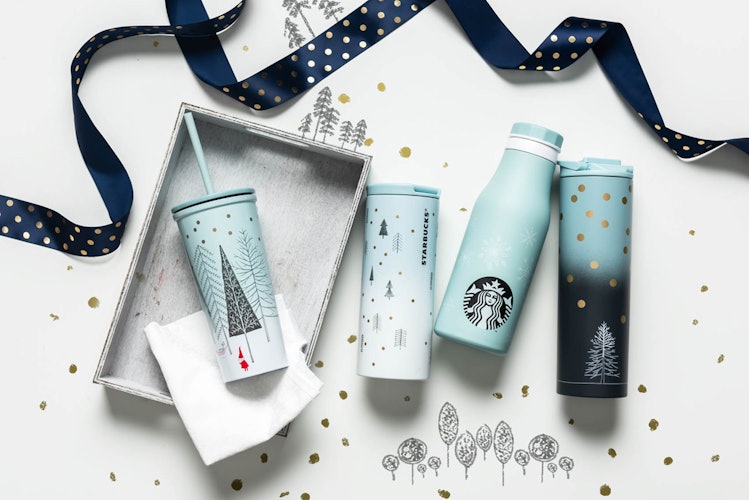 Also in Asia, you can purchase special containers made of ceramic or stainless steel to house your Starbucks Reserve Roastery drinks.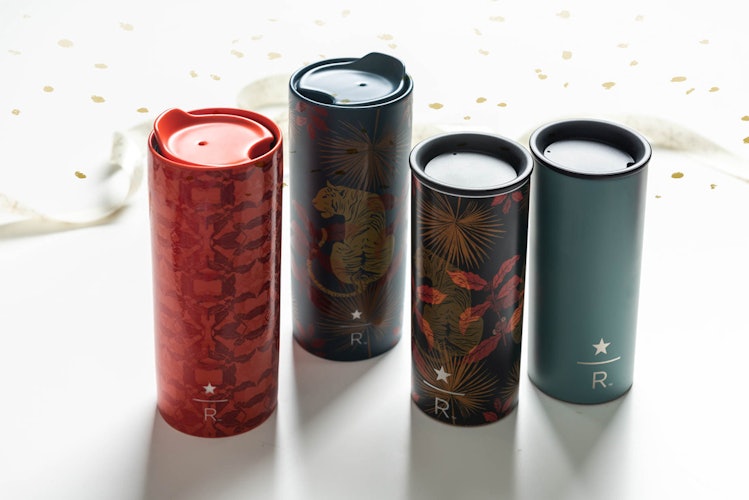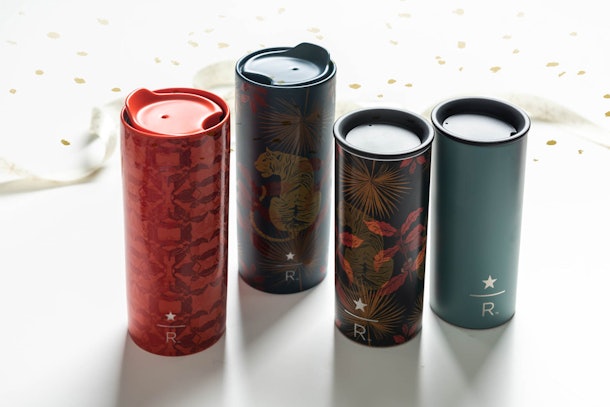 Another Starbucks collection at locations in Asia pays homage to cozy winter nights with depictions of lit Christmas trees and outdoor scenery.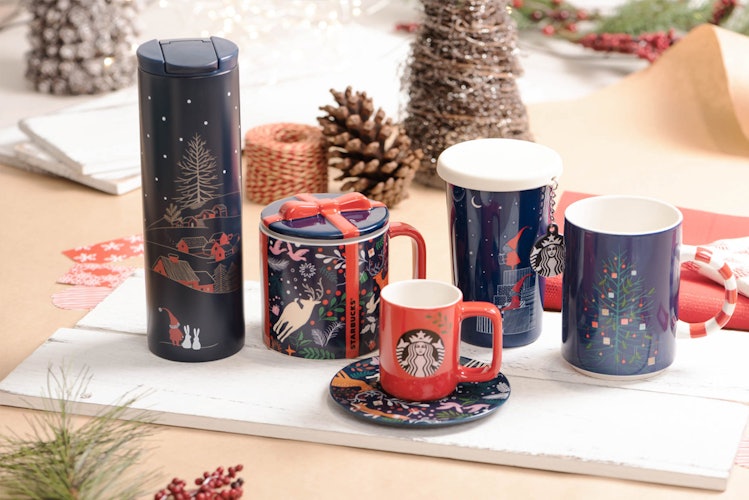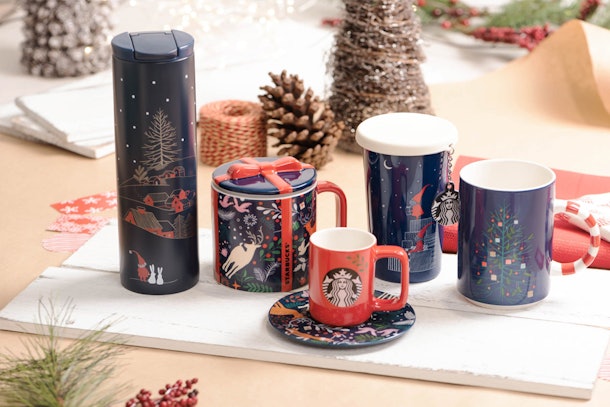 I've got good news if you live in the United States, because the retailer's new Starbucks X ban.do exclusive collection is reportedly available in nine different markets worldwide, including the United States and Canada. The collection is modeled after the festive wrapping paper that can be found underneath your tree, and you'll definitely want to wrap your holiday drink of choice in this pretty cup.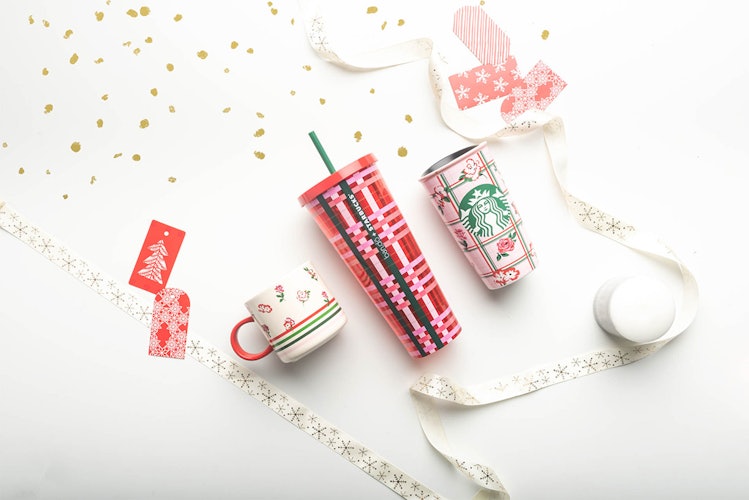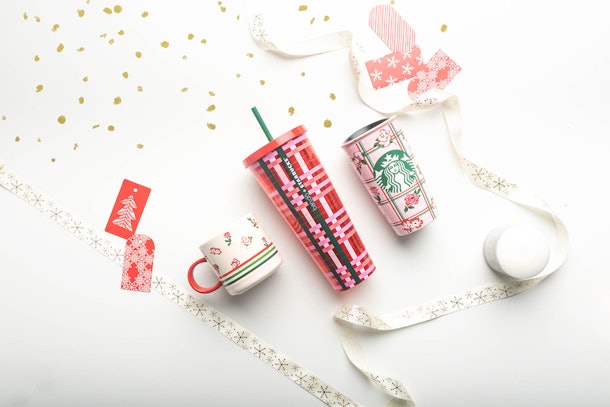 If you're not planning a trip to Asia before the end of the year, customers in the United States, Canada, and Latin America also have no shortage of photogenic holiday designs to make their coffee runs merry and bright. I'd definitely recommend heading to your local Sbux to see what they have in stock, or bring your reusable red tumbler to a Starbucks through Jan. 7 to get 50 cents off your Grande holiday drink.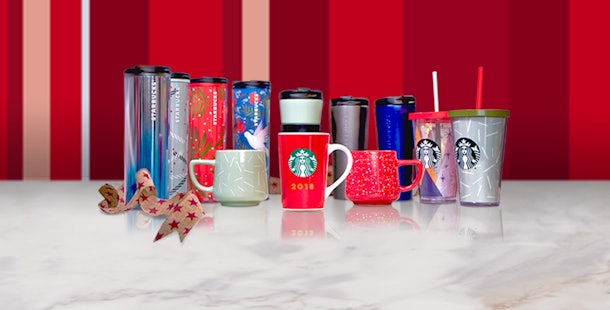 Speaking of festive sips, Starbucks also recently released a menu of international holiday drinks that you can only get at select locations around the world. Craving a Snowy Cheese Flavored Latte, or at the least, curious AF to know what it tastes like? Toss your Peppermint Mocha and Gingerbread sips to the side, and head on over to China for this unique festive latte. The best part is that you can now plan to grab some of these limited-edition tumblers and other holiday merchandise while you're at it.
Source: Read Full Article