The Truth About Brad Pitt and Jennifer Aniston's Current Relationship
February 11, 2019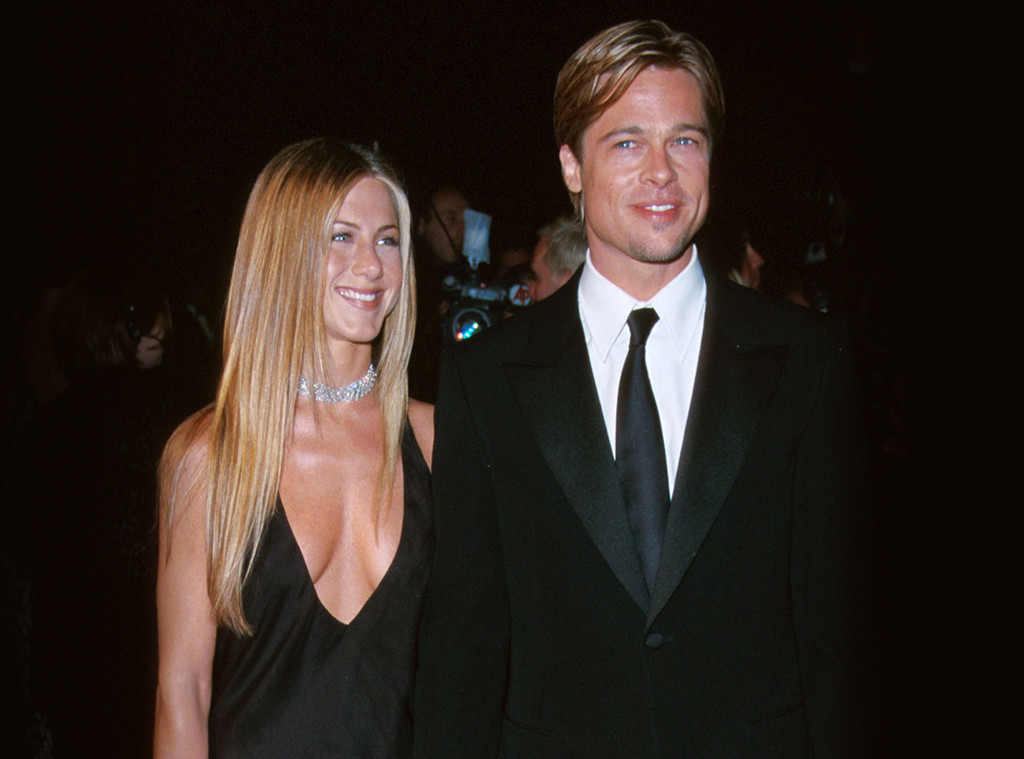 Jeff Vespa/WireImage
For those still 'shipping Brad Pitt and Jennifer Aniston, it was a dream scenario.
Because there was the flaxen-haired boy himself, slipping into West Hollywood's Sunset Tower to fete his former wife's 50th birthday alongside the likes of George Clooney, Amal Clooney, Reese Witherspoon, Robert Downey Jr., Ellen DeGeneres, Barbra Streisand, Kate Hudson, Laura Dern, Demi Moore, Courteney Cox and Lisa Kudrow.
It was a guest list so star-studded it could easily be mistaken for that of the Academy Awards, but for plenty of pop culture fans Pitt's was the only appearance that mattered. Coming nearly one year to the date after Aniston's shocking announcement that she and Justin Theroux had ended their two-and-a-half year union it was the sign: Clearly the universe had righted itself and Hollywood's golden couple was reuniting, their 2005 divorce and subsequent marriages just an unfortunate 14-year break.
So let's all raise a tequila, lime juice and Cointreau margarita (no sugars, no agave) and celebrate, right?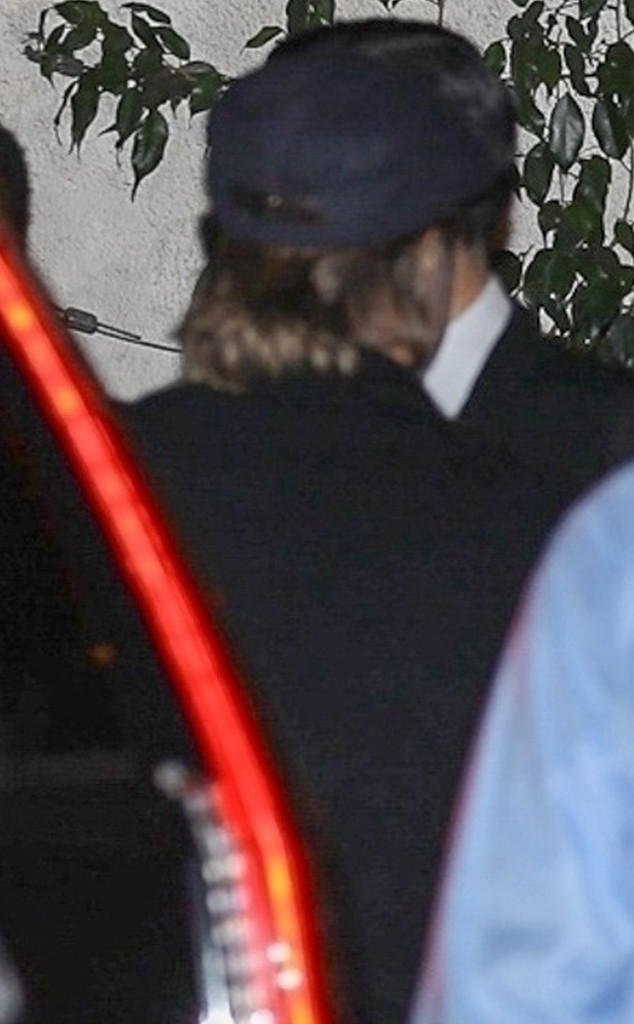 Vasquez-Max Lopes / Clint Brewer / Max Lopes / CPR / BACKGRID
Well…
While there may, indeed, be cause for revelry it's more that everyone involved in this once incredibly painful situation has found a way to close the door to the past and be cordial. Milestone birthdays can have that effect.
An insider tells E! News, "Someone extended the invitation to Brad to come to Jen's party and he accepted. He wanted to support Jen and it was a momentous occasion."
That's not to say the 55-year-old Oscar winner was some sort of afterthought, rather Aniston made the conscious decision to include everyone who had made some sort of impact on her life. Pitt wasn't even her only ex present, what with John Mayer making the rounds mere steps away from his other ex Katy Perry and her new guy Orlando Bloom. (Though with much of Hollywood present, Theroux's absence was somewhat conspicuous.) Pitt's former fiancée Gwyneth Paltrow was also in attendance, dragging the birthday girl into the photo booth for a snap. Basically the event was a giant show-and-tell on what happens when everyone acts like grown-ups about the whole situation—when your friend asks you to come celebrate their existence, you deal with the fact that it may bring you face-to-face with a former lover.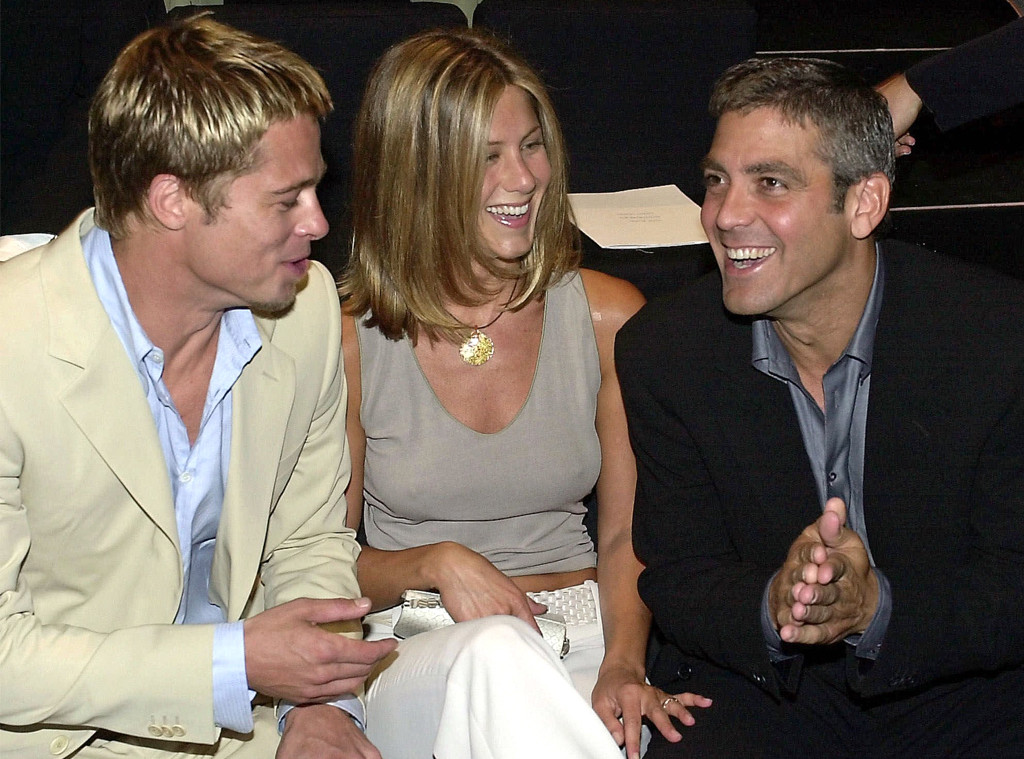 LUCA BRUNO/AP/REX/Shutterstock
And with that milestone firmly put to bed, fans began anxiously anticipating the next.
Aniston obliged the baby chatter—"I always thought two or three children, but Brad's definitely seven. He loves the idea of a huge family," she told the May 2001 issue of Vanity Fair—she also hinted that life with her best friend wasn't all matching highlights and a shared production company. (The couple joined up with late agent Brad Grey to form Plan B Entertainment, still a part of Pitt's portfolio as it churns out award winning fare such as 12 Years a Slave and Moonlight, in November 2001.)
"This has been the hardest year of my life, as well as the best year of my life," she said. "Marriage brings up all the things I pushed to the back-burner—the fears, the mistrust, the doubts, the insecurities. It's like opening Pandora's box. Every question comes out—it's like: 'Here's the key, have at it!'"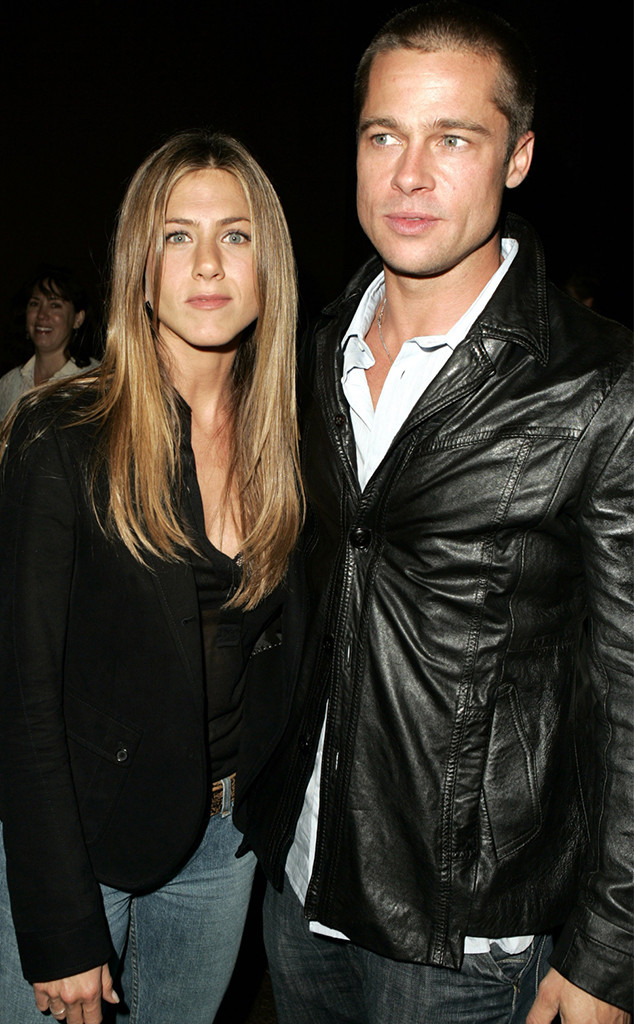 Jeff Vespa/WireImage
By 2003, they seem to have more or less figured it out, with Aniston admitting to W that February that of course they have arguments like any normal pair that has to figure out how to do life together. "Well, we have discussions," she said. "I am not a fan of fighting when it is screaming. I like accomplishing something. But I don't trust a couple that says they don't fight."
A fine, relatable answer, but the writer noted she seemed more stymied when asked if Pitt was the love of her life, a seeming softball of a question that the actress put an extraordinary amount of thought into. "Is he the love of my life? I think you're always sort of wondering, 'Are you the love of my life?'" she shared. "I mean, I don't know, I've never been someone who says, 'He's the love of my life.' He's certainly a big love in my life. I know that we have something special, especially in all this chaos. In this nutty, brilliant, wonderful, hard business that we have, it's nice to have somebody who's anchored and knows you, really knows all of you."
In other words, yes, he pretty much was. Aniston was just not one to speak in absolutes.
But her naked honesty kicked off a round of rumors that the golden pair was crumbling and forced Aniston to clarify her stance in her 2004 sit-down with Sawyer. Noting she hated reading the writer's take on her answer, particular their belief that she paused before speaking, she told Sawyer, "I can't imagine being with any other human being. I married him because he was the love of my life. And you know, he's the most fun I've ever had. So when these things are written in magazines and taken out of context, it's so frustrating because people then take it and run with it…Jesus, we were divorced and moving into different homes."
And while Aniston's characterization of how split speculation can run rampant in Hollywood was spot on, sometimes such stories turn out to be true. Because that spring Pitt would begin filming his latest action adventure flick about married assassins, unknowingly tasked with killing each other. Originally set to star Nicole Kidman, Mr. & Mrs. Smith would feature Pitt acting opposite that quirky young single mom, Angelina Jolie.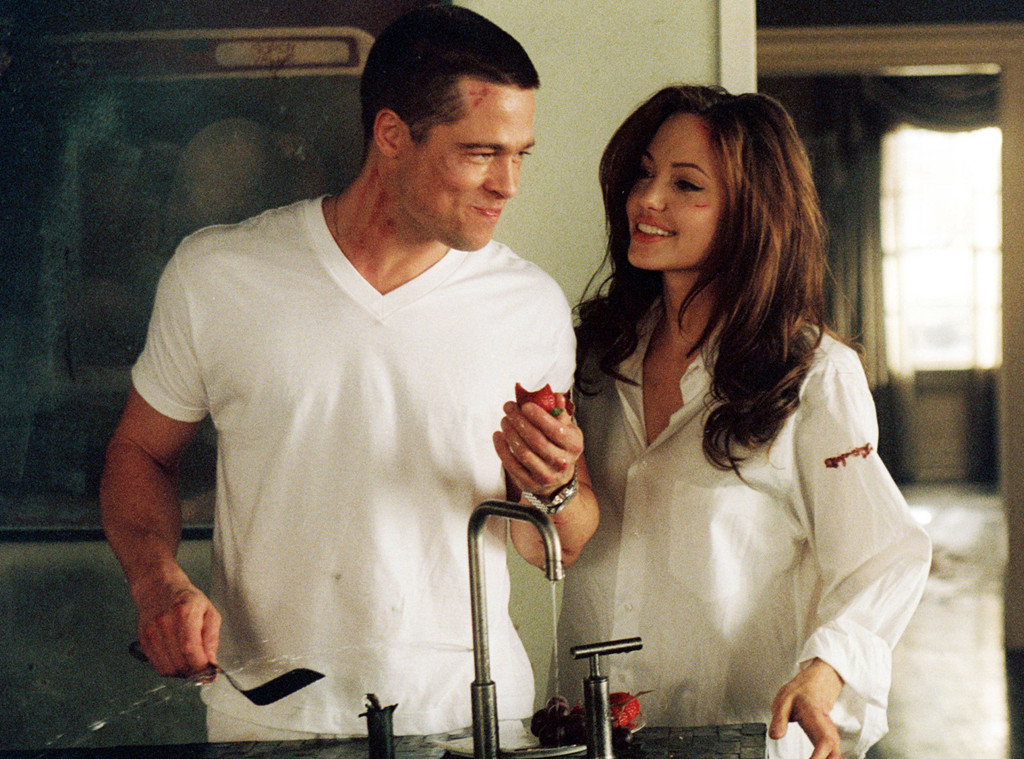 20th Century Fox
"I didn't know much about exactly where Brad was in his personal life," Jolie would later tell the January 2007 issue of Vogue. "But it was clear he was with his best friend, someone he loves and respects. And so we were both living, I suppose, very full lives…I think we were the last two people who were looking for a relationship. I certainly wasn't. I was quite content to be a single mom."
But, as anyone with even a passing interest in pop culture now knows, that's not how this particular tale played out. "Because of the film, we ended up being brought together to do all these crazy things, and I think we found this strange friendship and partnership that kind of just suddenly happened," she shared. "I think a few months in I realized, 'God, I can't wait to get to work.'…Anything we had to do with each other, we just found a lot of joy in it together and a lot of real teamwork. We just became kind of a pair."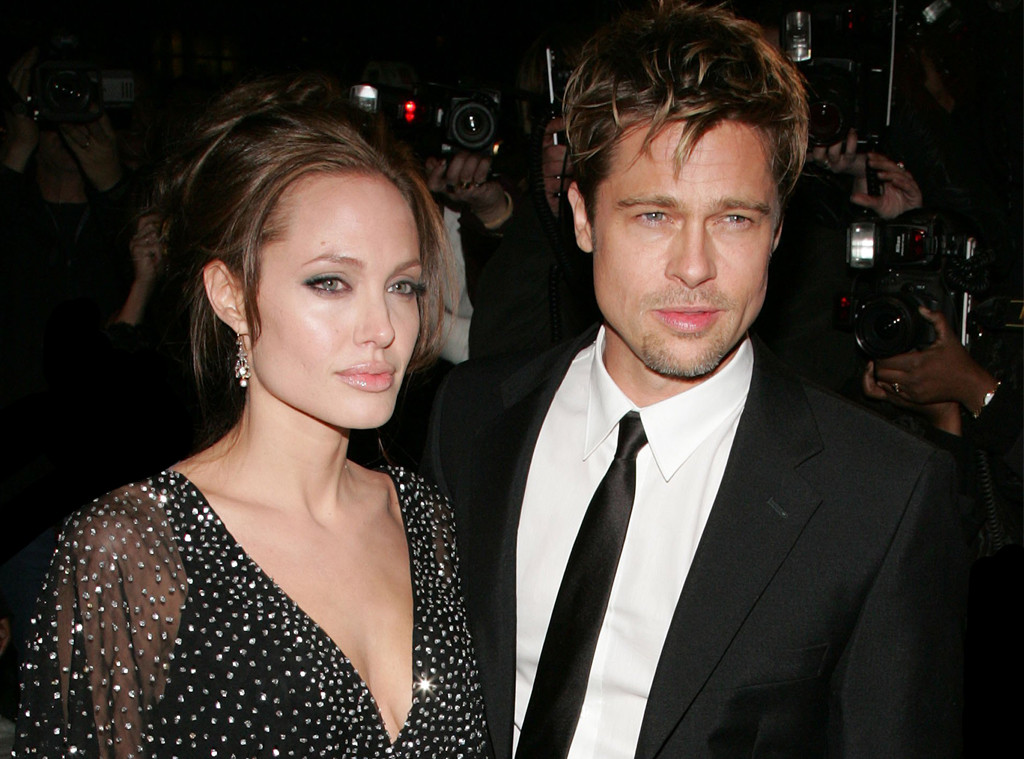 Bryan Bedder/Getty Images
It was an interview Aniston would later dub "uncool" in her own sit-down with Vogue and it was an apt way to label the whole situation. Because on Jan. 7, 2005, mere days after Aniston and Pitt went on a trip to Anguilla, a getaway that would prove to be their last as a couple, they were announcing their decision to "formally separate", their statement crafted carefully to illustrate that this was due to little more than two people going their separate ways. "For those who follow these sorts of things, we would like to explain that our separation is not the result of any of the speculation reported by the tabloid media
Of course, it turned into a media circus nonetheless, an outcome that should have pretty much been expected given what happened next.
Because that April, Pitt and Jolie were photographed on a Kenyan beach playing with Jolie's then 3-year-old son Maddox in a moment that could only be categorized as that of a happy family and by July they were willingly posing up with a set of lookalike kids for a photo-driven W feature titled "Domestic Bliss."
Source: Read Full Article