The 9 Best Beauty Advent Calendars That Will Fill Your Entire Holiday Season With Treats
December 5, 2018
Don't know what to get the skincare obsessed in your life for the holidays? Does your makeup loving friend seem to already own every product on earth, and then some? Let the best beauty advent calendars of the year take care of all your shopping needs and leave you feeling worry-free in terms of getting things that people will actually like. There's nothing worse than watching someone open a present you bought for them and realizing that, despite their "Thank you's," they are really not into it. Trust me when I say that advent calendars will please literally anyone on your list.
For one, they've been specially curated and stocked full of the most covetable products around so you know their offerings are good. Even if their recipient already owns a few of the products within the calendar or just isn't super keen on a handful, there will still be tons of other ones that will surely delight. What's more, the act of unveiling a new little present every day for almost a month is in itself a fun little treat and helps to make the season feel truly special. Below are TK of the most giftable advent calendars of the season—don't forget to snag one for yourself.
Jackpot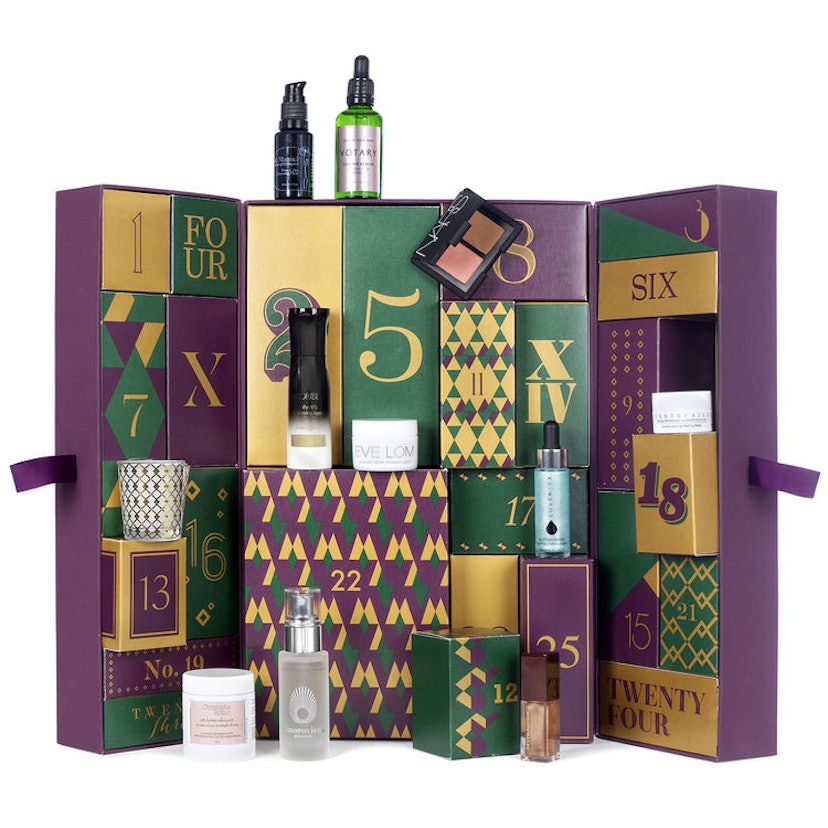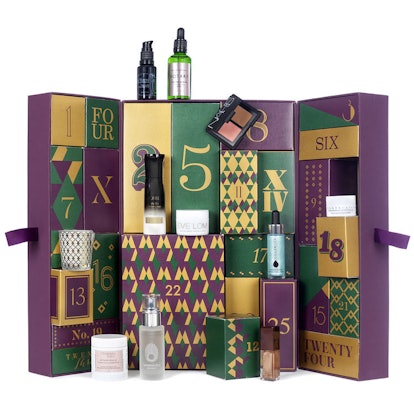 The Space NK Advent Calendar
$250
Space NK
This gift is an absolute goldmine. Tinted lip balm, mascara, deodorant, lipstick, candles, cleanser, face masks—it's got it all and more. Everything is by brands you know and love (Sunday Riley! Ouai! Oribe!), meaning it's basically a treasure chest of testers. I would be beyond excited to receive this!
Tool Box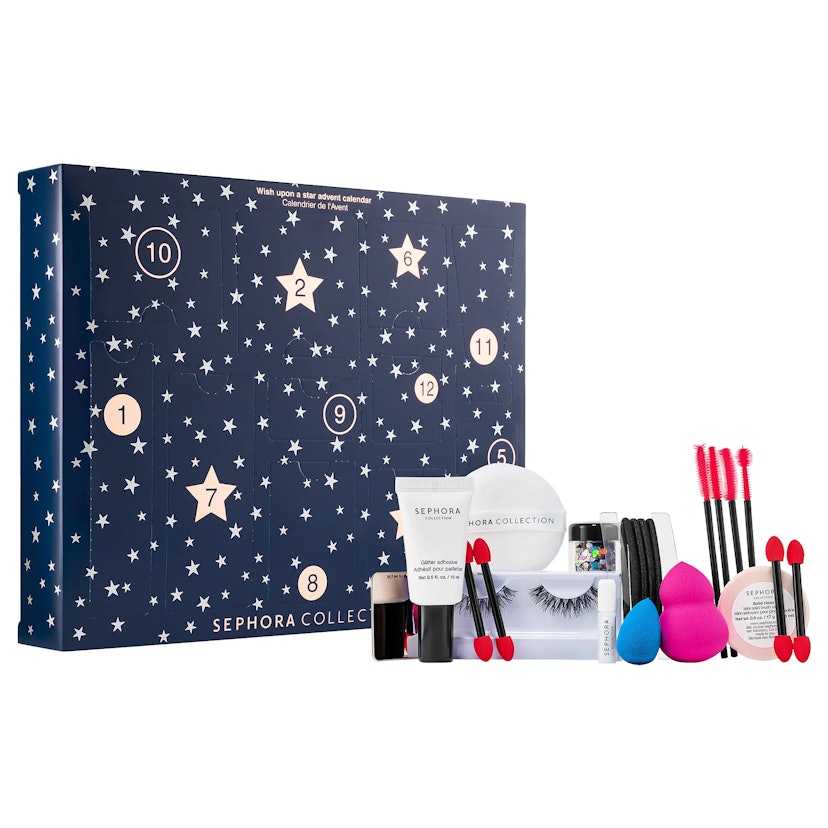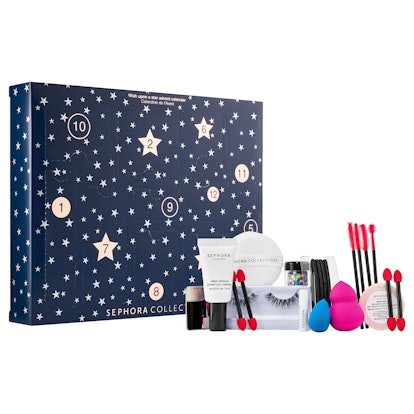 SEPHORA COLLECTION Wish Upon a Star Advent Calendar
$29
Sephora
This option by Sephora is great if you're on the hunt for something more affordable yet equally fun. It includes 12 different products, from lash adhesive and false eyelashes to sponge applicators and hair ties, making it the perfect gift for anyone who takes their makeup seriously but already has too many palettes and blushes to count.
Little Luxuries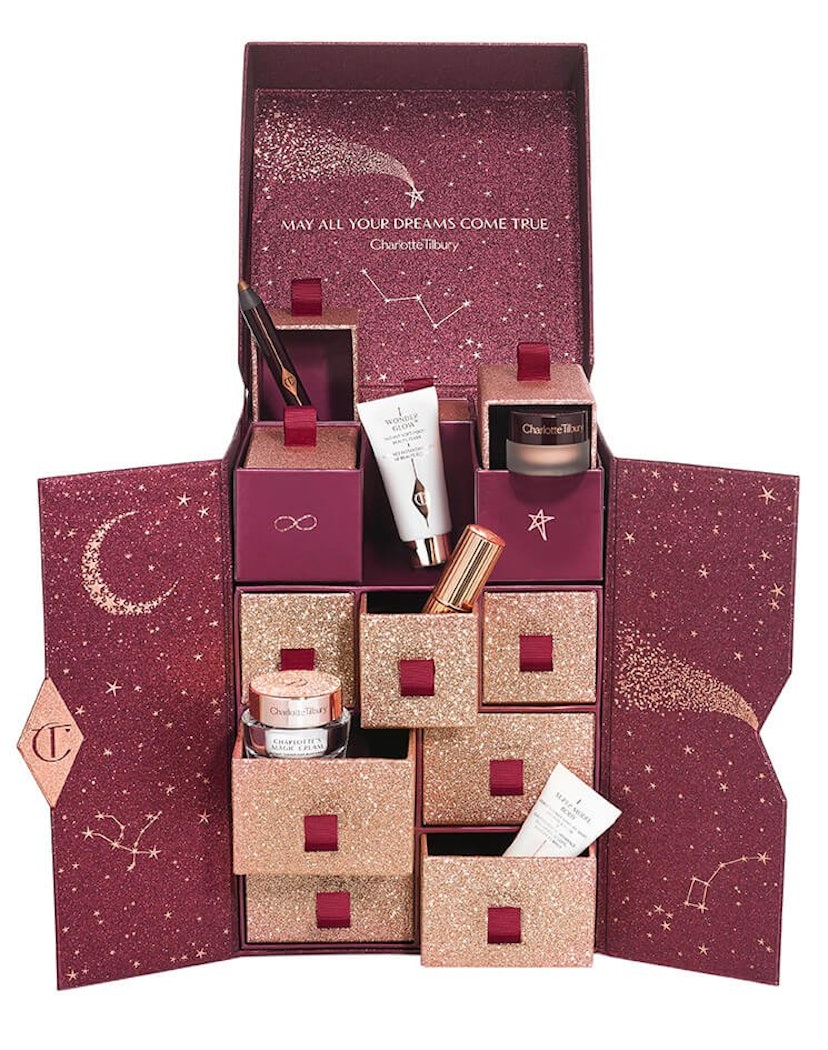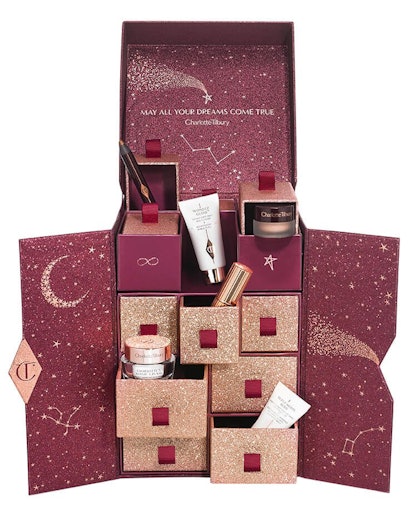 CHARLOTTE'S BEAUTY UNIVERSE BEAUTY ADVENT CALENDAR
$200
Charlotte Tillbury
At $200, this one is definitely on the pricier side, but if you're a makeup lover then you'll know it's because Charlotte Tilbury is a very high-quality brand. It contains 12 full size and mini beauty and skincare products and yes, lipstick is one of them.
Sweet Treats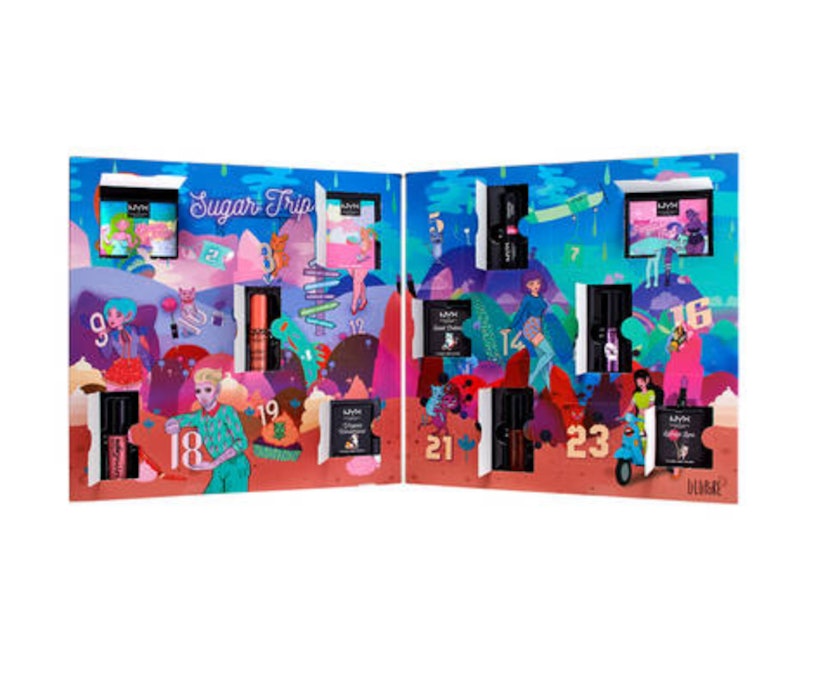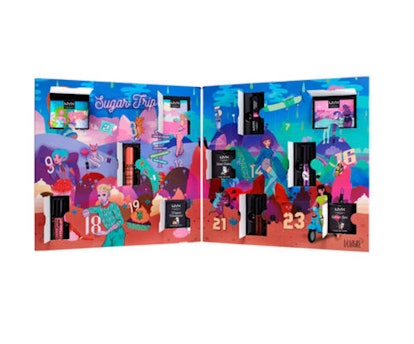 SUGAR TRIP 24 DAYS OF BEAUTY ADVENT CALENDAR
$55
NYX Cosmetics
This calendar by NYX is super sweet, both in contents and design. Some of the brand's most loved products—think Butter Gloss, shadows, highlighters, and more—are included in all-new shades, all of which are total treats. Why not indulge?
Branch Out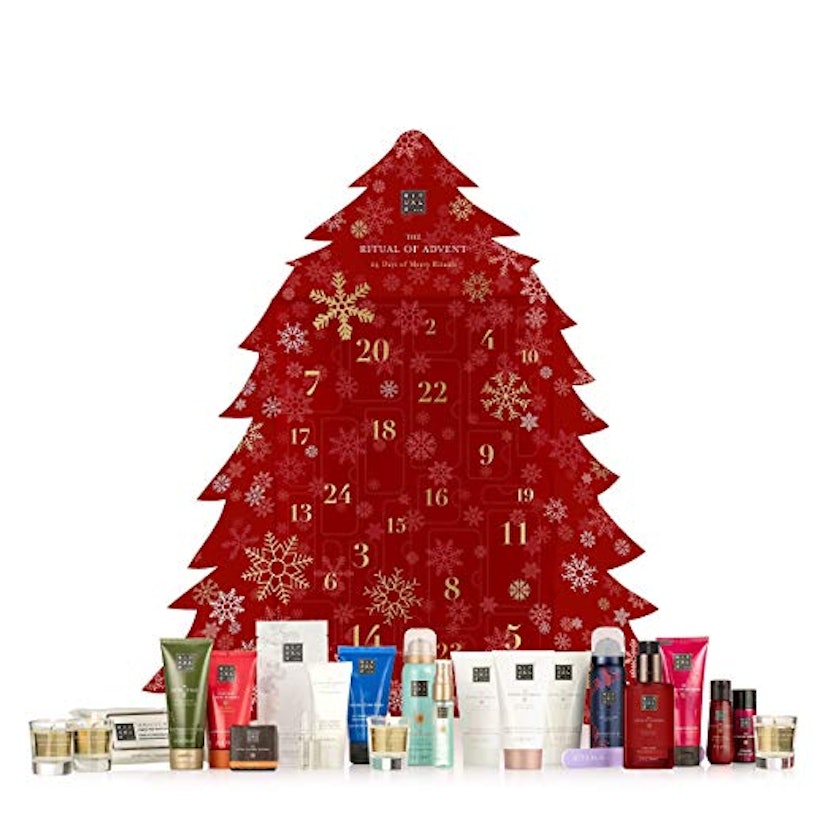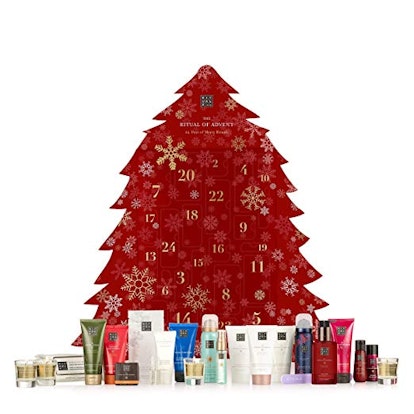 The Ritual Of Advent Calendar Gift Set
$89
Amazon
There's nothing more festive than a tree-shaped Advent calendar. This one is filled with 24 mini versions of luxury products from Rituals, including candles, shower gels, lotions and more, all designed to make your skin care routine a little more zen.
This calendar already wins points for its cute tree-shaped packaging, which houses all of the 24 products that its lucky owner will get to unwrap. It includes everything from soap to candles to shower gel to masks—think of it as a spa in a (very cute) box.
A Bit Of Everything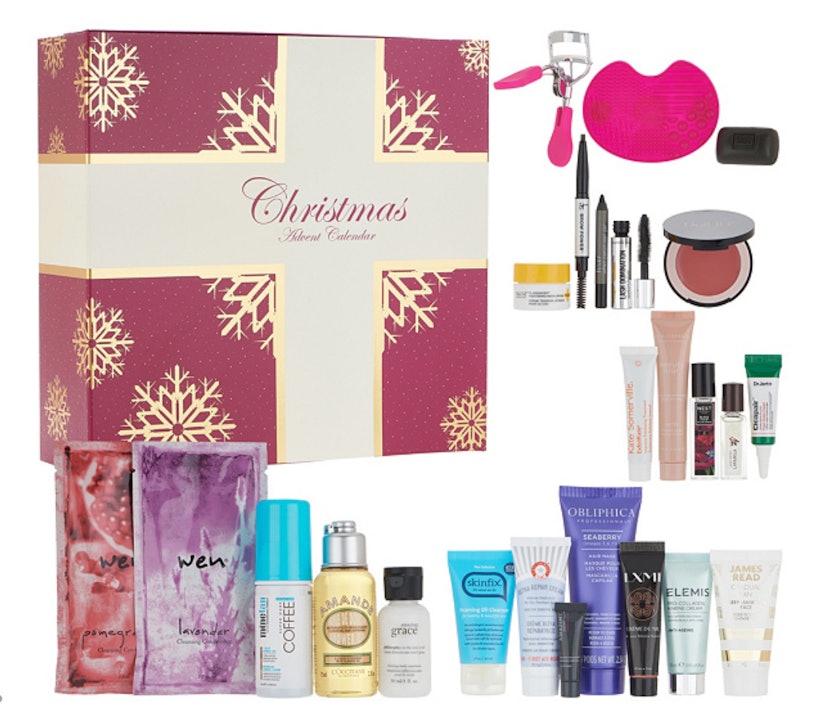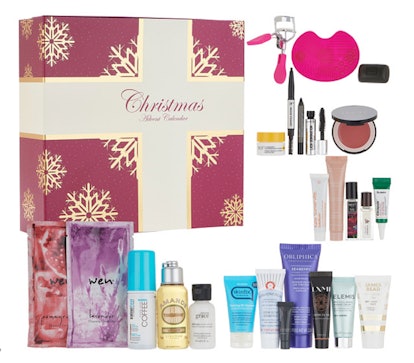 QVC Beauty Christmas Advent Calendar 24-Piece Collection
$40
QVC
This option is a bit of a Jack of all trades seeing as it contains makeup, skincare, fragrance, and shower products. If you've got a friend who wants to jumpstart a new collection of products or is keen to try out some new brands, this box is the one for them. Products by NEST, L'Occitane, bareMinerals, Kate Somerville, IT Cosmetics, Philosophy, and more are all included—a truly stacked lineup.
Save Face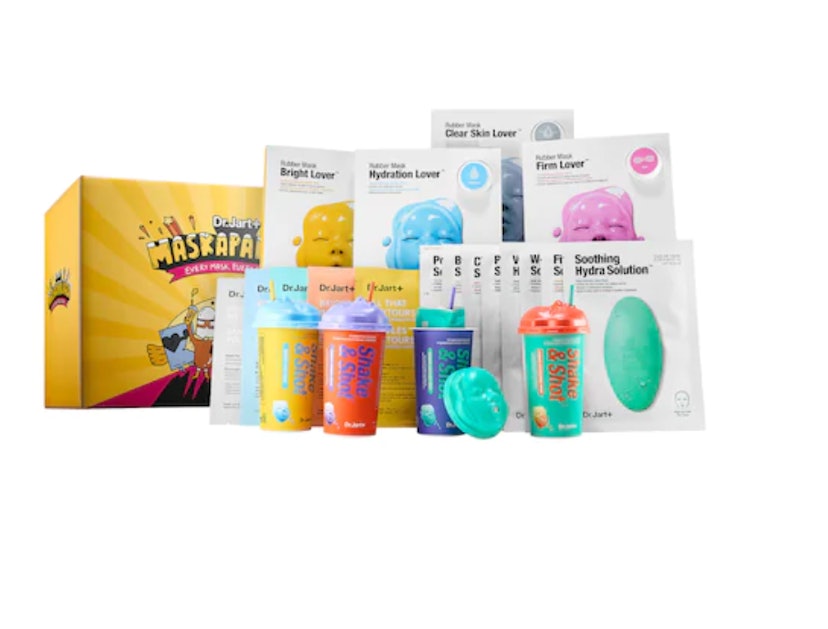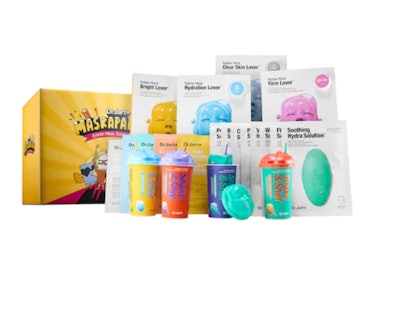 DR. JART+ Maskapalooza! Every Mask, Every Concern
$139
Sephora
I love, and I mean love, a good mask. It's something I indulge in a few times a week because A. my skin needs it and B. it's a little act of self care that always leaves me feeling refreshed. This advent calendar boasts 21 masks that together remedy pretty much any skin concern. Just imagine your complexion after receiving this!
Dope Kit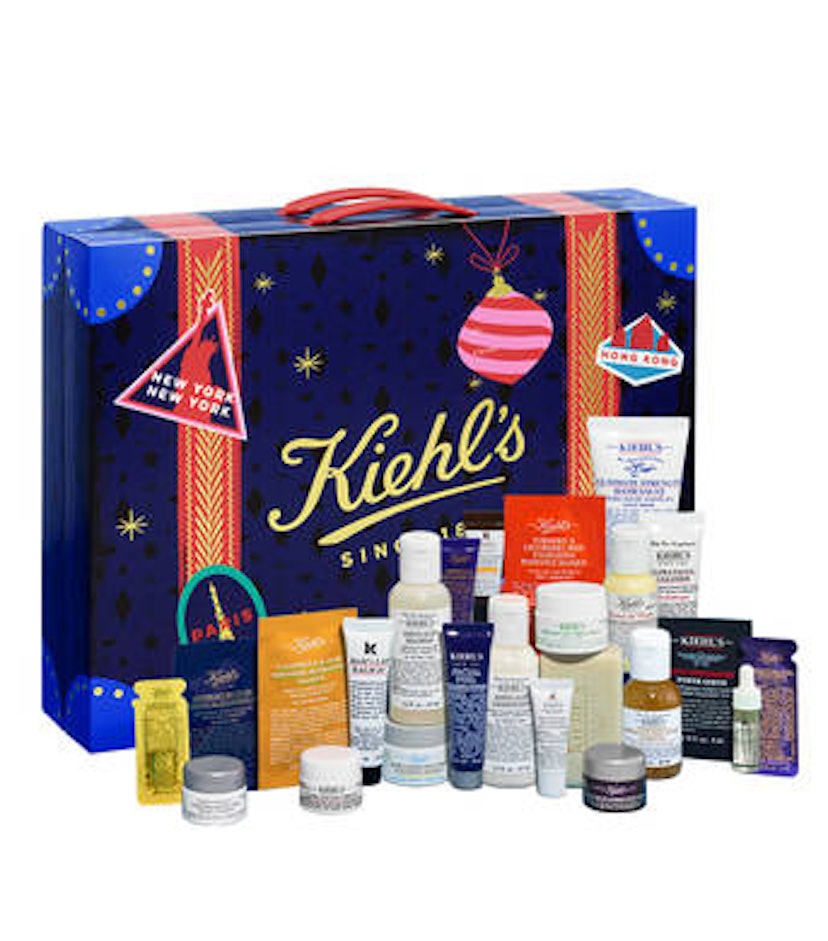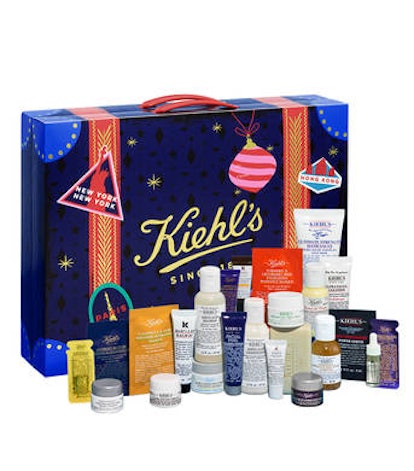 Limited Edition Advent Calendar
$70
Kiehl's
Everyone loves Kiehl's—it's basically a fact. Containing 24 of the brand's cult-favorite products, this little gift set is happiness in a box.
Skin Saver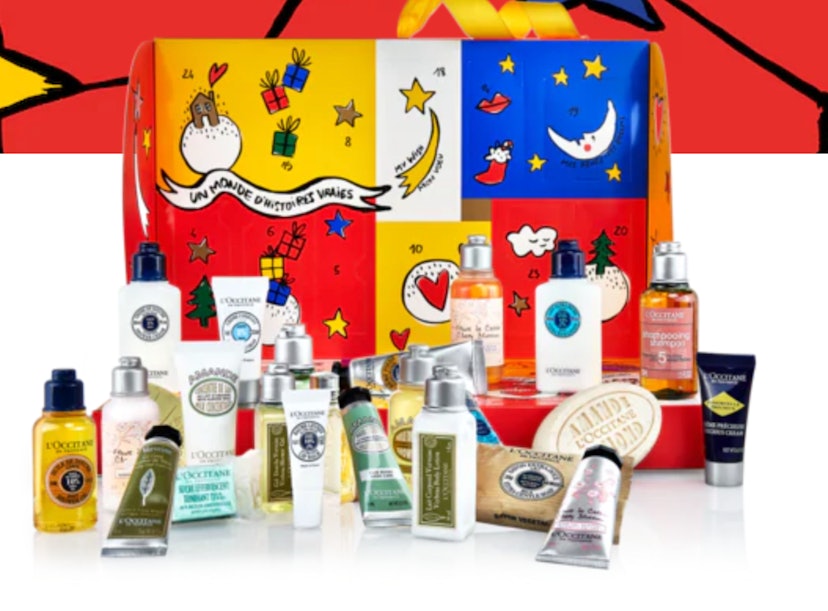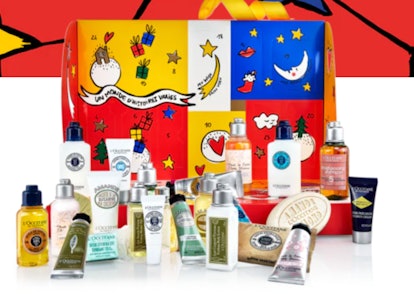 SIGNATURE ADVENT CALENDAR
$59
L'Occitane
No one does scented lotions better than L'Occitane. Their advent calendar features 24 little doors, each containing an intoxicatingly scented gift, from their signature hand cream to shower oil to shampoo.
Source: Read Full Article