Sophie Turner & Joe Jonas' Body Language At Nick & Priyanka's Wedding Reception Was Pretty Stiff
December 12, 2018
The Jonas brothers are still "Burnin' Up" long after their Disney Channel days, aren't they? From Camp Rock to Lines, Vines, and Trying Times to welcoming baby Jonases of their own, the JoBro's have come a long way, both professionally and personally. ICYMI, besides Nick Jonas' wedding to Priyanka Chopra last week and Kevin Jonas' marriage to long-time love Danielle Jonas, Joe Jonas has been engaged to Sophie Turner since last year. The very private couple hasn't divulged much about their relationship or wedding plans, but Sophie Turner and Joe Jonas' body language at Nick and Priyanka's wedding reception can tell us way more than meets the eye.
Body language is a powerful tool that anyone can use to gauge how a person can be feeling at any particular time. But it's important to note that these photos of Sophie and Joe at Nick and Priyanka's wedding reception aren't candid. They're posed shots. So, ya know, this might not be the best representation of them as their most relaxed selves. But even though they're posing together, a lot can be gauged from them about their relationship dynamics just by the way they touch each other and their bodies are angled.
On Monday, Dec. 3, newlyweds Nick and Priyanka held a wedding reception in New Delhi, and it definitely looked like a grand, old time. However, Turner and Jonas' body language in the photos below doesn't exactly scream "true love" at first glance. The two have been engaged for about a year, now, announcing their engagement on social media last October, and fans are seriously looking forward to when they tie the knot. The couple has stayed mum on the details, but they are rumored to be saying "I do" sometime next year in France.
Until then, here's what their body language revealed at Nick and Priyanka's wedding reception.
1

Turner seems to be in charge.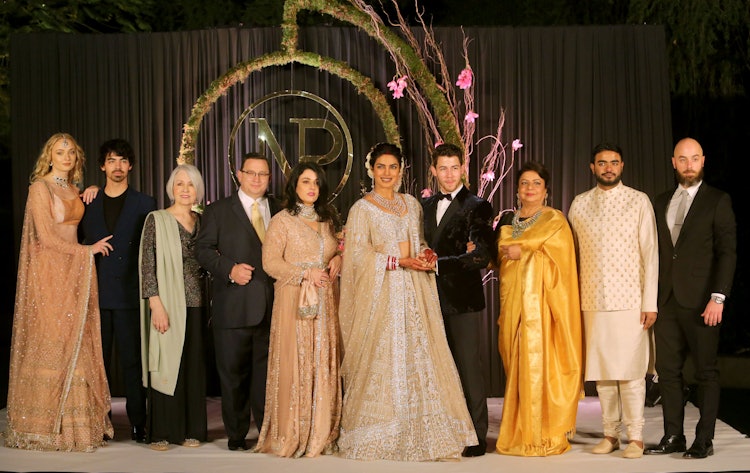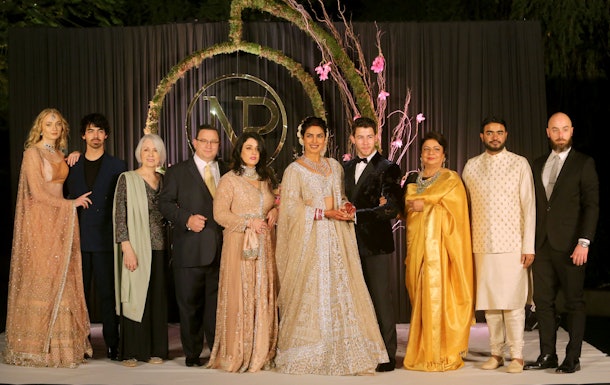 Peep the couple on the left of this photo, along with Joe's fam and Priyanka's!
"Sophie turning her body toward him, arm resting on the top of his shoulder, shows her confidence and power in the relationship," body language expert Patti Wood tells Elite Daily. "Her other hand with the tips of the fingers touching show her need to have him belong to her."
"She seems vibrant and really likes him," body language expert Traci Brown tells Elite Daily of the photo. "Their posture together is almost identical." Clearly, the two are in sync, and Sophie isn't afraid to be the boss in this relationship.
2

But they did seem a little off.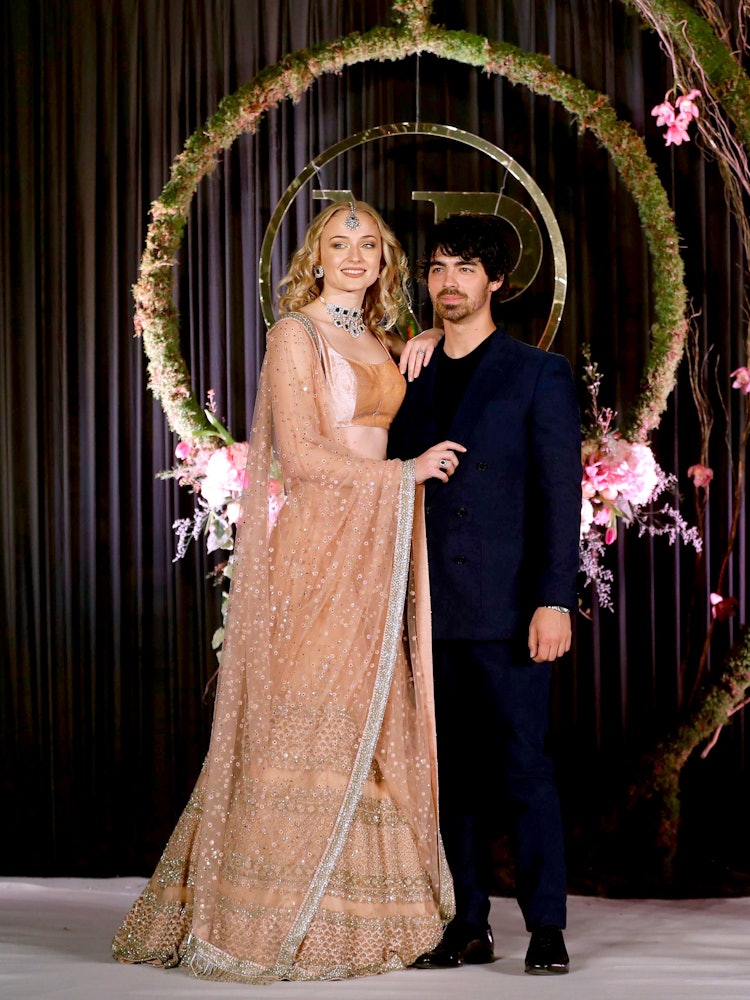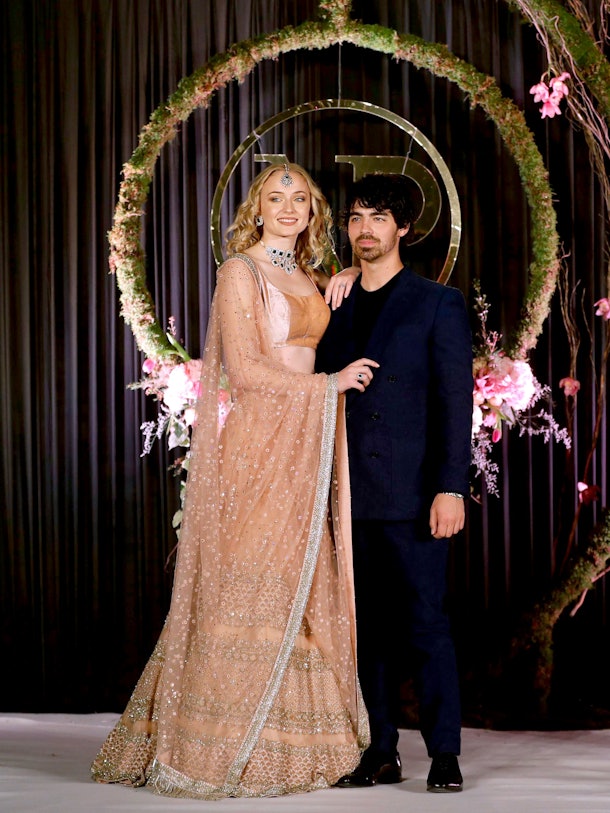 "His body language and facial expression is oddly wooden," Wood says. She says it's hard to tell if he's so stoic because of their relationship itself, or if it's just a desire to not be posing at the wedding reception, but one thing's for sure: Wood says "he is not wedding-party jubilant."
Again, Sophie is showing that she's in charge here. According to Brown, "she's showing ownership of him with her hand gently grabbing his lapel." However, Brown also adds that their facial expressions just aren't all that great in general. "So if I didn't see their faces I'd say they're a great couple!" Yikes.
At the end of the day, Sophie and Joe's body language at this one event likely isn't too indicative of what their relationship is like in general, since it was only one day and they were likely pretty exhausted. After all, this wedding, while fabulous, was a several-days-long event, with several ceremonies, on a whole different continent. Everyone involved was probably just tired. Perhaps they're sick of posing for photos, or feel out of place among new cultural traditions they're still not used to. Maybe they had just had an argument or were really hungry! They're only human, after all. Distant body language doesn't always mean they're unhappy in their relationship.
Nevertheless, it's still interesting to delve into the dynamics of their public personas and see how confident Sophie is with Joe by her side. It's very sweet! Everyone deserves a partner that makes them feel like a bad *ass. I can't wait to see their wedding pictures in 2019!
Source: Read Full Article