Samuel L. Jackson Saw Donald Trump Cheat at Golf
April 22, 2019
Actor Samuel L. Jackson weighed in on Donald Trump's golfing alleged cheating in the book, Commander in Cheat: How Golf Explains Trump by Ricky Reilly. The New York Post received an advanced copy of the book, according to Vogue, and the details didn't disappoint.
Jackson saw Trump 'hook a ball into a lake' his caddy then 'found'
In the book, Reilly reviewed a past account Jackson gave on a round of golf he played with the president. Jackson said, "We clearly saw him hook a ball into a lake at Trump National and his caddy told him he found it!"
Vogue noted that the book contains "wonkier details" about the president's handicap — a better player has a lower handicap — and how he prefers to drive a golf cart instead of the traditional method of walking.
Golfing is one of Jackson's favorite hobbies. It's even written into his contracts that he must be allowed to golf while shooting a film.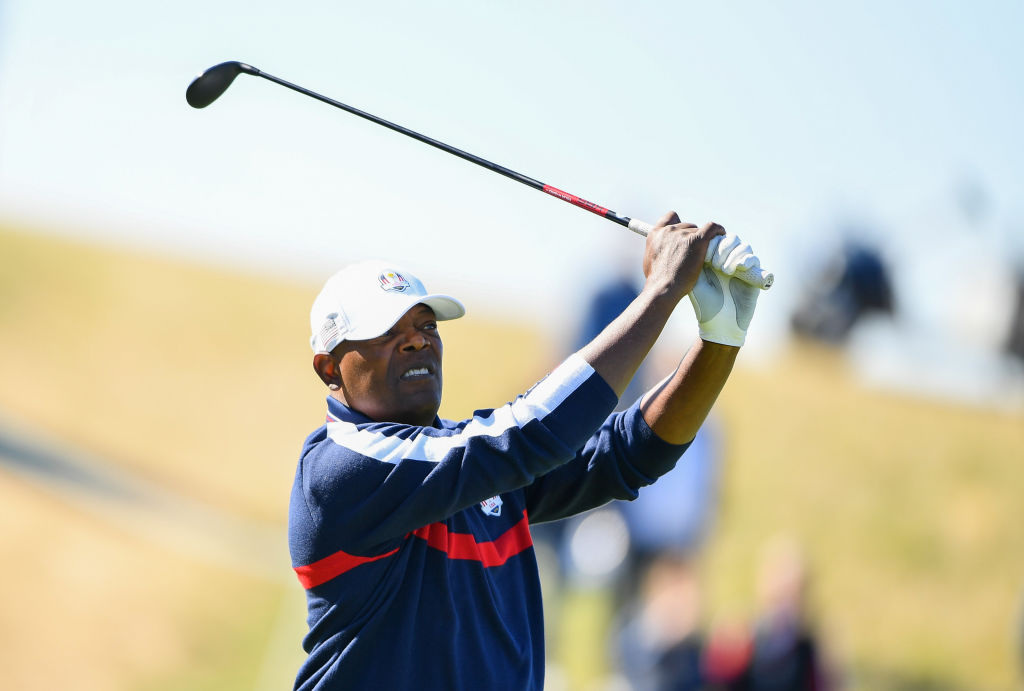 The book also referenced another past experience Jackson had with Trump. Reilly highlighted a 2016 interview Jackson gave to Rhapsody magazine. "It's funny—last week or so, I actually got a bill from Trump National Golf Club," Jackson said in the interview.
"And I haven't been there in four or five years, so I had my assistant call. They said it was for membership dues. And I said, 'I'm not a member,' and they said, 'Yeah, you are—you have a member number.' Apparently [sic] he'd made me a member of one of his golf clubs, and I didn't even know it!"
In 2016, in response to who was the better golfer, him or Trump, Jackson said, "Oh, I am, for sure. I don't cheat."
Others accused Trump of cheating
Jackson isn't the first person to accuse Trump of cheating at golf. Others have accused him of such behavior before.
"Donald, what he does is he tees off first so we go off to our balls and what do we see but Donald Trump right in the middle of the fairway," Oscar De La Hoya, a former professional boxer, told the Associated Press in 2016. "He said, 'Hey look, I found my first ball.'"
On the next hole, a par-3, the former boxer said Trump hit his ball into bushes and, like on the previous hole, went ahead of the other golfers in his cart. When the group caught up to Trump, De La Hoya said Trump's ball was three feet from the hole.
"And by the way I'm picking it up," De La Hoya recalled Trump saying. "It's a gimme."
In 2012, Alice Cooper shared his opinion on the "worst celebrity golf cheat."
"The worst celebrity golf cheat? I wish I could tell you that. It would be a shocker. I played golf with Donald Trump one time. That's all I'm going to say," Cooper said.
Others who have accused Trump of cheating include actor Anthony Anderson (Black-ish) and Reilly who golfed with Trump in his capacity as a Sports Illustrated and ESPN columnist, according to USA Today. Anderson accused Trump of having his caddy cheat for him while Reilly said Trump "took the world's first gimme chip-in."
Source: Read Full Article