Rose & Midge's Stories In 'Mrs. Maisel' Are Similar For The Most Infuriating Reason
December 6, 2018
Spoilers ahead for The Marvelous Mrs. Maisel Season 2, Episodes 1-3. Rose Weissman begins The Marvelous Mrs. Maisel Season 2 as a newly liberated woman. Fed up with feeling unfulfilled and under-appreciated, she moves to Paris on a whim and waits for her family to coax her back. Once there, however, she finds that she enjoys her newfound independence, and when Abe and Midge arrive to drag her back into reality, it is only begrudgingly that she returns to New York. Much like Midge in Season 1, she spends the remainder of the season at odds with the kind of woman she could be, and the kind of woman society has decided she must be.
It's revealed that she studied art when she was younger but set it aside after meeting and falling in love with Abe. However, she's given a second chance when Abe arranges for her to audit a few art classes at Columbia. Some of her fellow students are young women who plan to get their MFAs, maybe become teachers themselves. But Mrs. Weissman points out that those aren't realistic opportunities. Instead, she says, they may be better suited finding a husband in the business school. It's a harsh observation, but one not entirely untrue for the time: there's not even a single female professor in the very department they're taking classes in.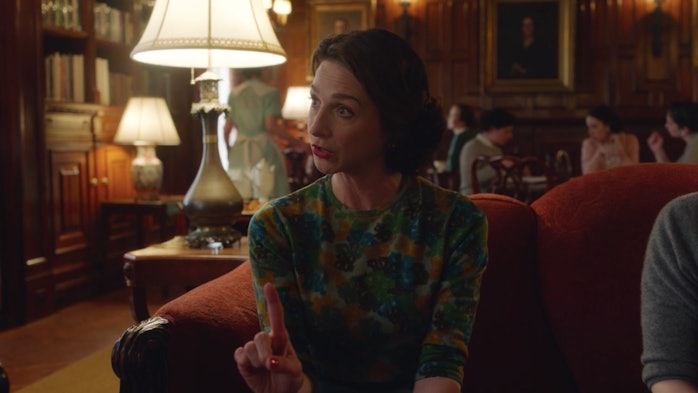 "There are really no lady artists — not in the States," Rose notes. One of her friends back in Paris, she recalls, tried going by Bertrum and wearing a bowler hat, and even then, "no one would buy art from a girl." All of the women's faces fall as they realize what a useless profession they're getting into. After all, if they can't teach or sell art, what else is there left to do but settle down?
Rose then asks if any of them want to meet a man — after all, that's what Midge did. "Oh sure, she wanted to make friends and take classes, but her real goal was to meet a man, and she met one," she says of her daughter. "Then he dumped her, so she's working a low-level job because all she had was a degree in Russian literature — but not a master's." When the women concede that getting married would be nice, Rose leans in and tells them that the art department is not the place to look for a husband. "Now the business school — that's the place," she advises. "Lots of choices, and they're all studying something with real potential."
Rose isn't trying to be cruel here — on the contrary, she's just being practical, and it's likely the same advice she gave Midge. That said, star Marin Hinkle tells Bustle, it's also quite hypocritical. "This cool, amazing rejuvenation happens in Paris, but then she comes back and starts classes at Columbia and tells the other young women that they might be better served if they meet a businessman," she says. "It's almost contradictory, that she has those two sides of herself."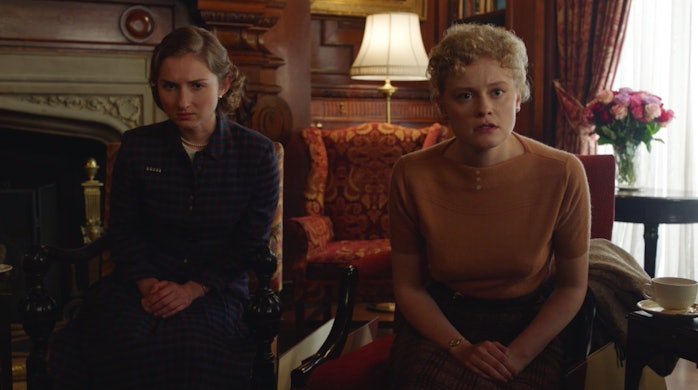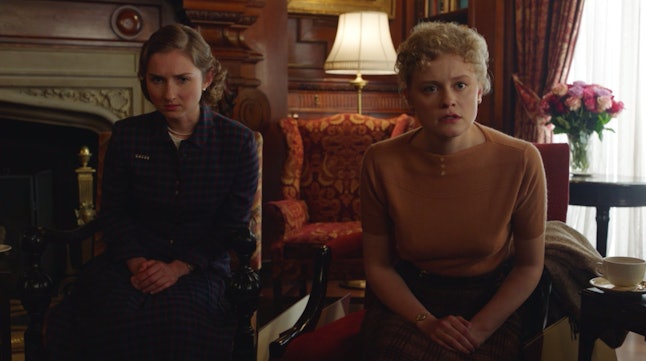 Hinkle theorizes that, when Rose was younger, she wasn't all that unlike her daughter. "There was a part of her that wanted to do something that would make a big mark," she says. "And then when she met Abe, she was madly in love and just kind of realized that, of course, in this time, it wouldn't be possible to [both have a career and be a wife]." This is the sad truth of the world Rose grew up in, but it becomes clear that, even as she's accepted it, there's a part of her, deep down, that yearns for more. It's a conflict women have historically grappled with — the pressure to choose between having a career, staying home, or somehow "doing it all."
"There are a few women in my life who are older and who sometimes get frustrated that other women are not at home with the kids enough," Hinkle says. "But then another week later, they could be talking about how they can't believe that person isn't pursuing their dream. And I think that's Rose." Indeed, Mrs. Weissman wants to pursue art, but she's advising the young women in the department to get out while they still can.
That said, Rose's advice is valid, and it doesn't come without consequence. As a result, Simon (Michael Countryman) calls Abe into his office to talk to him man-to-man about his wife's behavior. "Rose has been very disruptive," he explains, as if Mrs. Weissman is a middle school delinquent. "All I know is, she spoke to a group of girls…, and now, half of them want to quit, and the other half are demanding to be transferred to the business school," he says. "And just about all of them were crying!" To his credit, Abe takes his wife's side when she explains her motivations.
Rose then gives Simon a figurative slap on the hand for taking these girls' tuition "and not giving them anything in return." And while nothing is resolved in this episode, at the very least, Mrs. Weissman draws attention to a problem many people didn't realize was there — especially the male faculty. Perhaps she shouldn't have meddled in these women's futures, but in her mind, she was looking out for them. Rose is a mother, at the end of the day. But if she is anything like her daughter, perhaps, someday soon, she'll be much more.
Additional reporting by Dana Getz.
Source: Read Full Article