Queen Elizabeth Is Reportedly Planning to Hand Over Some of Her Royal Duties to Meghan Markle
December 17, 2018
Meghan Markle has already had quite the year as a new royal, and it looks like things are only going to get more involved for her. Apparently, the queen is set to hand over some of her royal duties to Meghan, which Megs will begin as soon as February.
The Daily Mail reports that Queen Elizabeth is looking to lighten her work load (she is 92, after all) and met with Meghan and Harry last week at Buckingham Palace for tea and to discuss which of her patronages Meghan will take on. (And FYI, a royal patronage is when a royal lends their name and support a charity or organization, which range from the Holocaust Memorial Day Trust to the Lawn Tennis Association.) The queen has increasingly been having other members of the royal family take on her patronages, including Prince William and Kate Middleton, so it's not a surprise that Meghan will be getting her own.
Royal insiders are speculating that Meghan will take on patronages that "reflect her interest in feminism and the arts," and it looks like we'll soon find out which charities and organizations Meghan will get involved with. An announcement is set to be made in February, and apparently Meghan will be meeting with each new patronage before her due date. Basically, it looks like Meghan is in for a busy couple of months!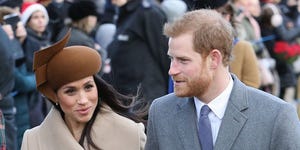 Source: Read Full Article