Miley Cyrus Admits That She Used to Bully Hailey Baldwin When They Were Kids
December 8, 2018
So Kendall Jenner and Hailey Baldwin's Carpool Karaoke episode is out, and there are truly some gems in these 19 minutes. Not only did we previously get the gift Hailey being strapped to a lie detector test and revealing that her husband Justin Bieber doesn't think that Kendall is cool (lol), but in the full-length episode Miley Cyrus makes a surprise appearance and dishes about her childhood with Hailey.
Apparently, Hailey and Miley have been family friends since they were young ("I've known you since you were 11," says Hailey), but the beginning of their friendship was rocky, to say the least. "I would be evil to her," Miley admits. "She would try to play with us, like me and Alaia [Hailey's older sister], and then we would lock her out of the room and be evil."
Hailey agrees, adding "My older sister and her used to gang up on me."
Miley joking responds, "I had to. It made you who you are, you know? It made you stronger. Now you can always take like the trolls and shit. 'Cause I was such a troll."
And clearly, there isn't any lingering animosity about it between these two, because Hailey jokes back, "Miley was the biggest troll to me. She prepared me for this industry!"
So now that we know that Miley and Hailey are all good, I'm going get back to trying to map out all of these weird celebrity family friendships…brb.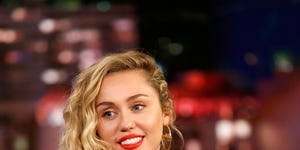 Source: Read Full Article