Matthew McConaughey Visits L.A. Firefighters Who Battled Wildfires
November 2, 2019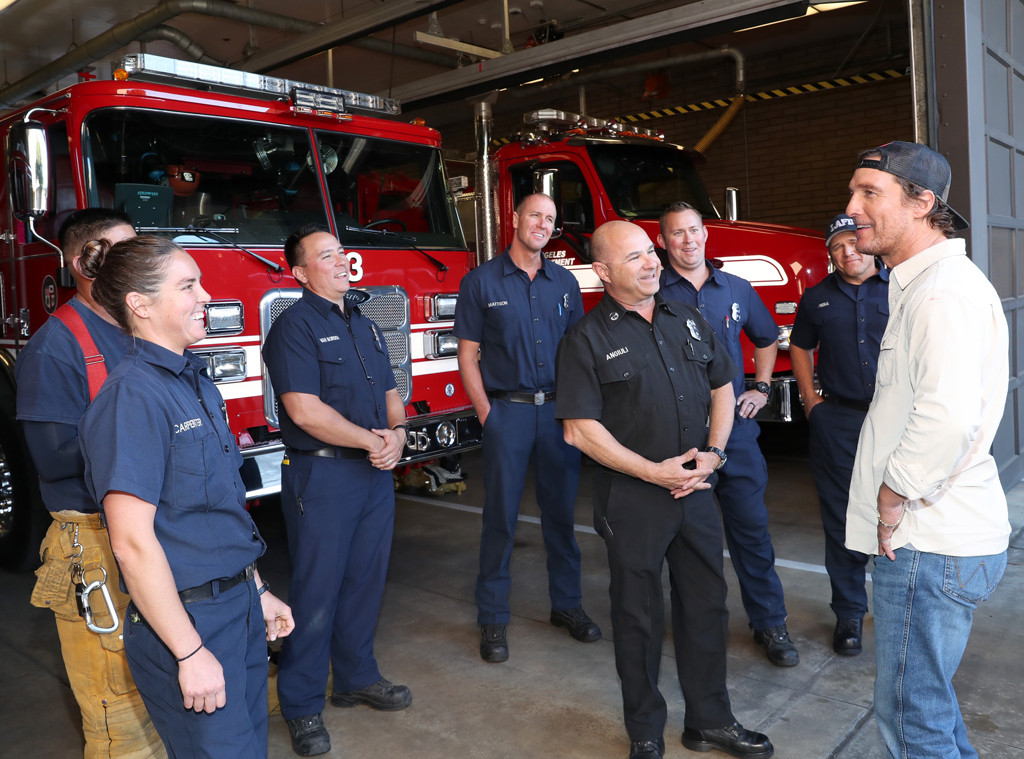 Rich Polk/Getty Images Wild Turkey
In case you've lost track of all the wildfires currently burning in the state of California, you're not alone.
But firefighters are working tirelessly to ensure that the fires are put out. In an effort to support the first responders battling the many fires in the Los Angeles area, Matthew McConaugheyWild Turkey Master Distiller Eddie Russell and a group of volunteers from the Wild Turkey community teamed up with organization Operation BBQ Relief to cook, prepare and deliver meals to firefighters out in the field.
Throughout the state, about seven fires are currently burning. The most recent one broke out on Friday in Ventura County spreading to more than 8,000 acres and causing about 7,500 people to evacuate. While many evacuation orders have been lifted in many parts of the state affected by the fires, the aftermath has still proved to be devastating for many families and homeowners.
McConaughey, who is Creative Director for Wild Turkey, rallied volunteers and jumped behind the grill to help prepare 800 turkey dinners. The dinners were then delivered to more than 20 firehouses across Southern California.
Additionally, volunteers also cooked and packaged 800 more dinners for local homeless shelters.
The Texas native made multiple stops throughout the day to show his unwavering support for the firefighters battling to put an end to the multiple fires burning throughout the state of California. According to a press release, the 49-year-old actor listened to stories from the brave men and women who were just returning from the front lines and thanked them for their dedication and hard work.
https://www.instagram.com/p/B4Xpgx7htm6/
View this post on Instagram
Huge thank you to Operation BBQ Relief and #matthewmcconaughey for donating trays of delicious BBQ to our crews around the city. . . . . . . . #LAFDcentral #Battalion1 #Firestation3 #bbq #actor #truck #engine #emt #paramedic #brushfire #wildfire
A post shared by LAFD Operations Central Bureau (@lafdcentral) on
He also took to social media to encourage the local and nationwide community to volunteer and donate to Operation BBQ Relief efforts.
"Huge thank you to Operation BBQ Relief and #matthewmcconaughey for donating trays of delicious BBQ to our crews around the city," wrote the Los Angeles Fire Department on Instagram sharing a photo of McConaughey speaking to firefighters.
As part of the brand's annual "With Thanks" charitable giving campaign, the brand will be partnering with the organization during the months of November and December to continue supporting first responders nationwide. Last year, the Serenity actor and Wild Turkey helped with aid toward Hurricane Harvey's first responders in Houston, Texas.
"Little did we know when planning this annual event that California, my second home, would once again be hit with devastating fires," McConaughey said in a statement. "Being able to provide meals to the men and women who put themselves on the line is an honor for me, Jimmy and Eddie Russell. We are grateful to be here today to say thank you, shine a light on their unwavering conviction, and hopefully inspire others to get involved and help in their own communities."
Don't miss E! News every weeknight at 7, only on E!
Source: Read Full Article