Late Night Hosts Roast Tucker Carlson After Fox News Exit: 'What An Absolutely Delightful Shock'
April 25, 2023
Jimmy Kimmel, Jimmy Fallon, James Corden and Seth Meyers all go in — asking, "Now who's going to tell me which M&M is the most woke?"
Tucker Carlson was already a target of most of the late-night shows before his surprising exit from FOX News on Monday — so it should come as no surprise that they all went in on him last night after the news broke earlier that day.
In a statement, FOX News Media said the two parties "agreed to part ways." The statement added, "We thank him for his service to the network as a host and prior to that as a contributor."
The anchor did not get a chance to say goodbye to his "Tucker Carlson Tonight" viewers, as the network also confirmed his final episode aired Friday … an episode which gave no indication he was on his way out. The announcement comes after FOX agreed to pay $787.5 million to settle the lawsuit brought by Dominion Voting Systems, which accused the network of embracing/airing outright lies about their voting machines during the 2020 election.
Unable to render YouTube Video.
On "Jimmy Kimmel Live!", the host exclaimed, "FOX News has severed bowties with Tucker Carlson after all these years."
"They are parting ways, which means he was fired. That's really what parting ways means," he then claimed. "Tucker couldn't be reached for comment. He's already on his way to Moscow to meet his manager. But what a shock. What an absolutely delightful shock this is."
After touching on Don Lemon's exit from CNN as well, Kimmel cracked, "For those of you who don't follow cable news, this is like if Ronald McDonald and the Burger King got fired on the same day."
He went on to show a clip from one of Carlson's last segments from Friday, in which he ate sausage and pineapple pizza with a guest. "He should have been fired on the spot for that alone," joked Kimmel, before pointing out how Carlson ended the show by saying, "We'll be back on Monday" after promoting a special about eating bugs.
"No you won't. You'll be eating bugs at home," said Jimmy.
"The good news now is Tucker can spend more time at home tanning his testicles and touching himself to that sexy green M&M," Kimmel continued. "Sadly, he's probably not done poisoning old people's brains. Will he go to OAN? Will he go to NewsMax? Will he crawl back up Satan's fiery b-hole from whence he came?"
He then ended a segment with a highlight reel celebrating "one of the most despicable mother Tuckers ever to appear on American television."
Unable to render YouTube Video.
Jimmy Fallon was more brief with his take on the situation, opening his show by addressing both cable news updates.
"Hi, I'm Jimmy Fallon, one of the few TV personalities still employed," he began. "Tucker Carlson, Don Lemon, what the hell's going on out there?
"Tucker Carlson is out. When he heard, Vladimir Putin was like, damn we need a new PR guy," Fallon joked, before adding, "Now who's going to tell me which M&M is the most woke?"
Unable to render YouTube Video.
Over on "The Late Late Show with James Corden," the late night host joked of Carlson's abrupt exit, "with FOX & Friends like these, who needs enemies?"
"Tucker Carlson has now worked and left MSNBC, CNN and Fox News. He's running out of options now," Corden continued. "Soon he's just going to be on The Weather Channel saying hurricanes are caused by drag queens."
He also brought it all around to his own show ending later this week, joking that when he's off the air, "the only reputable news source in America will be gone."
Unable to render YouTube Video.
Seth Meyers, meanwhile, did a 12-minute deep dive into Carlson's exit from and past at FOX News for one of his "Closer Look" segments.
"Does this mean Fox News has gone woke?!" he exclaimed at the top of the show.
"When I heard that news, I went through all the stages of Tucker's face in one sitting. First I was shocked, then I was confused, then I did the Tucker laugh … but then I had so many questions," he continued. "What are we gonna do without Tucker? Who else is gonna tells us when M&M's aren't f—able anymore?"
After also bringing up how Carlson's last segment was about eating bugs and reflecting on Tucker's history with Donald Trump, he concluded, "All he'll ever be remembered for is devoting an entire segment to a piece of candy."
See how more celebrities reacted to the news below!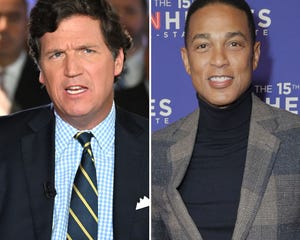 Twitter Reacts to Shocking Tucker Carlson, Don Lemon News
Source: Read Full Article