Japan joins US and Australia to counter China's 'dangerous and coercive actions'
December 7, 2022
Australia and the United States will integrate Japan into their joint military activities in Australia, a significant deepening of the relationship as the three nations work increasingly closely together to push back on China.
The US will also increase rotations of troops and military equipment in Australia to strengthen the alliance, US Defence Secretary Lloyd Austin announced after meeting with Defence Minister Richard Marles and Foreign Minister Penny Wong in Washington.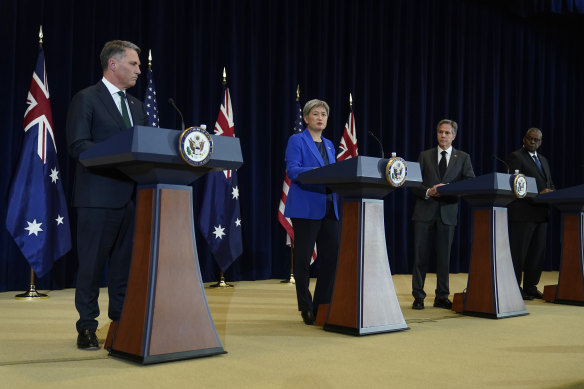 Defence Minister Richard Marles and Foreign Minister Penny Wong met with US Secretary of State Antony Blinken and Defence Secretary Lloyd Austin in Washington. Credit:AP
"That includes rotations of bomber task forces, fighters, and future rotations of US Navy and US Army capabilities," Austin told reporters after the Australia-US Ministerial consultations.
"We will also expand our logistics and sustainment co-operation, and that will deepen our interoperability and create more agile and resilient capabilities while also continuing to find ways to further integrate our defence industrial bases in the years ahead."
The US and Australia also agreed to "invite Japan to integrate into our force posture initiatives in Australia", he said.
The meetings came at a crucial time, with the Albanese government preparing to unveil a sweeping review of the nation's defence forces in March while also deciding on the model of nuclear-powered submarine it will acquire under the AUKUS pact.
Calling out Beijing for its "dangerous and coercive actions throughout the Indo-Pacific", Austin promised the US would ensure the Australian Defence Force is equipped for the emerging strategic threats.
We "will not allow Australia to have a capability gap going forward", Austin said.
"We recognise where Australia is and where its capability begins to diminish and of course we will address that in the pathway we create," he said.
Marles said Australia and the US had taken "real steps" to enhance military co-operation between the two nations.
The coming years "will see an increased level of activity between our two countries across all domains, which will be really important", he said.
"We're also looking at increased force posture cooperation in enhancing the capacity of facilities in Australia.
"As Secretary Austin also pointed out, it's really important that we are doing this from the point of view of providing balance within our region and involving other countries within our region and we look forward to being able to have more engagement with Japan in terms of that force posture cooperation."
Marles said Australia's alliance with the US was "essential to our worldview" and "completely essential to our national security".
"There is a huge sense of alignment that we feel between the Biden administration and the Albanese government in the trajectory of the alliance," he said.
"And there is an enormous sense of gratitude and pleasure that we have in the way in which America is engaging in the Indo-Pacific".
Describing the US as Australia's "vital security ally", Wong said the alliance had "a different approach and an enhanced emphasis" under the Biden administration and Albanese government.
Climate change and clean energy had emerged as a "new pillar" of the alliance, Wong said.
"Obviously, the new Australian government is committed to ambitious domestic action on climate and to being an ambitious and constructive international player on this issue," she said.
US Secretary of State Antony Blinken said the ministers had discussed the "challenges posed by the [People's Republic of China] to the international rules-based order, including attempts to disrupt the freedom of navigation the South China Sea, efforts to unilaterally change the status quo and undermine peace and stability across the Taiwan Strait and attempts to intimidate other countries through economic coercion".
"Australia is no stranger to such efforts, and we reaffirm that we would stand with him against these pressure tactics," he said.
The nations also agreed on the importance of responsibly managing the relationship with China, he said, and to find areas of co-operation on issues such as on climate and global health.
Cut through the noise of federal politics with news, views and expert analysis from Jacqueline Maley. Subscribers can sign up to our weekly Inside Politics newsletter here.
Most Viewed in Politics
From our partners
Source: Read Full Article