Is There A Chance Cardi B. and Nicki Minaj Will One Day End Their Feud?
April 19, 2019
Many people know that Cardi B. and Nicki Minaj do not like each.
Ever since their scuffle during New York Fashion Week that left Cardi B. with a knot on her forehead, the two female rappers have not been on good terms.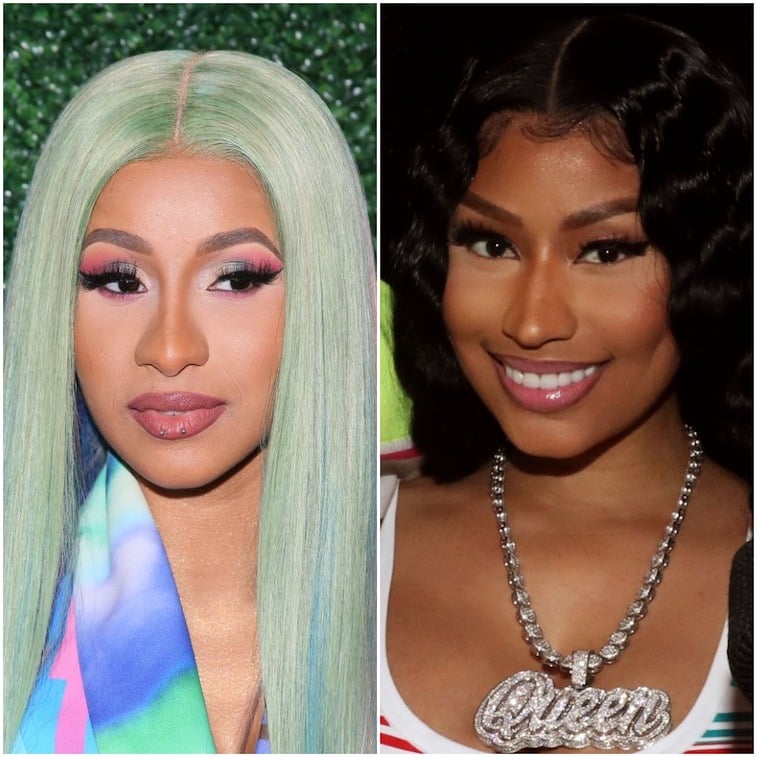 It's been months since the altercation took place and the two women have not had any interest in resolving their issues.
Just recently, Cardi B. was asked if she and Nicki would ever put their differences aside, and just from her answer, it doesn't look like forgiveness is on the table.
Their feud goes back to 2017
Many of us have already knew that Cardi B. and Nicki Minaj were far from each other's biggest fans.
Since Cardi B. collaborated with rapper Remy Ma on a diss track that was targeted toward Nicki Minaj, the rappers have not been on good terms.
For a whole year, many speculated that Nicki and Cardi had ill feeling toward one another and that their feud was far from over.
Once Cardi B. posted a series of videos calling out Nicki Minaj for her involvement in Little Mix's music video "Woman Like Me" more fuel was then added to the fire.
Their public fight is still being talked about
After months of calling each other out on social media and radio shows, the women finally came face to face during the Harper's Bazaar Icons party.
According to reports, things began to escalate a little after 11 p.m that night when Nicki Minaj walked by and intentionally stepped on Cardi's gown.
Cardi B. was in the middle of taking a photo with La La Anthony and Kelly Rowland when she felt Nicki step on her dress and immediately called the rapper out.
After the two rappers argued for a few minutes, Cardi took off her shoe and threw it at Nicki, (she missed, though).
Nicki Minaj then reportedly pulled off Cardi's wig, which set things over the top.
Security moved in quickly to try and separate the two women and Cardi B. was eventually escorted out of the party.
Check out the video below, viewer discretion advised:
In the videos people took of the fight, Cardi B. can be heard referring to her daughter, which left many to believe Nicki Minaj or her entourage had said something about the then two-month-old baby.
This was soon confirmed by Cardi B. who posted a statement on Instagram sharing with fans what really went down that night.
"I've let a lot of sh*t slide! I let you sneak diss me, I let you lie on me, I let you attempt to stop by bags, f*** up the way I eat!" Cardi wrote. "You've threaten other artists in the industry, told them if they work with me you'll stop f***** with them!! I let you talk bug s*** about me!! I addressed you once in person, I addressed you a second time in person, and every time you copped the plea!!"
They want nothing to do with each other
Since the altercation, Nicki Minaj and Cardi B. have made it clear that they are far from friends and will never work together.
On April 13, Variety got a chance to speak with Cardi B. at the Swisher Sweets Awards in West Hollywood.
While on the red carpet, the "Please Me" rapper was asked if she thought there was a chance she and Nicki would make up and perform together?
Cardi had a moment of silence before letting out a long laugh. By that alone, we can tell Cardi B. has no interest in squashing her beef with Nicki Minaj.
So it is safe to say a reconciliation between Cardi B. and Nicki Minaj is most likely not happening anytime soon.
Source: Read Full Article