Ireland Baldwin's Stripper Themed Baby Shower, Sweet Moment With Kim Basinger
March 8, 2023
The model was showered in "booty" and said she wouldn't have her baby festivities "any other way."
Ireland Baldwin is anything but a traditional mom-to-be!
The 27-year-old model and her boyfriend Rac celebrated the incoming arrival of their first child with a stripper themed baby shower at a club in East Hollywood. Instead of baby bottles and shower games, the "Grudge Match" actress and the musician traded up for dancers and lingerie.
In a series of photos posted to her Instagram, the daughter of Alec Baldwin and Kim Basinger, gave fans an inside look into her shower.
Waiting for your permission to load the Instagram Media.
Instagram Media Unavailable
"Way too many of these to post but it'll have to come in parts," Baldwin began in her caption. "My friends and family threw us a very traditional baby shower as you can see. I wouldn't have had it any other way. I was showered… in booty."
"Thank you to everyone at @jumbosclownroomofficial for making dreams come true and for being so kind. And thank you to everyone coming 💘," she gushed.
Ireland was seen in a pink wig that was fashioned into a short bob along with a black lacy lingerie ensemble. The actress also shared a shot of a cake that was covered in sprinkles and featured a scene that included a Barbie doll hovering next to a toilet surrounded by champagne bottles. The sign on the cake read, "baby's first strip club."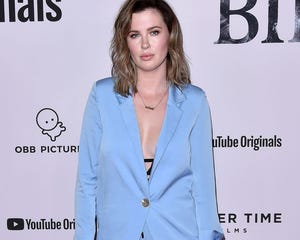 Ireland Baldwin Opens Up About Mental and Physical Struggles During Pregnancy: 'This S— Is Hard'
The strip club was decorated with Hello Kitty balloons and guests were treated to vegan burgers courtesy of a popular Los Angeles plant-based chain called Monty's Good Burger.
In a sweet moment captured on camera, Ireland also shared a few photos that depicted her mother smiling while the two were locked in an embrace. Basinger was fashioned in a dark gray suit and matching button down as she hugged her daughter who was laughing with dollar bills in her top.
During an appearance on the "Girlboss Radio" podcast back in January, Ireland revealed her baby's name and the rationale behind the decision.
"We're naming her Holland. I'm Ireland, so another country name because we wanted to keep that consistent," she explained, "And then I love the actress Holland Taylor. I've always loved that name since I was young, I just thought that was such a classy, beautiful name, so we're going with Holland."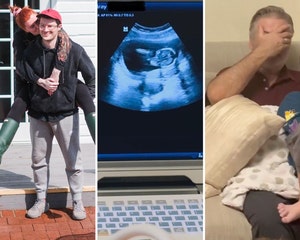 Alec Baldwin, Wife Hilaria and Their Seven Kids React to Ireland Baldwin's Pregnancy
Source: Read Full Article