Inside Chris Hemsworth and Elsa Pataky's Enduring Romance
May 11, 2019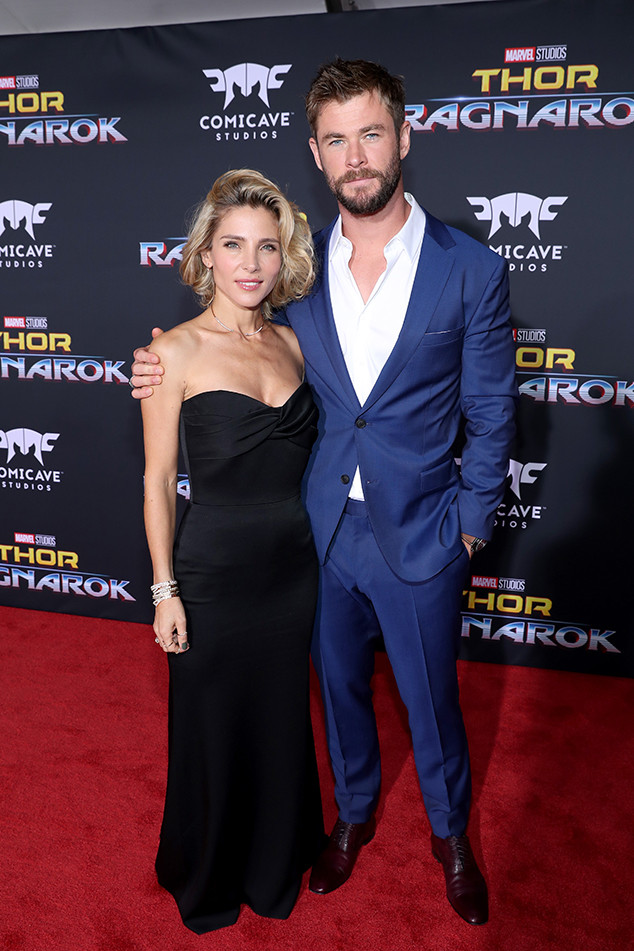 Rich Polk/Getty Images for Disney
Sometimes it can be hard to argue that such a thing as fate doesn't exist.
Consider the case of Elsa Pataky's tattoos. There are dozens of them taking up residence on her 5-foot-3 frame, many of which are instantly understandable. There's the "C" initial on the fourth finger of her left hand that husband Chris Hemsworth inked himself last year (she branded him with an "E" in the same spot) and symbols that represent her various family members on her forearm. And back in 2017 she and two friends (including Matt Damon's wife Luciana Barroso) each got a set of three dots on their pinkies to solidify their bestie status.
But it's the diminutive Thor symbol near her right shoulder that is perhaps the most interesting. The native of Madrid had it done when she was just 15 because she thought the marking looked interesting and she found the Norse god's legend to be "so beautiful," as she put it in Vogue Australia's May 2018 issue.
There was really no way to know that some two decades later she'd find herself married to an Australian brawn of a man ready made to bring the hammer-wielding god to life on the big screen.
"Yes, it's about Thor and I ended up marrying who plays Thor!" she admitted to the mag. "It is shocking how things in life [turn out]."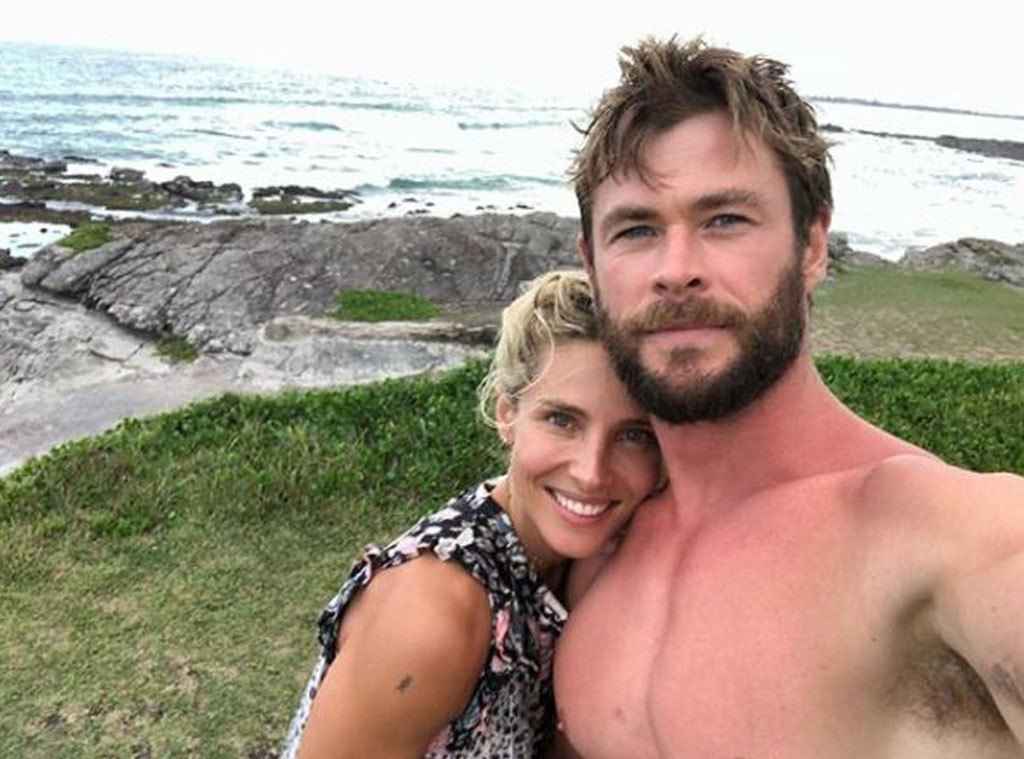 Instagram
Certain situations are just meant to be. At least that's how Pataky, some 13 years into a successful acting career in Spain, felt when talent agent William Ward introduced her to Hemsworth, whose cut 6-foot-3 frame and smoldering stare hadn't yet manifested itself into a series of steady, lucrative gigs when they were brought together in 2010.
Somewhat recently out of a romance with Adrien Brody that included him wooing her with an actual castle, the now 42-year-old was taken with Hemsworth from their first conversation over the phone, his naturally deep register leaving her intrigued. And when she met him in person, well, even if he weren't able to expound eloquently on such subjects as climate change and immigration, we get why she didn't hesitate to marry him three months into their courtship.
Their wedding was so spur-of-the-moment that they maintain a friendly dispute to this day about the actual date, with Hemsworth only certain that it was sometime that December. Because at that point, the couple had already progressed to the meet the parents stage and were enjoying a Christmas getaway to Indonesia with their extended crews.
So she said no to a series of roles, only recently diving back into the world of acting with last year's 12 Strong (alongside her husband) and her latest project, starring in a new Netflix show Tidelands, the streaming service's first show to be produced in Australia.
Because that's home now for the pair, who decided they'd had enough of Malibu living in 2014 and relocated to his hometown, settling into a beachside spread in Byron Bay where he can kick off his days with an early surfing session and end them with a barbecue of the fresh fish he and the kids caught themselves.
"There were parts of L.A. living that I loved—but me and my wife just felt it was right for the family that we moved back to Australia," Hemsworth explained to Condé Nast Traveller of their decision. "The locals in Byron treat us just like locals. It's more relaxed than L.A., less intense, and just more conducive to raising our three children."
https://www.instagram.com/p/BkpWKgGlcQi/
View this post on Instagram
Incredible couple days camping with the family before heading overseas @australia #nothingbetter
A post shared by Chris Hemsworth (@chrishemsworth) on
For Pataky, she never liked that existing in California meant her kids could be subjected to paparazzi cameras—the one side affect to her husband's skyrocketing fame she struggled to adjust to.
"When I met him he wasn't known at all and I grew with him and experienced all his successes and changes, and then he became just so huge and I've been sharing that too," she told Vogue. "Going through every moment and being there with him with every success was actually a good thing—we grew together."
Of course there were growing pains. "I think any time you start a family without knowing each other that much, it can be complicated," she told Elle Australia last year. "He was very young to be starting a family, and at the same time he was juggling that with his career and it was sometimes difficult, there was so much going on."
But watching as he rose to the occasion time and time again—Hemsworth, for instance, is often on kitchen duty while his wife is more likely to take charge with bedtime—only cemented how solid her judgment was back in their early days.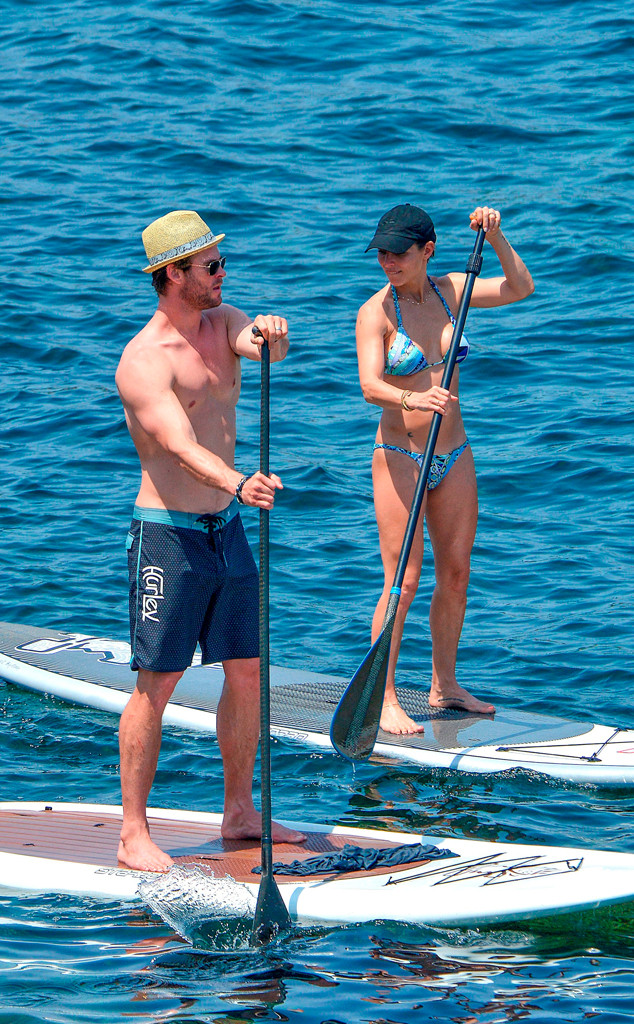 BACKGRID
"He was always trying to be the best dad and has never failed to make me feel like his family is the most important thing to him," she continued, "and [going through that] is how we've become so strong together."
There are other secrets of course, like the playful banter they able to employ with each other. As he was joking that his distinction of People's 2014 Sexiest Man Alive should get him out of diaper and dishwashing duty for a few weeks ("I'm above that. I've made it now,") she was quick to remind him of who he was dealing with.
"Of course I think he's beautiful and fit, but I will never tell him that because he will get too, how do you say, 'cocky'?" she explained to Women's Health UK the following year. "He'll be like, 'What do you think of that?' And I'll say, 'Well, I've been the sexiest woman in Spain for a lot of years.' It's all just a joke, though." (It's also clearly a factoid that hasn't gone unnoticed, Hemsworth being an avid appreciator of his wife's equally sculpted shape.)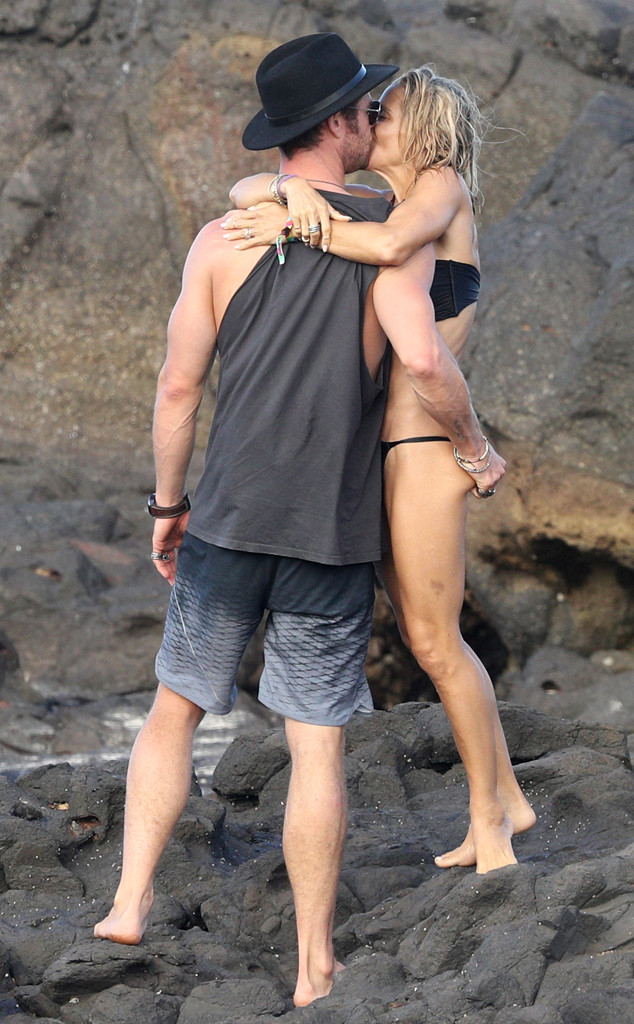 KHAPGG / MEGA
When it comes to the requisite date nights, they go beyond the standard dinner-and-a-movie, frequenting a cinema in London that allows them to enjoy films with a side of wine and a restaurant that employs an adventurous approach to eating. As its name would suggest, Dans Le Noir (French for in the dark) serves up meals to guests in pitch blackness.
"It was fun because it was hard to find your food on the plate, and put it in your mouth and guess what we were eating," she shared on her now-shuttered blog. "Chris and I bet that we knew exactly what we were eating, but when we left and they showed us the menu, we were really surprised because we hadn't even managed to guess half of it!"
And should they require an extra dose of inspiration, they need only turn to the elder Hemsworths, a shining beacon of marriage success for several decades running.
"My mum tells this story about when she was younger and had been married to my dad for years. He'd write her an articulate and detailed letter and she said, 'I remember thinking, oh, wow he loves me, which is so stupid, because I knew he loved me'," he shared with GQ. "But when it was said with that much depth, it struck a different chord."
He's not as skilled with the written word, he admitted, but no less effusive. "There's no shortage of how much I tell her I love her. But I guess there's no detail in it, why or how," he allowed.
Still, his wife has few complains. "I think our years together have been great," she told Vogue. "Every marriage has ups and downs—it's constant work to be in a successful marriage and stay together forever." But when your love feels destined, your coupling written in the stars (or at least inked on your arm), well, then, it's worth the effort.
Source: Read Full Article