How To Maximize Your Kitchen Counter Space
December 7, 2018
Most of us lead incredibly busy lives, and even if you find it relaxing and fun to cook elaborate recipes, you probably don't want to spend too much unnecessary time in your kitchen on a day-to-day basis.
Recently, I helped one of my design clients maximize the small kitchen she shares with her boyfriend to suit their hectic work schedules, while also making it a beautiful and tranquil space. Kendra Schindler came to Karin Bennett Designs wanting to upgrade her kitchen. When I first visited her condo in the heart of downtown Toronto, she and her boyfriend told me how important it was for them to be efficient with their time. Like all of us, they wanted to find ways of cutting down on time spent doing mindless chores. The first thing I did to achieve this goal was to incorporate the Keurig® K-Mini™ coffee maker, since Kendra and her boyfriend are avid coffee drinkers. Because it's an essential part of their daily routine, simplifying the process made a significant impact on the schedule — enjoying their favorite brew was no longer a hassle.
With the coffee maker taken care of, it was time to reassess the rest of their counter space, which was being consumed by bulky appliances. We realized that it needed to be cleared out to make room for beautiful accessories and bring some personality to the space. While they didn't want to spend unnecessary time in the kitchen, they did want to make the time spent there as pleasant as possible. Her beautiful backsplash became the inspiration for our design.
A simple way to make a white kitchen stand out is to display a pop of color. It's always a reliable strategy to put out a bowl of fresh fruit. We prefer something seasonal and local to encourage healthy snacking. Look for neutral toned bowls that can be stylish all year round. I like using clay or wood to keep the space modern yet livable. Toss in a bushel of fresh apples you picked yourself, and your tiny space has become that much more functional.
Another way to incorporate more color and freshness is to display some simple potted plants. For this client we potted a ZZ plant as it's low maintenance for this busy couple. When selecting the right plant there's the choice to go big or pick a pint size plant. The key here is to keep the size proportional to your kitchen space. Not enough sunlight? No problem! Hydrangeas can be picked in the summer, then dried, and will last well into the spring. When they are in full bloom simply hang them upside down to dry them out. The flowers will stay a gorgeous mossy green color. You can display your dried flowers in a simple mason jar, beautiful vase, or even tied with a simple bit of string. Elements of greenery against a white kitchen will brighten up your space.
Remember, maintaining counter space is important when space is at a premium. I love floating shelves. They give you that little bit of extra space that can really go a long — not to mention they're very stylish and hip.
I like to encourage my clients to make effective use of their kitchen storage. Try purging unnecessary or unused items and donating them to your local thrift retailer for repurposing.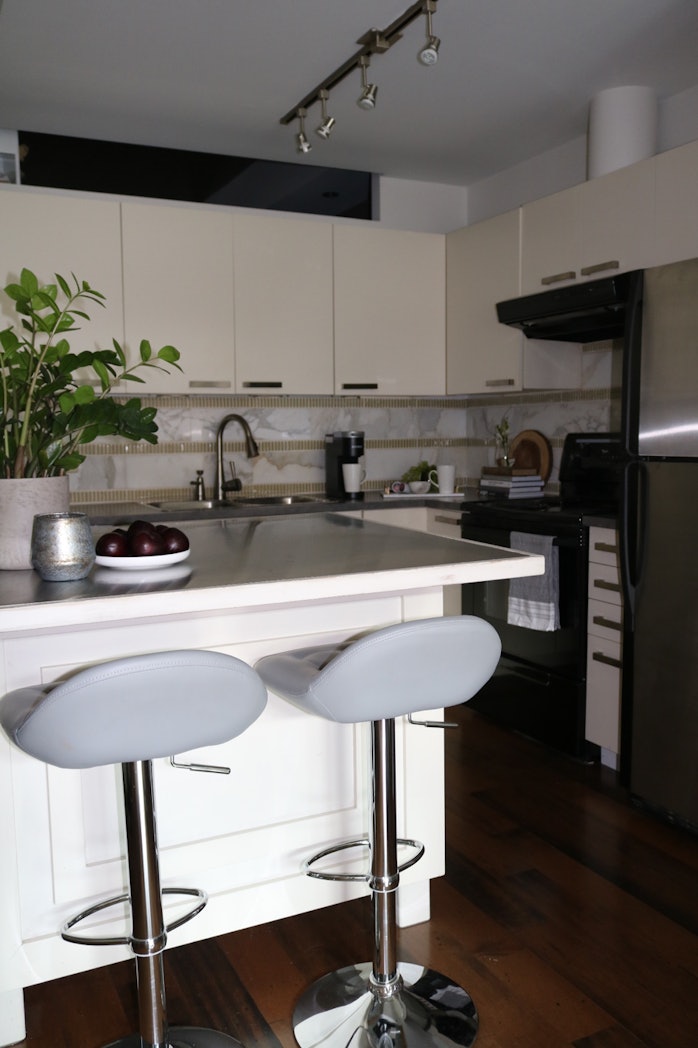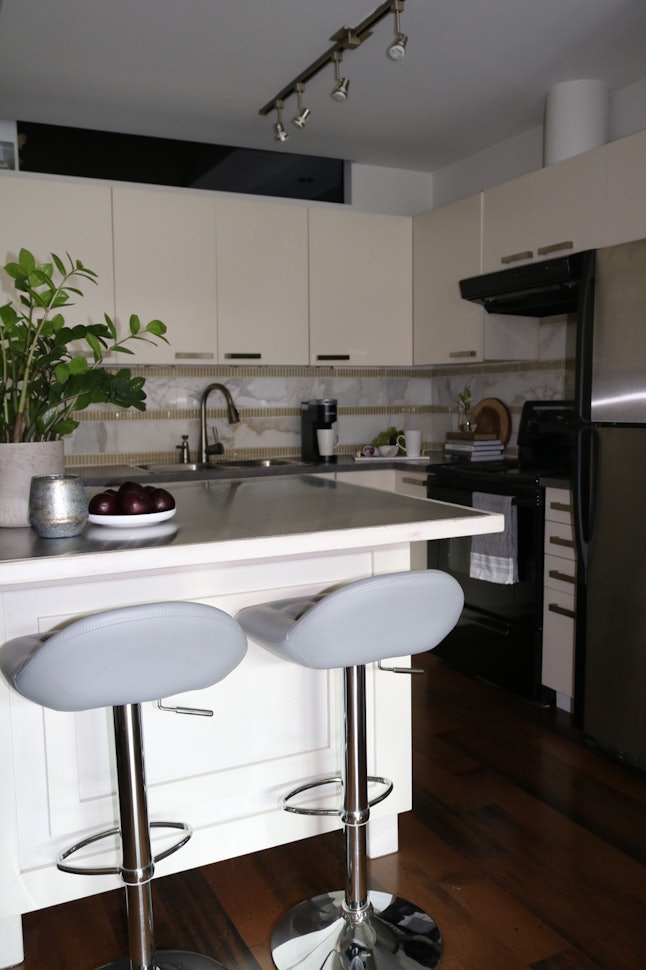 You may have coffee table books at home — not only are the conversation-starters, some of them are so beautiful they're works of art in themselves. Cookbooks are one of my favorite items to decorate with in a kitchen and I find they work the same way! Try laying the cookbooks flat on a counter or leaning them up against the wall. When they are flat, you do not need to fret about lost space. Layer items on top of the cookbooks or even behind them for added depth. Also, if the books are within eyesight, I find you are twice as likely to open them for your next meal inspiration. In my case, my kids will skim through the books and pick out a new recipe to try out for the family.
We had lots of fun designing this client's small kitchen and we are so happy with the finished result! The intentionality of the items on the counter now serve a purpose and fit well within this small space. We livened up her kitchen with fresh greenery and ripe fruit and added levels of interest with her cookbooks and a beautiful tray. Just remember your kitchen is a reflection of your style. If you love green, incorporate this shade into your space. You should feel happy and inspired every morning when you walk into your kitchen to start off your day.
This article is sponsored and provided by Keurig.
Source: Read Full Article