Ezra Miller Walks Flash Red Carpet, Thanks DC/WB Leadership for 'Grace,' 'Discernment,' 'Care'
June 13, 2023
In their first appearance since a series of controversial incidents sent them into treatment, Ezra Miller hit the carpet premiere for "The Flash" with kind words of appreciation for Warner Bros. Discovery CEO David Laslav DC co-heads James Gunn and Peter Safran, and more.
The only thing that might be more anticipated than "The Flash" movie itself was perhaps the return of its star to the public spotlight. On Monday, Ezra Miller made said return at the film's Hollywood premiere.
The actor was stylish with their long hair pulled into a partial bun and sporting a patterned white jacket and black slacks. They posed for pictures and surprisingly shared a few words with the crowd before the screening.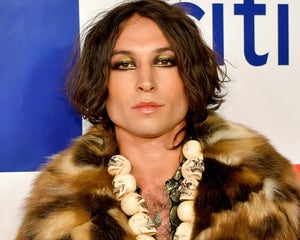 Ezra Miller Releases Statement, Seeking Treatment for 'Complex Mental Health Issues'
Warner Bros. Discovery had made it pretty clear they were going to shy away from allowing Miller to do press for the film, considering their recent controversies, instead focusing on the film's critical acclaim and multiversal connections.
Miller had kind words for the film's director, Andy Muschietti, saying, "I love you, maestro. I think you are amazing, and I think your work is monumental."
The actor then expressed their thanks and appreciation for many more individual associated with the film and character, including Warner's Pamela Abdy and Michael De Luca, with whom they first met after their initial apology following weeks of controversial and disturbing behavior.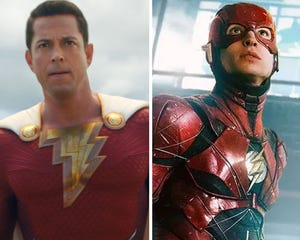 New DC Bosses Sound Off on Ezra Miller, Zachary Levi Controversies and Potential Futures
They also expressed their thanks to Warner Bros. Discovery CEO David Zaslav and "the dynamic duo" of James Gunn and Peter Safran "for your grace and discernment and care in the context of my life and in bringing this moment actually to fruition."
Like "Fantastic Beasts: The Secrets of Dumbledore" and it's Johnny Depp-related controversies and "Joker," after "The Dark Knight Rises" shooting a few years prior, Warner Bros. Discovery opted for an altered premiere format, forgoing cast interviews, as noted by The Hollywood Reporter. Miller could have opted not to say anything, but it's probably smart that they did.
There was a lot of concern for the extremely expensive, highly buzzed about and important film for the future direction of the DC Universe after Miller fell into a series of erratic behaviors including trespassing and choking a woman in Iceland (caught on camera).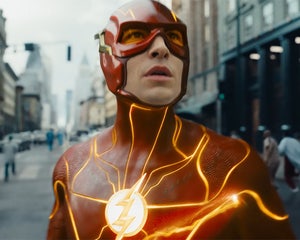 First Flash Reactions from CinemaCon Are Incredible, Director Addresses Ezra Miller Controversy
In August 2022, Miller came forward with an apology and said in a statement, "Having recently gone through a time of intense crisis, I now understand that I am suffering complex mental health issues and have begun ongoing treatment."
Miller is not doing press for the film, but these few brief moments could do a lot to sooth concerns about how they're doing. The fewer distracting thoughts about the film's lead(s), the more fans can focus on the content of the film itself.
As noted by Miller, it's been almost a decade from when they were first cast to star in the film. They would go on to appear as the character in the 2017 "Justice League" film and even in The CW's "Crisis on Infinite Earths" crossover event opposite Grant Gustin's Flash.
After a very long wait, "The Flash" finally hits theaters this Friday, June 16.
Source: Read Full Article