Do Prince George and Princess Charlotte Wear Hand-Me-Downs?
January 23, 2019
There are so many reasons to love the Duke and Duchess of Cambridge. The young royal couple seems to have it all – charm, good looks, and most impressive of all, remarkably down-to-Earth personalities. As the future king of England, Prince William certainly could have been pompous and arrogant. But then again, that's not how his mother, the late Princess Diana, raised him.
One way that Prince William and Duchess Kate prove their practicality is one very common thing they do with their three children.
Prince Charlotte wore her older brother's sweater
Princess Charlotte and Prince Louis | Kensington Palace via Instagram
Any parent of multiple children knows that using hand-me-down clothing is one of the smartest, easiest ways to save money on expensive wardrobes. The Duke and Duchess of Cambridge certainly don't have to worry much about their clothing budgets, yet they use this common practice in their own homes rather than wasting money on clothing they don't need.
In May 2018, eagle-eyed royal fans noticed that Princess Charlotte was wearing a baby blue sweater that her brother Prince George wore years ago. The young princess sported the hand-me-down while sitting for an official portrait of Queen Elizabeth II posing with her grandkids.
And then there was the time Princess Charlotte was spotted in cute little red shoes. When fans tried to find them online to purchase, they were disappointed to find them unavailable. That's because the shoes once belonged to Princess Charlotte's uncle, Prince Harry!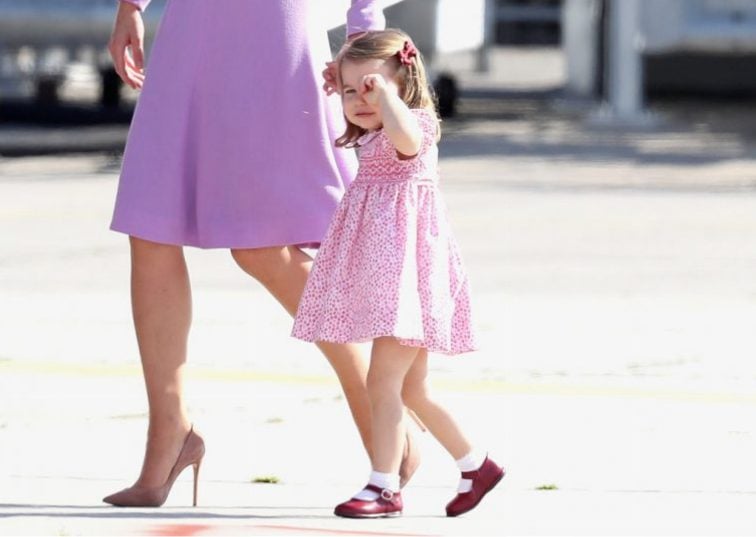 Princess Charlotte | Chris Jackson/Getty Images
Prince Louis had some hand-me-down love, too
Being a third child in most families typically means getting nothing but previously worn clothing. Prince Louis isn't like most other kids – after all, he is a member of the royal family. But he still wears hand-me-downs like so many other children.
In the same photo series that showed his older sister with the famous blue sweater, Prince Louis is wearing something that both Prince George and Princess Charlotte wore before. It's an all-white knit outfit that both the other royal children wore during their baby photos. The beautiful, gender-neutral sweater outfit is made by the Spanish brand, Irulea. Their mother Kate Middleton snapped the precious photos.
In this instance, wearing hand-me-downs is more than just practical – it's also sentimental.
Prince George holding Princess Charlotte | Kensington Palace via Instagram
Even Prince George wears hand-me-downs
Of course, most would expect Prince George to only wear fresh new clothing since he's the firstborn child. But in reality, the young future king doesn't get everything brand new. He's been spotted wearing some of the oldest clothing of all, often sporting decades old outfits that his father wore as a young lad. Talk about a royal tradition!
Duchess Kate also wears clothing multiple times
It's not like the Duchess of Cambridge has her children re-wear outfits without following the same guidelines herself. Ever the pragmatist, Kate Middleton is often seen wearing the same clothing on multiple public appearances. This seemingly normal behavior isn't typical for royal family members. Then again, the Duchess isn't like everyone else. Harper's Bazaar found that she recycled outfits a whopping 78 times.
Why does she do it? It could be because she likes the clothing, or because she doesn't want to be wasteful just for the sake of looking different in every photograph. No matter what the reason, it all just proves how down-to-Earth and relatable this royal family is.
Source: Read Full Article