Demi Lovato's Friend Shares Photos of Them From Rehab Stay
December 19, 2018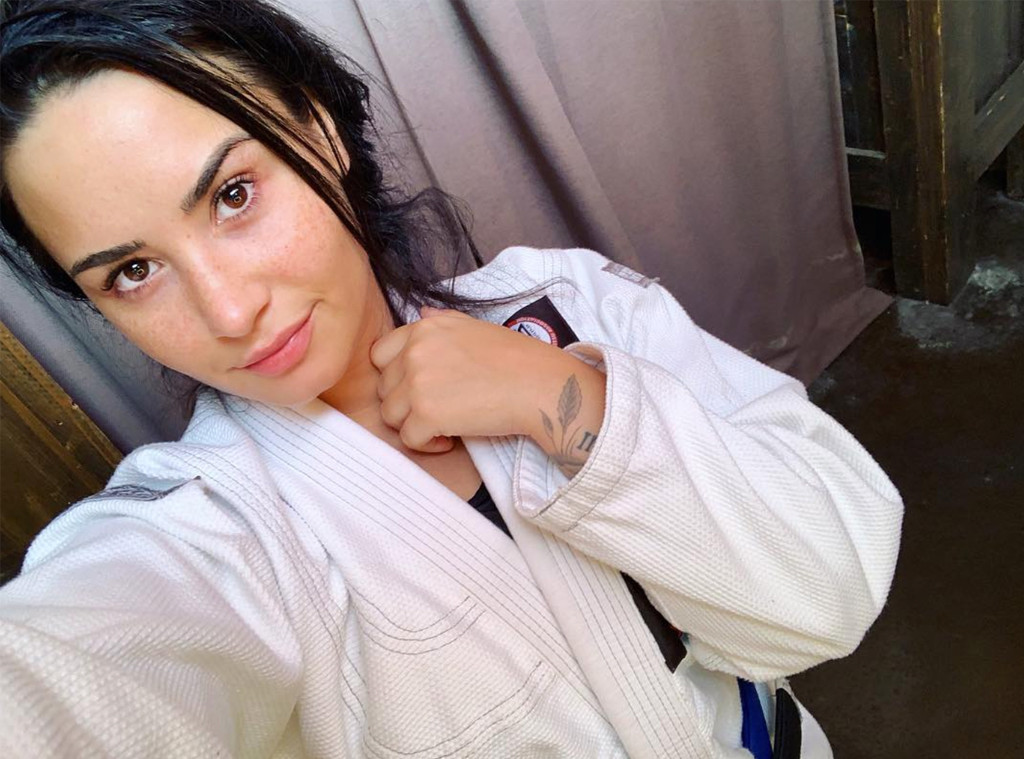 Instagram
Demi Lovato's friend Sheila O'Neill shared a behind-the-scenes moment from their stint in rehab.
O'Neill's Instagram post showed a string of pictures taken from a photo booth. She held up the snapshot with the picturesque mountains and nature in the background. She tagged the location as Sundance Mountain Resort, which is in Utah.
The set of four pictures on the bookmark-sized photo strip depict Lovato and O'Neill making funny faces at the camera, including holding up peace signs or blowing kisses. In the third picture, Lovato holds up a bag of Cheez-Its while her pal sticks her tongue out next to a bag of Oreo Minis. There's a sweet mantra on the picture, too. In pink cursive letters it reads, "Our friendship isn't a big thing, it's a million little things."
O'Neill's Instagram is the first main look at Lovato's three-month stay in rehab after suffering an overdose in July. She went to rehab after nearly a two-week stay in the hospital where she coped with side effects including nausea and high fever.
About two weeks after her overdose, the "Confident" singer broke her silence on social media about what happened. "I have always been transparent about my journey with addiction. What I've learned is that this illness is not something that disappears or fades with time," she wrote on Aug. 4. "It is something I must continue to overcome and have not done yet."
View this post on Instagram
Sun ☀️ dancin
A post shared by Sheila O'Neill (@sheilaoneill) on
She praised her fans and told them that all of their positive thoughts and prayers helped her "navigate through this difficult time."
She finished her note, "I now need time to heal and focus on my sobriety and road to recovery. The love you have all shown me will never be forgotten and I look forward to the day where I can say I came out on the other side. I will keep fighting."
Lovato was seen outside of her rehab facility and back in Los Angeles on Nov. 3 when she enjoyed a casual dinner out with her friend and potential new beau Henry Levy. A source told E! News at the time that the singer and Levy "spend a huge amount of time together." The singer and 27-year-old clothing designer were seen holding hands in Beverly Hills on Saturday and were also spotted kissing in Malibu after a dinner date on Dec. 8.
The source said, "Demi wants to be around people who are like-minded and Henry is good energy for her." He also has been "serving as her sober companion."
Since leaving treatment, the Grammy-nominated artist has been putting lots of focus and attention on her health and spending time with her close friends. The insider revealed a bit of Lovato's new health regimen and routine. "She's been working out with a trainer several days per week, eating right, and truly has a whole different mindset," they said. "She seems committed to staying healthy and having the right people around her." One such example of this was a recent selfie she took after a jiu jitsu workout.
"Having the right people" also refers to those she is closest with: her family. The source informed us that Lovato "stays the majority of the time with her mom" although she is also reportedly spending time in a sober living facility.
When she was still in rehab, another source told E! News that Lovato had a new perspective on things. "Demi is doing great and is really receptive to the help that she is getting," the insider said in October. "Treatment has really changed her and she is looking forward to remaining sober and her new outlook on life."
Don't miss E! News every weeknight at 7, only on E!
Source: Read Full Article