Cold Stone Just Dropped 2 Holiday Flavors With Chips Ahoy & Oreos
December 6, 2018
Eating at Coldstore Creamery is an experience. Unlike your typical scoop shop, Cold Stone Creamery allows you to customize a flavor to your liking with as many mix-ins that your heart (and mouth) desires. For the holiday season, one ice cream chain has something extra special in store in the form of Milk & Cookies ice cream and Dark Chocolate Peppermint Ice Cream, two Chips Ahoy and Oreo flavors at Cold Stone Creamery.
Here's how a trip to Cold Stone goes: When you enter, you take your spot in a (likely long) line. As you inch closer to the ordering station you spot it: the ice cream case. Finally, the time comes for you to order. You choose a flavor of ice cream to serve as the base of your creation. while your work would be done at other ice cream shops, you're just getting started at Cold Stone. From here you move on to the toppings station — the top stop, if you will. You can choose any number of accompaniments for your edible masterpiece. Choices range from classic sprinkles to gummy bears, to many kinds of chocolate bar crumbles, to pie crust. Once your ingredients have been chosen, they're mixed into the ice cream base on a frigid stone tray with paddles. The result is a perfectly incorporated ice cream treat. It more of a meal than a dessert, really.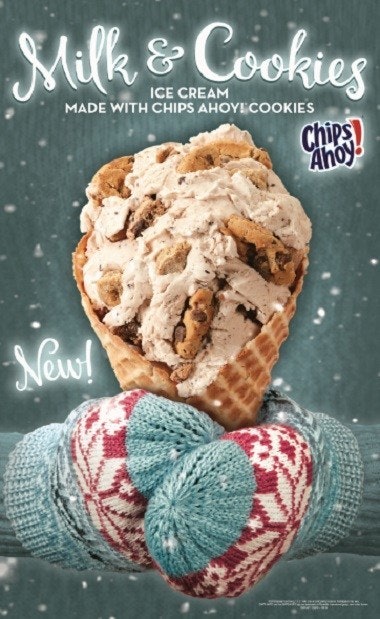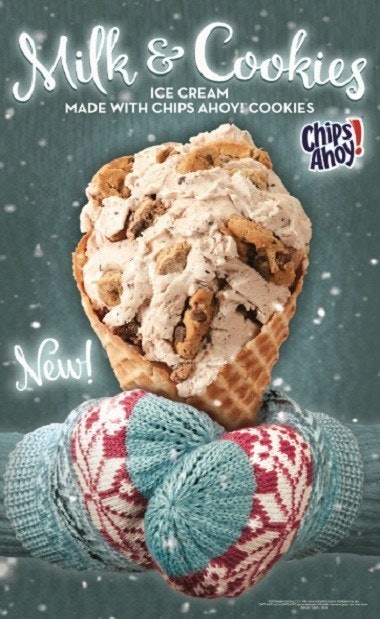 Cold Stone introduced the two new flavors of ice cream late last month, in preparation for the holiday season. In a press release, Sara Schmillen, the vice president of marketing at Kahala Brands (the parent company of Cold Stone Creamery), said, "We love to bring people together during this time of year to enjoy delicious treats that really get them in the holiday spirit. Cold Stone Creamery is the best place to get a taste of the holidays!"
But the fun doesn't stop there; both the new flavors of ice cream are featured in festive new creations.
The Milk & Cookie Comfort features Milk & Cookies Ice Cream, Chunky CHIPS AHOY! Cookies, and gobs of chewy cookie dough. You know how Santa's favorite snack is cookies and milk? It's pretty clear the big man himself served as inspiration for this treat. The Dark Chocolate Merry-Mint Creation is a little more ~sophisticated~. The base of Dark Chocolate Peppermint Ice Cream is paired with Ghirardelli Peppermint Pieces, Oreo cookie crumbles and whipped cream. As dark chocolate has a bolder, more bitter taste (and lower sugar content) than milk chocolate, it is the perfect pairing for whipped cream and peppermint.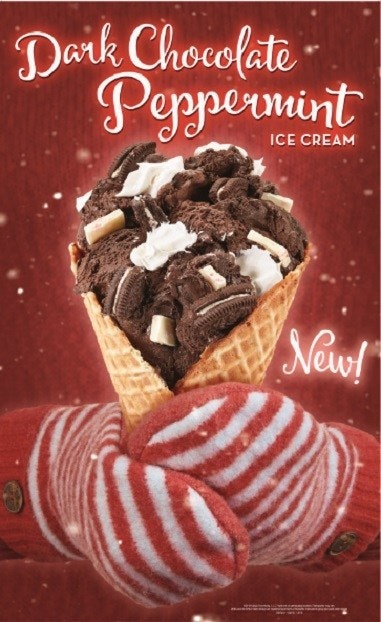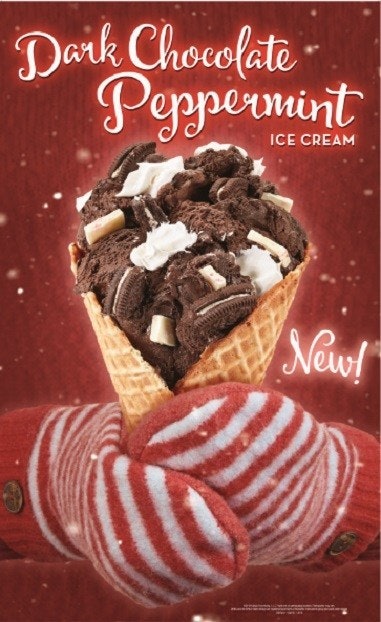 Cold Stone has also come out with a new cake for the season. The Red Velvet Peppermint Cake is packed with layers of red velvet cake & dark chocolate peppermint ice cream. Similar to ice cream, cake is not just cake at Cold Stone. This seasonal dessert is jazzed up with Oreo cookies and Ghirardelli peppermint pieces. The whole thing is tucked in a thin coat of rich fudge ganache. Who needs fruit cake on Christmas when you can have red velvet peppermint cake?
The seasonal treats at Cold Stone creamery will be available at stores nationwide through the winter.
Source: Read Full Article